City legend Neil Young, who sadly passed away 12 years ago today, was a Fallowfield lad, born just the other side of Platt Fields and within a Joe Corrigan kick of Maine Road.
In fact, he could see City's old Moss Side home from his bedroom and when his emerging talent attracted interest from Manchester United, they couldn't have realised they were wasting their time.
Young wanted to play for City and he jumped at the chance when scout Harry Godwin offered him the opportunity.
He signed in 1959 and rubbed shoulders with the likes of Denis Law, Billy McAdams, Joe Hayes, and Bert Trautmann in his early days at City, though he didn't make his debut until late November 1961.
BUY: 'El Mago' - the official David Silva club tribute book 
Manager Les McDowall gave the youngster his debut away to Aston Villa and Young played in all the remaining 24 league games scoring a healthy 10 goals in return – not bad for a 17 year-old..
In his first full season at senior level, he was part of the side that was relegated after a humiliating campaign in which 102 league goals were conceded.
That included two 6-1 defeats to West Ham and an 8-1 opening day hammering by Wolves – it was a City-type learning curve that you either returned stronger from or crumbled into dust and disappeared.
Young missed only five league games as City, now under the reign of George Poyser, finished a disappointing sixth and though he enjoyed his best goals tally yet the following season, it was even more flat at Maine Road when the fallen giants finished 11th – the club's lowest finish for 71 years.
Joe Mercer was recruited to revive fortunes and City stormed back to the top flight as champions with Young the top scorer, including two vital strikes that seal the Division One title away to Newcastle United..
Young possessed a lethal and cultured left foot and his influence was growing on the team all the time.
He could strike a ball sweetly and cleanly from anywhere around the box and when he caught hold of it, there was a fair chance he would bulge the net with an unstoppable drive.
Tall and graceful, Young was a bonus for Mercer who had recruited Mike Summerbee to take over the No.7 shirt and instead put Young in at No.11.
After a consolidating first 12 months back at the top, City took the title in 1968 and the graceful Young was imperious throughout the season, notching 21 goals in all competitions and creating many more.
It was a dream come true for the kid who used to hang around Maine Road imagining himself inside the ground scoring goals alongside his heroes. In 1969, he emulated every schoolboy's dream by scoring the winner in a FA Cup final as City beat Leicester 1-0.
Summerbee's precise cross fell to somewhere near the penalty spot and Young, now wearing No.10, arrived on cue to wallop the ball home into the roof of the net. It was the stuff of fairytales and despite being left out of the 1970 League Cup final team almost a year later, he scored one and won a penalty as City landed the European Cup Winners' Cup trophy a few weeks after.
The death of his older brother, aged just 31, towards the end of 1970, had a devastating effect on Young and despite being only 27, he found it hard to rediscover the form he'd shown in the late 1960s.
It seems Young's career had peaked at City and the man the Kippax lovingly nicknamed 'Nellie' made a further 37 appearances in 1970/71, scoring just twice.
Halfway through the next campaign, with Young - by now reduced to the periphery of the first team – a bid of £48,000 was accepted from Preston North End for his services.
He had played 415 times and scored 108 goals during more than 12 years with the Club.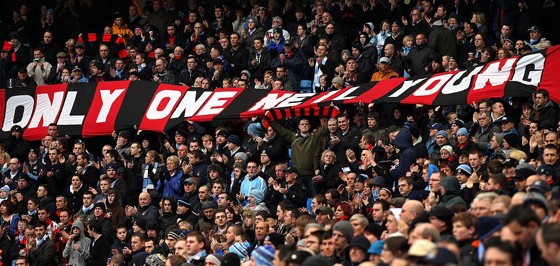 Mike Summerbee said in later years, "They always say it was Bell, Lee and Summerbee who were influential when they talk about those successes under Mercer and Allison – but is should have been Bell, Lee, Summerbee and Young."
Young was the first real star to leave City following the glorious late sixties period – depending on how highly you regard Tony Coleman – but his life after football was difficult and he sadly died on February 3, 2011 aged 67.
City fans travelling to an FA Cup tie away (of all teams, Leicester) were given red and black scarves as a tribute to one of the Club's most elegant home grown talents.