Pep Guardiola was effusive with his praise for man of the match Bernardo Silva as City beat Burnley 2-0.
The diminutive Portuguese put City ahead early in the game and was outstanding yet again with another tireless performance.
Guardiola believes he has now matched the levels of the 2018/19 campaign when he was voted the Club's Player of the Year.
"He is in incredibly good form alongside Rodri and both played so well the last four or five games," said Pep.
"He is at the level of the second season when we won with 98 points and he was out of this world.
"He is at the same level now. He is so intuitive; he always gives us the extra ball that we need.
"Today he scored a goal, that's important for him. The performance of Bernardo has been extraordinary again."
The boss was also asked why Bernardo looked a little upset at the end as he came off for a standing ovation – and revealed it was because he felt he should have set up a chance for Phil Foden in his last act of the game.
"Bernardo is an incredible person and he thought that because he had scored, he would make another for his mate," revealed Pep.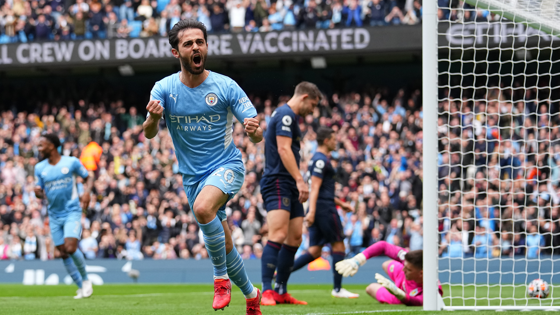 "He is so generous and the effort and the way he plays is fantastic.
"He has to shoot (when he was through on goal), he knows it.
"We are so lucky to have him. He was an incredible signing for us.
"All I want is his happiness. He deserves the best. He is a joy to have as manager. When he doesn't play he always tries to do his best.
"He is at his best level right now."