Everything you need to know about Manchester City's Carabao Cup semi-final against Manchester United.
TEAM NEWS
Fernandinho and Riyad Mahrez are restored to City's starting line-up as Pep Guardiola makes two changes for the Carabao Cup semi-final against United.
The Brazilian returns in place of Rodrigo, who drops to the bench, whilst Mahrez replaces the suspended Bernardo Silva.
Guardiola has largely kept faith with the team that started in the brilliant 3-1 win at Chelsea on Sunday, though City are boosted by the return of Gabriel Jesus and Kyle Walker, who are amongst the substitutes after their periods of self-isolation ended.
CITY: Steffen, Cancelo, Stones, Dias, Zinchenko, Fernandinho (C), Gundogan, De Bruyne, Foden, Mahrez, Sterling.
SUBS: Trafford, Walker, Jesus, Aguero, Rodrigo, Mendy, Nmecha, Harwood-Bellis, Mbete.
UNITED: Henderson; Wan-Bissaka, Lindelof, Maguire (c), Shaw; Fred, McTominay; Rashford, Fernandes, Pogba; Martial.
SUBS: De Gea, Bailly, Telles, Tuanzebe, James, Mata, Matic, van de Beek, Greenwood.
Official Man City Start Page and Wallpapers
Get the Official Manchester City Start page for your Chrome browser. Add the extension to your browser, for the latest news and wallpapers in your desktop tab.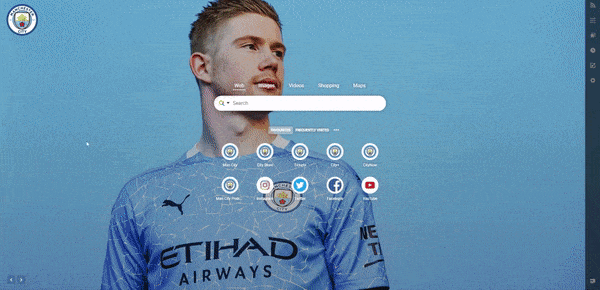 SQUAD NOTES
The key question before kick-off is, who will lead the line up front for City?
Kevin De Bruyne did a fine job at Stamford Bridge three days ago, but Mahrez's inclusion suggests the responsibility could well fall to Raheem Sterling, with the Belgian midfielder reverting to his usual position as City's most advanced midfielder.
Of course, Phil Foden could also adopt the midfield role, allowing De Bruyne to remain in attack, so as always, we'll have to wait until we get under way to see how Guardiola has lined his team up.
When and where
City make the short trip to Old Trafford on Wednesday 6 January, with kick-off at 19:45 (UK).
In the UK, the game will be shown live on Sky Sports, whilst fans living abroad should check out our global TV listings at the foot of this page to find out how they can tune in wherever they are in the world.
If you're unable to watch the game, you can get minute by minute coverage in our Matchday Centre here on mancity.com and we'll also have live updates on Twitter: @ManCity.
A full-match replay will be available to watch on CITY+ from midnight after the game.
We're Not Really Here
Shaun Goater and Joleon Lescott are the guests on our live matchday show for this game.
They'll be joined in the studio at the Etihad Stadium by presenter Natalie Pike and will be providing their expert analysis before kick-off, at half-time and after the full-time whistle.
We're Not Really Here provides a City-centric view to your match coverage and is available to watch in the Matchday Centre on mancity.com and all our other digital platforms.
Pep Guardiola preview
"If you want to compete in all competitions you need a full squad, but we have a second team (EDS) that have been training with us for a month.
"We know them quite well and I am pretty sure they can help us. They can help us to solve the problems but with this amount of games with 15 players it will be more difficult."
Rules
This year's Carabao Cup semi-finals are being played over one leg rather than the usual two in order to ease fixture congestion as a result of the COVID-19 pandemic.
If the scores are level after 90-minutes then 30-minutes of extra-time will be played and if the two teams can still not be separated, the game will be decided via a penalty shootout.
Unlike in the previous rounds, VAR will be in use at the semi-final stage.
Form guide
City beat Bournemouth, Burnley and Arsenal to reach the last four and come into this game on an 11-match unbeaten run in all competitions.
United overcame Luton Town, Brighton and Hove Albion and Everton on their way to the semi-final stage and are unbeaten in seven matches in all competitions.
In the Premier League, City sit fifth, three places and four points behind United, but with a game in hand.
Last meeting
The two sides played out a 0-0 draw when we met at Old Trafford in the Premier League last month.
In a game of few chances, City's best fell to Riyad Mahrez, but his shot was well saved by David De Gea, whilst at the other end, United saw a penalty decision overturned by VAR when Marcus Rashford was shown to be offside before he was fouled by Kyle Walker.
Match officials
Referee: Martin Atkinson
Assistants: Harry Lennard and Nick Hopton
Fourth Official: David Coote
VAR: Jonathan Moss
Assistant VAR: Lee Betts
TV listings
| | |
| --- | --- |
| Andorra | beIN Sports 1 |
| Angola | DStv Now, SuperSport Maximo, SuperSport Premier League ROA |
| Anguilla | ESPN Caribbean, ESPNPlay Caribbean |
| Antigua and Barbuda | ESPNPlay Caribbean, ESPN Caribbean |
| Argentina | ESPN Play Sur, ESPN3 Sur |
| Armenia | Setanta Sports 2 |
| Aruba | ESPNPlay Caribbean, ESPN Caribbean |
| Australia | beIN SPORTS 2, beIN Sports Connect, Kayo Sports |
| Austria | DAZN |
| Azerbaijan | Setanta Sports 2 |
| Bahamas | ESPN Caribbean |
| Barbados | ESPN Caribbean, ESPNPlay Caribbean |
| Belarus | Setanta Sports 2 |
| Belize | ESPN Caribbean, ESPNPlay Caribbean |
| Benin | SuperSport Premier League ROA, SuperSport Maximo |
| Bermuda | ESPN Caribbean |
| Bolivia | ESPN Play Sur, ESPN3 Sur |
| Bosnia and Herzegovina | Arena Sport 2 Serbia |
| Botswana | DStv Now, SuperSport Premier League ROA, SuperSport Maximo |
| British Virgin Islands | ESPNPlay Caribbean, ESPN Caribbean |
| Bulgaria | Play Diema Xtra, Diema Sport 2 |
| Burkina Faso | SuperSport Maximo, DStv Now, SuperSport Premier League ROA |
| Burundi | DStv Now, SuperSport Maximo, SuperSport Premier League ROA |
| Cameroon | SuperSport Maximo, SuperSport Premier League ROA, DStv Now |
| Canada | DAZN |
| Cape Verde | SuperSport Maximo, SuperSport Premier League ROA, DStv Now |
| Cayman Islands | ESPN Caribbean, ESPNPlay Caribbean |
| Central African Republic | SuperSport Premier League ROA, SuperSport Maximo |
| Chad | DStv Now, SuperSport Maximo, SuperSport Premier League ROA |
| Chile | ESPN Play Sur, ESPN3 Sur |
| Colombia | ESPN Play Sur, ESPN3 Sur |
| Comoros | SuperSport Maximo, SuperSport Premier League ROA |
| Congo | DStv Now, SuperSport Premier League ROA |
| Cook Islands | Sky Sport 7 beIN Sports |
| Costa Rica | Sky HD |
| Cote D'Ivoire | SuperSport Maximo, DStv Now, SuperSport Premier League ROA |
| Croatia | Arena Sport 3 |
| Cuba | ESPN Caribbean, ESPNPlay Caribbean |
| Cyprus | Cytavision Sports 3, Cytavision on the Go |
| Czech Republic | Nova Sport 2 |
| Denmark | 6'eren, Viaplay Denmark, Eurosport Player Denmark |
| Djibouti | DStv Now, SuperSport Maximo |
| Dominica | ESPNPlay Caribbean, ESPN Caribbean |
| Dominican Republic | ESPNPlay Caribbean, Sky HD, ESPN Caribbean |
| Ecuador | ESPN3 Sur, ESPN Play Sur |
| El Salvador | Sky HD |
| Equatorial Guinea | DStv Now, SuperSport Premier League ROA, SuperSport Maximo |
| Eritrea | SuperSport Premier League ROA, DStv Now, SuperSport Maximo |
| Estonia | Setanta Sports 2 |
| Ethiopia | SuperSport Premier League ROA, DStv Now, SuperSport Maximo |
| Fiji | Sky Sport 7 beIN Sports |
| Finland | Viaplay Finland, V Sport Jalkapallo |
| France | beIN Sports 1, Free, beIN SPORTS CONNECT |
| Gabon | SuperSport Premier League ROA, DStv Now, SuperSport Maximo |
| Gambia | SuperSport Premier League ROA, SuperSport Maximo, DStv Now |
| Georgia | Setanta Sports 2 |
| Germany | DAZN |
| Ghana | SuperSport Maximo, SuperSport Premier League ROA, DStv Now |
| Grenada | ESPNPlay Caribbean, ESPN Caribbean |
| Guadeloupe | ESPN Caribbean, ESPNPlay Caribbean |
| Guatemala | Sky HD |
| Guinea | DStv Now, SuperSport Maximo, SuperSport Premier League ROA |
| Guinea-Bissau | SuperSport Maximo, DStv Now, SuperSport Premier League ROA |
| Haiti | ESPN Caribbean, ESPNPlay Caribbean |
| Honduras | ESPN Caribbean, Sky HD, ESPNPlay Caribbean |
| Iceland | Stöð 2 Sport 2 |
| Indonesia | Mola TV App, mola.tv, Mola TV |
| Ireland | Sky Sports Main Event, Sky Sports Football, Sky Ultra HD, TalkSport Radio UK, BBC Radio 5 Live, SKY GO Extra |
| Israel | Sport 2 |
| Italy | DAZN |
| Jamaica | ESPNPlay Caribbean, ESPN Caribbean |
| Kazakhstan | Setanta Sports 2 |
| Kenya | DStv Now, SuperSport Premier League ROA |
| Kiribati | Sky Sport 7 beIN Sports |
| Kyrgyzstan | Setanta Sports 2 |
| Latvia | Setanta Sports 2 |
| Lesotho | DStv Now, SuperSport Maximo |
| Liberia | SuperSport Premier League ROA, SuperSport Maximo, DStv Now |
| Lithuania | Setanta Sports 2 |
| Macedonia | MaxTV Go, Arena Sport 2 Serbia |
| Madagascar | SuperSport Premier League ROA, DStv Now, SuperSport Maximo |
| Malawi | SuperSport Premier League ROA, DStv Now, SuperSport Maximo |
| Mali | SuperSport Premier League ROA, DStv Now, SuperSport Maximo |
| Marshall Islands | Sky Sport 7 beIN Sports |
| Martinique | ESPNPlay Caribbean, ESPN Caribbean |
| Mauritania | DStv Now |
| Mauritius | SuperSport Premier League ROA, DStv Now |
| Mexico | Blue To Go Video Everywhere, Sky HD |
| Moldova | Setanta Sports 2 |
| Monaco | beIN Sports 1 |
| Montenegro | Arena Sport 2 Serbia |
| Montserrat | ESPNPlay Caribbean, ESPN Caribbean |
| Mozambique | DStv Now, SuperSport Premier League ROA, SuperSport Maximo |
| Namibia | SuperSport Premier League ROA, DStv Now, SuperSport Maximo |
| Nauru | Sky Sport 7 beIN Sports |
| Netherlands | Ziggo Sport Extra |
| Netherlands Antilles | ESPN Caribbean |
| New Zealand | beIN Sports Connect New Zealand, Sky Sport 7 beIN Sports |
| Nicaragua | Sky HD |
| Niger | SuperSport Maximo, SuperSport Premier League ROA, DStv Now |
| Nigeria | DStv Now, SuperSport Maximo, SuperSport Premier League Nigeria |
| Niue | Sky Sport 7 beIN Sports |
| Norway | Viaplay Norway |
| Palau | Sky Sport 7 beIN Sports |
| Panama | Sky HD |
| Paraguay | ESPN Play Sur, ESPN3 Sur |
| Peru | ESPN Play Sur, ESPN3 Sur |
| Portugal | Sport TV2, Sport TV LIVE |
| Puerto Rico | ESPN Caribbean, ESPNPlay Caribbean |
| Russia | matchtv.ru, Sportbox.ru, Match! Football 2 |
| Rwanda | SuperSport Maximo, SuperSport Premier League ROA |
| Saint Bartelemey | ESPN Caribbean, ESPNPlay Caribbean |
| Saint Kitts and Nevis | ESPNPlay Caribbean, ESPN Caribbean |
| Saint Lucia | ESPNPlay Caribbean, ESPN Caribbean |
| Saint Martin | ESPN Caribbean, ESPNPlay Caribbean |
| Saint Vincent and the Grenadines | ESPNPlay Caribbean, ESPN Caribbean |
| Samoa | Sky Sport 7 beIN Sports |
| Sao Tome And Principe | SuperSport Maximo, SuperSport Premier League ROA |
| Senegal | SuperSport Maximo, SuperSport Premier League ROA, DStv Now |
| Serbia | Arena Sport 2 Serbia |
| Seychelles | SuperSport Premier League ROA, SuperSport Maximo, DStv Now |
| Sierra Leone | SuperSport Maximo, DStv Now, SuperSport Premier League ROA |
| Solomon Islands | Sky Sport 7 beIN Sports |
| South Africa | SuperSport Premier League, DStv App, SuperSport Maximo |
| South Sudan | SuperSport Premier League ROA, DStv Now |
| Spain | DAZN |
| Sudan | SuperSport Maximo, DStv Now |
| Swaziland | SuperSport Maximo, SuperSport Premier League ROA, DStv Now |
| Sweden | Viaplay Sweden |
| Switzerland | DAZN |
| Tajikistan | Setanta Sports 2 |
| Tanzania | DStv Now, SuperSport Premier League ROA, SuperSport Maximo |
| Thailand | PPTV HD 36 |
| Timor-Leste | Mola TV, mola.tv |
| Togo | DStv Now, SuperSport Premier League ROA, SuperSport Maximo |
| Tonga | Sky Sport 7 beIN Sports |
| Trinidad and Tobago | ESPNPlay Caribbean, ESPN Caribbean |
| Turkey | beIN CONNECT Turkey |
| Turkmenistan | Setanta Sports 2 |
| Tuvalu | Sky Sport 7 beIN Sports |
| U.S. Virgin Islands | ESPNPlay Caribbean, ESPN Caribbean |
| Uganda | SuperSport Maximo, DStv Now, SuperSport Premier League ROA |
| Ukraine | Setanta Sports Ukraine |
| United Kingdom | Sky Sports Main Event, SKY GO Extra, Sky Sports Football, Sky Ultra HD, BBC Radio 5 Live, TalkSport Radio UK |
| United States | ESPN+ |
| Uruguay | ESPN3 Sur, ESPN Play Sur |
| Uzbekistan | Setanta Sports 2 |
| Vanuatu | Sky Sport 7 beIN Sports |
| Venezuela | ESPN3 Sur, ESPN Play Sur |
| Zambia | SuperSport Maximo, SuperSport Premier League ROA |
| Zimbabwe | SuperSport Maximo, SuperSport Premier League ROA, DStv Now |
News about Man United v Man City