Here's everything you need to know ahead of Manchester City's Premier League game against Fulham.
MATCH REPORT
Read about our 2-0 win over Fulham.
team news
City make six changes from the midweek draw with Porto.
John Stones' fine form earns him a recall, with Benjamin Mendy, Ilkay Gundogan and Kevin De Bruyne also selected.
Riyad Mahrez and Gabriel Jesus also start.
Making way are Oleks Zinchenko, Eric Garcia, Fernandinho, Bernardo, Ferran Torres and Phil Foden.
Team
City: Ederson, Mendy, Cancelo, Dias, Stones, Rodrigo, Gundogan, De Bruyne (c), Mahrez, Sterling, Jesus
Subs: Steffen, Laporte, Bernardo, Torres, Fernandinho, Foden, Garcia
free matchday digital programme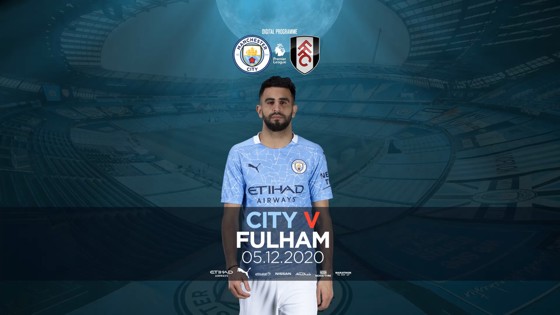 Get into the mood for today's game with our FREE digital matchday programme.
When and where
City host Fulham at the Etihad Stadium on Saturday 5 December, with kick-off at 15:00 (UK).
In the UK, you can watch the game live on BT Sport, whilst fans living around the world can check out our global TV listings at the foot of this page.
You can also follow all the action as it unfolds in our Matchday Centre, which includes minute by minute text updates and audio commentary, and on Twitter: @ManCity.
You can watch our We're Not Really Here show in our Matchday Centre, which provides City focused coverage before kick-off, at half-time and after the game.
A full-match replay of the game will be available to watch on CITY+ from midnight.
Team news
Pep Guardiola has given an injury update ahead of City's home game with Fulham.
The only outstanding concern currently is the fitness of the Club's record goal-scorer Sergio Aguero.
The boss shared positive news at this afternoon's press conference.
"He's getting better," said Pep.
"He is part of the training. It is good news that he's on the pitch with us.
"Well see (if he'll be back soon)."
The boss didn't reveal any further injury concerns ahead of tomorrow's game.
Defenders Terrence Kongolo (foot) and Kenny Tete (calf) will miss out for Fulham.
Pep Guardiola preview
ON FULHAM:
"Fulham are an encouraging team. I enjoy watching them for the way they play and they make an incredible result winning at Leicester away.
"It's not easy. We know the opponent we are going to face tomorrow.
ON PHIL FODEN'S IMPENDING 50th PREMIER LEAGUE APPEARNCE:
"We are more than delighted to have Phil with us from the Academy.
"The message it sends if you have skills and passion. What I love about Phil is his passion - all he has in his head is wanting to achieve big things.
"Training a player like him is a dream come true for managers. He is like a little boy and all he wants to do is play with teammates, pass and shoot.
"He has almost played 50 games, it is his first achievement, but he will play much more in the future."
Scott Parker preview
"I can't imagine we'd be going there and dominating possession, certainly a large part of the teams that go and play against Manchester City that's the case," said Parker.
"Is that to say that you can't get a result against them without that? I think we proved that against Leicester and I think teams have proved that this year that have gone there.
"There's no denying that this is one of our toughest fixtures of this year and I think any team in the Premier League, whether you're sitting at the top or down near the bottom, would be saying the same thing.
"So (we need to be) disciplined and we're going to need to be at our best to try and get a result there.
WE'RE NOT REALLY HERE
Shaun Wright-Phillips, Shaun Goater and Michael Brown will appear on our We're Not Really Here match day show as we take on Fulham this weekend.
The trio - who have nearly 600 City appearances between them - will be joined by presenter, Cel Spellman to provide expert analysis and opinion ahead of Saturday's clash with the Cottagers at the Etihad Stadium.
SUBSCRIBE TO THE OFFICIAL MAN CITY PODCAST
We're Not Really Here provides a City focused perspective to your pre-match build-up and begins one hour before kick-off at 14:00 (UK).
Form guide
City are unbeaten in three games in all competitions and thrashed Burnley 5-0 in our previous Premier League outing.
We sit 11th in the table, with 15 points from nine games, six places above the Cottagers, who have returned seven points from 10 matches.
Fulham have only won twice this season, but both of those results came in their last four games and they come into the game on the back of a morale boosting 2-1 win at Leicester City.
Last meeting
City eased to a 4-0 victory when the two sides last met in an FA Cup fourth round match in January 2020.
Fulham got off to the worst possible start when Tim Ream was sent off for a foul on Gabriel Jesus inside the penalty area.
Ilkay Gundogan converted from the spot, with Bernardo Silva adding a second before half-time and Jesus wrapped up a comfortable victory in the second half when he scored twice in three minutes.
Match officials
Referee: Jonathan Moss
Assistants: Marc Perry, Dan Robathan
Fourth official: Darren Bond
VAR: Graham Scott
Assistant VAR: Matthew Wilkes
TV listings
| | |
| --- | --- |
| Algeria | beIN SPORTS CONNECT |
| Angola | SuperSport Maximo, DStv Now |
| Anguilla | Flow Sports App, Flowsports.co |
| Antigua and Barbuda | Flow Sports App, Flowsports.co |
| Argentina | ESPN2 Sur, ESPN Play Sur |
| Aruba | Flowsports.co, Flow Sports App, RUSH |
| Australia | Optus Sport |
| Bahamas | Flowsports.co, RUSH, Flow Sports App |
| Bahrain | beIN SPORTS CONNECT |
| Barbados | Flow Sports App, Flowsports.co, RUSH |
| Benin | SuperSport Maximo |
| Bermuda | Flowsports.co, Flow Sports App, RUSH |
| Bolivia | ESPN2 Sur, ESPN Play Sur |
| Botswana | SuperSport Maximo, DStv Now |
| British Virgin Islands | Flow Sports App, Flowsports.co, RUSH |
| Brunei | Astro Go |
| Burkina Faso | DStv Now, SuperSport Maximo |
| Burundi | DStv Now, SuperSport Maximo |
| Cameroon | DStv Now, SuperSport Maximo |
| Canada | DAZN |
| Cape Verde | SuperSport Maximo, DStv Now |
| Cayman Islands | RUSH, Flow Sports App, Flowsports.co |
| Central African Republic | SuperSport Maximo |
| Chad | SuperSport Maximo, DStv Now, beIN SPORTS CONNECT |
| Chile | ESPN2 Sur, ESPN Play Sur |
| China | QQ Sports Live |
| Colombia | ESPN2 Colombia, ESPN Play Sur |
| Comoros | SuperSport Maximo |
| Congo | DStv Now |
| Costa Rica | Sky HD |
| Cote D'Ivoire | SuperSport Maximo, DStv Now |
| Curacao | RUSH |
| Czech Republic | Premier Sport, DIGI GO |
| Djibouti | beIN SPORTS CONNECT, SuperSport Maximo, DStv Now |
| Dominica | RUSH, Flowsports.co, Flow Sports App |
| Dominican Republic | RUSH, Sky HD |
| Ecuador | ESPN Play Sur |
| Egypt | beIN SPORTS CONNECT |
| El Salvador | Sky HD |
| Equatorial Guinea | SuperSport Maximo, DStv Now |
| Eritrea | SuperSport Maximo, DStv Now |
| Estonia | TV3 Sport |
| Ethiopia | DStv Now, SuperSport Maximo |
| French Guiana | RUSH |
| Gabon | SuperSport Maximo, DStv Now |
| Gambia | DStv Now, SuperSport Maximo |
| Ghana | DStv Now, SuperSport Maximo |
| Grenada | Flow Sports App, Flowsports.co, RUSH |
| Guadeloupe | RUSH |
| Guatemala | Sky HD |
| Guinea | DStv Now, SuperSport Maximo |
| Guinea-Bissau | SuperSport Maximo, DStv Now |
| Guyana | RUSH |
| Haiti | RUSH |
| Honduras | Sky HD |
| Hong Kong | Now Player, 620 Now Premier League TV, 621 Now Premier League 1 |
| Iceland | SíminnSport |
| Indonesia | Mola TV, mola.tv, Mola TV App |
| Iran | beIN SPORTS CONNECT |
| Iraq | beIN SPORTS CONNECT |
| Ireland | BTSport.com, Premier Sports ROI 1, Premier Player HD, BT Sport Extra, BT Sport 1, BT Sport App |
| Israel | Sport 2 |
| Italy | SKY Go Italia, Sky Sport Football, NOW TV |
| Jamaica | RUSH, Flowsports.co, Flow Sports App |
| Japan | DAZN |
| Jordan | beIN SPORTS CONNECT |
| Kazakhstan | Setanta Sports Kazakhstan |
| Kenya | DStv Now |
| Korea Republic | SPOTV ON 2 |
| Kuwait | beIN SPORTS CONNECT |
| Latvia | TV3 Sport |
| Lebanon | beIN SPORTS CONNECT |
| Lesotho | DStv Now, SuperSport Maximo |
| Liberia | SuperSport Maximo, DStv Now |
| Libya | beIN SPORTS CONNECT |
| Lithuania | TV3 Sport |
| Madagascar | DStv Now, SuperSport Maximo |
| Malawi | DStv Now, SuperSport Maximo |
| Malaysia | Astro Go, Astro Supersport |
| Mali | SuperSport Maximo, DStv Now |
| Malta | GO TV Anywhere, TSN2 Malta |
| Martinique | RUSH |
| Mauritania | DStv Now, beIN SPORTS CONNECT |
| Mauritius | DStv Now |
| Mexico | Blue To Go Video Everywhere, Sky HD |
| Montserrat | Flowsports.co, RUSH, Flow Sports App |
| Morocco | beIN SPORTS CONNECT |
| Mozambique | DStv Now, SuperSport Maximo |
| Myanmar | Skynet Myanmar |
| Namibia | DStv Now, SuperSport Maximo |
| New Zealand | Spark Sport |
| Nicaragua | Sky HD |
| Niger | DStv Now, SuperSport Maximo |
| Nigeria | SuperSport Maximo |
| Oman | beIN SPORTS CONNECT |
| Palestinian Territory | beIN SPORTS CONNECT |
| Panama | Flow Sports App, Flowsports.co, Sky HD |
| Paraguay | ESPN Play Sur, ESPN2 Sur |
| Peru | ESPN2 Sur, ESPN Play Sur |
| Portugal | Sport TV LIVE, Sport TV2 |
| Puerto Rico | RUSH |
| Qatar | beIN SPORTS CONNECT |
| Russia | Okko Sport |
| Rwanda | SuperSport Maximo |
| Saint Kitts and Nevis | Flow Sports App, Flowsports.co |
| Saint Lucia | Flowsports.co, RUSH, Flow Sports App |
| Saint Vincent and the Grenadines | Flowsports.co, Flow Sports App |
| Sao Tome And Principe | SuperSport Maximo |
| Senegal | SuperSport Maximo, DStv Now |
| Seychelles | DStv Now, Flow Sports App, SuperSport Maximo, Flowsports.co |
| Sierra Leone | DStv Now, SuperSport Maximo |
| Slovakia | Premier Sport, DIGI GO |
| Somalia | beIN SPORTS CONNECT |
| South Africa | SuperSport Maximo, DStv App |
| South Sudan | DStv Now, beIN SPORTS CONNECT |
| Spain | DAZN |
| Sudan | SuperSport Maximo, DStv Now, beIN SPORTS CONNECT |
| Suriname | RUSH |
| Swaziland | DStv Now, SuperSport Maximo |
| Syria | beIN SPORTS CONNECT |
| Tanzania | SuperSport Maximo, DStv Now |
| Timor-Leste | mola.tv, Mola TV |
| Togo | SuperSport Maximo, DStv Now |
| Trinidad and Tobago | Flowsports.co, Flow Sports App, RUSH |
| Tunisia | beIN SPORTS CONNECT |
| Turks and Caicos Islands | Flowsports.co, Flow Sports App, RUSH |
| U.S. Virgin Islands | RUSH |
| Uganda | DStv Now, SuperSport Maximo |
| Ukraine | Setanta Sports Ukraine |
| United Arab Emirates | beIN SPORTS CONNECT |
| United Kingdom | BBC Radio Manchester, BT Sport Extra, BT Sport App, Premier Sports 1, BT Sport 1, Premier Player HD, BTSport.com |
| United States | NBCSN, NBCSports.com, UNIVERSO, NBC Sports App |
| Uruguay | ESPN2 Sur, ESPN Play Sur |
| Venezuela | ESPN Play Sur |
| Yemen | beIN SPORTS CONNECT |
| Zambia | SuperSport Maximo |
| Zimbabwe | DStv Now, SuperSport Maximo |