Kyle Walker believes the Champions League final will be decided by big players in big moments.
While Saturday's showpiece in Porto might represent the end of a 51-year wait between European finals for City, we face up against a familiar foe in Thomas Tuchel's resurgent Chelsea.
Irrespective of the opponent, however, Walker insists that Pep Guardiola's men approach every single match with the same attention to detail.
"I don't think if we were playing Chelsea or Real Madrid, as it was in the semi-final, it wouldn't affect our preparation at all," our defender declared.
"No disrespect, we played Newport County the season before last and we prepared just the same as if we were going to play Liverpool at Anfield.
"The manager's detailed, the manager gets his ideas across to us as players as much as he can, and we go out and try to execute it as best as we can.
"So, obviously, knowing them and playing them as many times as we have played them, it's going to be a little bit of a chess game.
"But I think it comes down to big players in big moments and special moments.
"Hopefully we have enough of those players to go and grab us those special moments in the game."
City have shown remarkable consistency in Europe's elite competition this season, and could match the record number of wins in a single Champions League campaign with victory over Chelsea.
Guardiola's men have won eleven of our twelve European matches this season, and could equal Real Madrid's all-time winning record, set in 2001-2002 when Los Blancos played 17 times en route to the final.
For Walker, negotiating our last eight clash with Borussia Dortmund was a particularly significant milestone on that journey after three successive quarter-final defeats.
Jude Bellingham's early strike in the second leg had the Germans in the driving seat, but our defender insists the players' sole focus was on preventing history from repeating itself once again.
"We played against Liverpool, we played against Tottenham [Hotspur], and we could never get over that quarter-final stage," he recalls.
"When Jude [Bellingham] scored the goal in Germany, I kind of looked around and I thought to myself, "Not again! Not again! Not at this stage can we go out again.
"And I'm sure people in the dressing room would be lying if they said that they didn't feel that as well.
"So, for us, that was probably the most dramatic [moment].
"There was a lot of emotion that came out in the dressing room.
"Okay, we had a very tough opponent in Paris Saint-Germain coming up, but as we proved there, we can battle with the best teams in the world.
"And I think we won very comfortably against PSG in both of the games."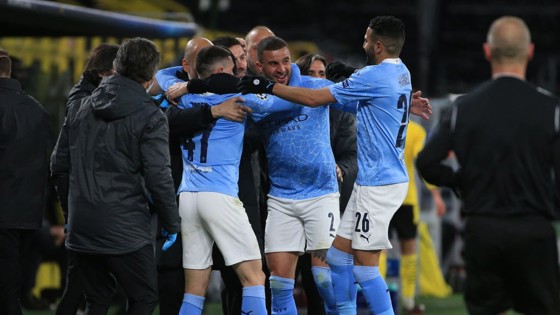 At 31, Walker still has plenty of years ahead of him in what has already been a glittering career.
But he admits winning the Champions League would feel like the final piece of the puzzle both on a personal and a collective level for the team.
"I think it's probably the pinnacle of club football," he declared.
"To play in a Champions League final is something that you dream about as a child.
"Just hearing that anthem and walking past the trophy is going to be a very, very special moment.
SUBSCRIBE TO THE OFFICIAL MAN CITY PODCAST
"It's a game of football, and it's against a very good team, so what will be will be, in that we'll give it our best try.
"I've never seen it (the trophy), so I'll take a good look and, hopefully, I'll be holding it come the end of the game.
"Hopefully this club can get into many finals because it deserves it with the amount of talent that we've got in the dressing room.
"It's the one trophy I'm missing. Since I've been here for four years, I've managed to pick up everything that I've been involved in bar the Champions League.
"It's the one trophy I'm missing, but it's going to be tough. I don't want to sit here and sound cocky or anything like that. It's going to be a really, really tough game."