Former City and England goalkeeping legend Joe Corrigan says Sunday's Etihad clash between City and Liverpool isn't just a meeting of two of the best sides in Europe but also two of the world's finest goalkeepers.
International colleagues with Brazil, City number one Ederson and Liverpool counterpart Alisson will become domestic rivals in a match that has captured the world's imagination.
The stakes couldn't be higher with reigning champions City holding a one-point lead on Liverpool with both sides having eight games to play.
For his part, Corrigan is uniquely placed to pass judgement on the importance of the two respective keepers.
CITY+ | SIGN UP TO ACCESS EXCLUSIVE CONTENT
Over the course of three illustrious decades, he clocked up more than 600 games for City before later going on to become a highly respected goalkeeping coach - including a lengthy spell working at Liverpool.
And he says the special qualities of both Ederson and Alisson have proven pivotal in City and Liverpool's success in recent years
"In terms of Ederson, I think he has transformed, along with Pep Guardiola, football in general - the way it is now played from the back, using the goalkeeper as an additional defender," declared Corrigan.
"He is one of the best passers of the ball I have seen for a long time – be it from an outfield player or a goalkeeper.
"It is the way Pep wants the team to play, and have to play, it has to come from the back.
"You can see that when the game is progressing, given the way the defenders and the midfielders position themselves.
"I've watched City train and I've seen them go through standing positions when the ball is in certain positions, when the ball is going back to the goalkeeper where Pep demands that players move to.
"But sometimes he lets Ederson use his own ability in using the long ball. 
"Some of the goals that Sergio Aguero scored, he just knew that it was going to go long; he was on his run before Ederson had actually played the ball.
"He picks forwards out with amazing accuracy from the position he is in.
"If you look at the other side of his game, even though City dominate a lot of games, your concentration levels have got to be on it for 100 minutes in some matches.
"It is a long time to keep that concentration level going. But the number of clean sheets the man has had, not just this season but every season since he has come to the club, shows his consistency.
"We were goalkeepers who were judged on the number of saves we made rather than the other way round.
"It is not just the saves you make now but the overall contribution you make to the team."
Ederson's impact is further illustrated in the fact that he has claimed the prized Premier League Golden Glove award – awarded to the 'keeper with the most clean sheets – for the past two seasons.
However, Alisson is also vying to claim the prestigious plaudit this term.
The Brazilian duo have both kept 17 clean sheets to date– and Corrigan says that Alisson's impact and influence at Anfield has been similar to that of his City counterpart, though he feels he possesses different strengths to his game.
"In terms of Alisson's contribution at Liverpool, I think it's nearly identical," Corrigan added.
"I don't think that Alisson is perhaps as proficient as Ederson with the ball at his feet because Ederson has a really good range of short, medium and long passes and he is accurate in all departments.
"Whereas I think Alisson is more of a shot-stopper 'keeper. I think he is so good on the shot-stopping side when it comes to making saves while I think Ederson is a better distributor.
"I look at Liverpool and they are a magnificent football club, a magnificent football team and they have been fantastic this season.
"But even in games where Liverpool dominate, they can give sides chances and Alisson has proven crucial in stopping those chances going in.
"They are both fantastic at what they do and for the team and to stay at that level at the top of the league, and in European competition year in and year out is some achievement.
"When you think about it, in my generation, the old Brazil way of playing football was 'The best form of defence is attack.'
"You think of the great players that Brazil had in our day, in our generation before and the generation after, you think of Pele, Rivelino, everybody forgot about the goalkeepers because it didn't really matter.
"Brazil scored that many goals, it didn't really matter if one or two goals went in the other end.
"Compare that to now where they have two of the best goalkeepers playing in the world."
Corrigan's admiration is also amplified in terms of the unique role that goalkeepers play within a team.
The last line of defence can also see incumbents become the first in the firing line if an error occurs and from personal experience, Corrigan says it takes a special mindset to cope with all that being a goalkeeper entails.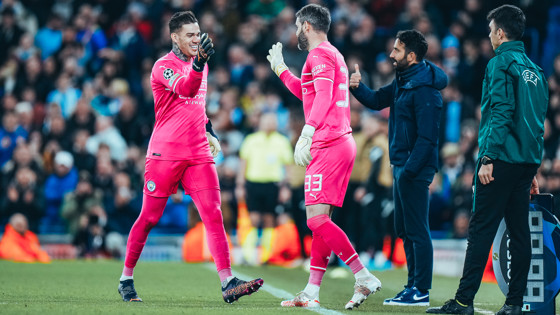 "I've got so much admiration for every goalkeeper who plays because for me, it is the most difficult position to play in the team," Corrigan points out.
"If you make a mistake, it most likely ends up in the back of the net and you get the blame for it.
"To have that ability to, if you do make a mistake, be able to put it to one side and carry on as if it has not happened and not dwell over it after the event says so much the individuals.
"It can be (lonely). Especially when you have made a mistake and you have got 50/60,000 people shouting at you.
"But they are both fantastic at what they do for their team."
City host Liverpool at 16:30 (UK) on Sunday 10 April and we'll have comprehensive coverage here on mancity.com and the official app.
Live updates begin in our Matchday Centre two hours before kick-off, whilst our Matchday Live show, with guests Shaun Goater and David James, starts one hour before we get under way at the Etihad Stadium.
During the game you can listen to live audio commentary from Alistair Mann and Andy Morrison, whilst a match report and post-match reaction from players and Pep Guardiola will be available shortly after the final whistle.
You can watch highlights for free from 20:15 on Sunday and CITY+ subscribers can also enjoy a full-match replay from midnight after the game.