Manchester City are delighted to confirm Joao Cancelo has signed a two-year contract extension.
The 27-year-old's new deal means he will remain at the Etihad Stadium until the summer of 2027, by which time he will have spent eight years at the Club.
Cancelo has been a revelation since arriving in English football, redefining the role of a full-back with a series of consistently brilliant attacking displays, and he says he is in the best place to achieve his career ambitions.
"Manchester City is a fantastic club, so I am incredibly happy to have signed this new agreement," he said.
"City players have everything they need to reach their full potential, with amazing facilities, world-class teammates and an incredible manager who pushes us every single day.
"There is nowhere better to play football and it's a pleasure to work here.
"I have so much I want to achieve before my career ends, and Manchester City offers me the best chance of fulfilling my ambitions.
"This new contract means I now have complete focus on improving my game and winning more trophies with this team."
Director of Football Txiki Begiristain added: "Joao is the ultimate professional. He absolutely loves football and applies himself every single day in a bid to become better.
"He sets really high standards, and any young player should observe the way Joao applies himself if they want a blueprint for success.
"Not only does he have incredible talent, he also displays perfect dedication to this sport. That's why he can play so many games at such a high level. His consistency during the last two seasons has been amazing.
"He is so versatile. Whether he plays right-back, left-back or in midfield, he operates at the same high level. That is a dream for a manager.
"I am really happy he has signed, and I can't wait to see him develop in the coming years." 
Since joining City in the summer of 2019, Cancelo has played 106 games and won three major trophies.
Everyone at City is delighted Joao has extended his stay and we wish him the best with the remainder of his time here.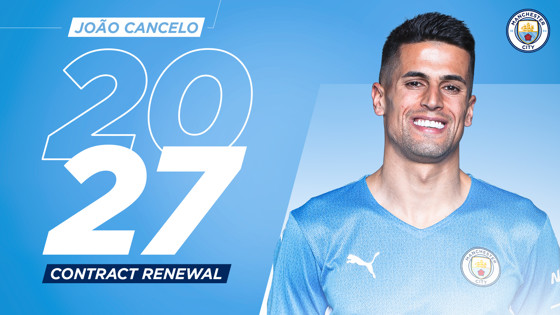 Joao Cancelo: City's polished diamond
A diamond…
That was Pep Guardiola's memorable analogy when he was asked to describe the impact and influence of Joao Cancelo's contribution to the City cause earlier this season.
Given the quality and consistency of the 27-year-old's performances - both this term and last - few would quibble with the boss's description.
For Cancelo has demonstrated time and again that he has become a City gem in every sense of the word.
Indeed, if Pep stands supreme as the most transformative manager operating in the English game right now, arguably the same argument could be made for the way Cancelo – under Guardiola's tutelage - has helped reshape and revolutionise the role of the modern full-back in the Premier League and beyond.
Having arrived from Juventus in the summer of 2019 as an accomplished right back, the Portuguese international gave notice of his ability in his maiden season.
But having adapted to the demands of life at both a new club and new country in that important first year, Cancelo really came into his own during the 2020/21 campaign.
In what proved a season like no other played against the backdrop of the COVID-19 pandemic and with the twin demands of matches behind closed doors and a demanding scheduled concertinaed into a shortened timeframe, Cancelo was simply outstanding.
Allied to his traditional role at right-back, Cancelo – who had played both as a wing back and a right winger earlier in his career - also demonstrated his versatility and tactical acumen.
Alongside being deployed at left-back on occasions, Cancelo was also granted a licence to roam further forward, being deployed in a brilliant, bewitching inverted full-back role which he exploited to devastating effect.
Such was his impact, Cancelo emerged as one of the key pivots in the City side that swept to a third Premier League title in four years as well as lifting what was a fourth successive Carabao Cup.
And his impact was also recognised by his peers with Joao being included in the PFA's Premier League team of the season – the ultimate stamp of approval.
If anything though, Cancelo has lifted his and City's game to even greater heights this season, with the 27-year-old also having contributed an array of crucial assists along with three goals to boot to further demonstrate his influence and impact.
November's 4-1 Champions League victory over Club Brugge featured a spectacular hat-trick of Cancelo assists alone.
Meanwhile another exquisite delivery, this time executed in our 3-0 Etihad league win over Everton, prompted Guardiola to lay out his admiration for Cancelo's contribution.
"Joao can use both legs perfectly. His natural position is right but he is adapting very well on the left now," the boss asserted.
"When one player arrives from another culture, he needs time to adapt, even myself needed time. The way we wanted to play, he needed time. Sometimes you are patient, sometimes not.
"But Joao since he arrived he played good but he has one huge quality - he loves playing football!
"When you find a player like that, like Riyad [Mahrez], Phil [Foden] is like this - you have a diamond in your hands.
"Most players like football but these three players I mentioned are like little boys playing in the street or in school. This is great. That is why Joao is consistent in his game."
Alongside that formidable talent and technique, Cancelo is also blessed with another fundamental and crucial quality which further underpins Guardiola's City – his amazing stamina and powers of endurance.
That longevity and lung-bursting athleticism has become another key weapon in City's all-round armoury with Cancelo's consistency and fitness emerging as further vital attributes
Along the way to helping Guardiola's side secure Premier League and League Cup silverware – and reach a first-ever Champions League final – Cancelo clocked up 43 appearances in total last season.
If anything, however, injury permitting, he is on track to overhaul that tally.
Already this term, Joao has made 30 starts in all competitions. Indeed, such has been Cancelo's model consistency that in the Premier League the only game he has missed out on was December's 7-0 rout of Leeds… when he was suspended.
However, with his new contract now secured arguably the most exciting facet about Cancelo's continuing development and City evolution is that he can get even better.
That was a pertinent point the player alluded to in signing his new deal and is one which Guardiola is equally passionate about.
"Of course, he's playing really well, consistent," the City boss asserted in November.
"Especially with his physicality, he can recover really fast and well during the games. He can play every three days without any problem.
"But, at the same time, I have the feeling he can do better.
"Still there are margins to improve in some aspects that we have been working on with him since he arrived.
"I'm pretty sure he is open to accept it and (together) we can move forward."
Encouraging proof that for Cancelo – and City too – the best is yet come!
Joao Cancelo: Season-by-season stats 
2019/20
Played: 33
Goals: 1
Assists: 1
Honours: Carabao Cup

2020/21
Played: 43
Goals: 3
Assists: 5
Honours: Premier League, Carabao Cup, PFA Premier League Team of the Year

2021/22 (to date)
Played: 30
Goals: 3
Assists: 8
City Honours List
Premier League (2020/21)
Carabao Cup x2 (2019/20, 2020/21)