Joao Cancelo says he is pleased with City's current run of form ahead of Leicester's Boxing Day visit to the Etihad Stadium.
Pep Guardiola's men go into Sunday's 15:00 (UK) kick-off as Premier League leaders, setting our sights on a record 35th top flight victory in our final home game of 2021.
City have won each of our last eight matches in the Premier League, scoring 24 times while also keeping five clean sheets in the process.
It's a hugely impressive return leading into the hectic winter schedule, and one that Cancelo hopes we can continue moving into the new year.
CITY V LEICESTER: TICKETS ON SALE
"We are a very strong team and we are in good shape at the moment," the Portuguese international said.
"It's important that we are all giving our best level so we can achieve our goals at the end of the season which are winning as many trophies as possible.
"We have the Premier League, the Champions League and soon the FA Cup to fight for until the end of the season.
"I think Liverpool and Chelsea are both very strong sides and they are going to be contenders with us in the title race.
"They have a different football style than us, but both sides are really strong.
"I think the three teams are showing that we are the main candidates to win the Premier League trophy."
In a phenomenal team effort, Cancelo has been one of City's standout performers so far this campaign, combining defensive solidity with a potent attacking threat from full-back.
His exploits have even led to Portugal manager Fernando Santos recently describing him as the best full-back in world football.
Although the City man refuses to get carried away by such praise, he is pleased to see his hard work and professionalism paying off in his performances.
"Obviously, it's a reason for pride if someone [Fernando Santos] says you are the best in the world. I work hard every day to become the best I can be, in the training session and at the matches," he reflected.
"I'm a professional 24/7, I live my job to the fullest, so if someone says you are the best in your position, it's a reason to be proud.
"Fernando Santos is the manager of the national team, so it's an even bigger reason for pride. I think it's a great compliment especially coming from him as I consider him a great manager."
In 24 appearances so far this campaign in all competitions, Cancelo has registered an incredible three goals and seven assists from defence.
But while the 27-year-old is delighted with his current form across the campaign to date, he insists that the emphasis should be placed on his role in the team, rather than his attacking contributions.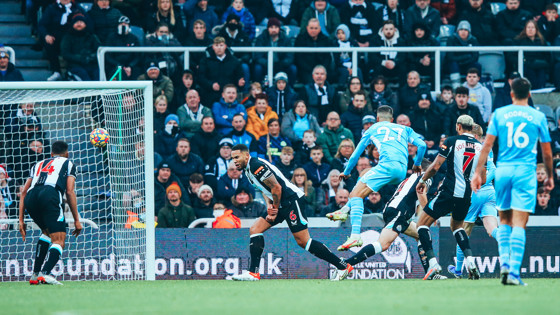 He said: "People usually look a lot at the statistics: the goals and the assists. I don't look at them. I think my last season was very good too, but obviously this season my numbers are splendid.
"I understand that some people would look only at your statistics, but we also have some players playing at great level whose numbers don't reflect their performance.
"For instance, Bernardo Silva is an exceptional player, this season is having great numbers, but last season his statistics weren't as good as now, and yet I rate him as one of the best players in the world.
"I'm just focused on performing well and trying to contribute with my game to the success of the team."