Jack Grealish says the art of coping with pressure is to use it as motivation.
In an interview for Champions League journal, the City and England winger discussed the demands of professional football: the expectation, the emotions and the enormity of life-changing decisions.
Though the 26-year-old admits the challenges can be testing, he embraces them with a piece of advice one of his former Aston Villa coaches Steve Burns proffered.
"He always used to say: 'Pressure is a privilege'," Grealish revealed. "Especially as time goes on, I think there's such a mental side to football now where you need to be in the right mindset.
"It was a massive decision [to join City]. I'd been at Villa my whole life, since I was six – obviously growing up, playing for my boyhood club and captaining them.
"To leave was a difficult decision, I've said it plenty of times but it was something I felt was right at the time. I think it was the perfect time for me to move on, try something new and step out of my comfort zone.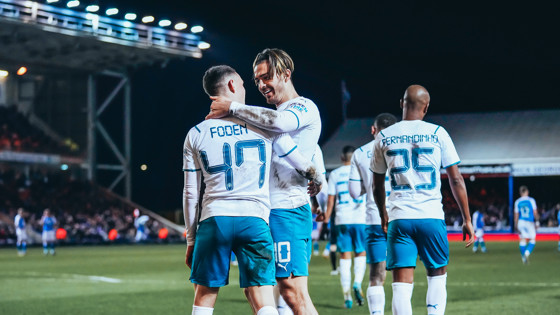 "When I came here it was different because at Villa, and also when I go away with the national team, you have the same culture, you have the same nationality; most of the lads are English. And here there are only, what, four or five of us who are English.
"I think in football, it's such a rollercoaster ride; you know, you're up and you're down. If you don't get the result that you want, you come home and you're devastated.
"[I'm learning] just to cope with the good times and cope with the bad times."
Grealish and co. are back in action on Wednesday night in our Champions League quarter-final second leg trip to Atletico Madrid.
Kevin De Bruyne's second half strike separated the sides in the first leg at the Etihad Stadium to hand City the advantage as we look to progress to the last four.
Back in September, Grealish made his European debut and marked the occasion with a goal and assist in a 6-3 win over RB Leipzig – a game he will never forget.
CITY+ | SIGN UP TO ACCESS EXCLUSIVE CONTENT
"I always remember JT [John Terry] said to me: 'Wait until you're standing up and you're hearing the Champions League anthem' and I thought: 'Oh, really?'  
"I didn't really think anything of it at the time but then, when I was standing there, I just thought back to when he said it, and I was like: 'No, this is unbelievable,' listening to that anthem. It's such an iconic anthem as well.
"Then to have the start that I did, scoring and assisting in the same game on my Champions League debut, was a dream for me.
"Most of the lads here have won everything, numerous times as well, so I think that's the one that everyone wants this year.
"It's brilliant if we can go and win every competition that we're in, but that being one that we haven't won yet, that's what we have our eyes on."  
This is an interview from the new issue of Champions Journal, the official magazine of the Champions League. You can buy a copy at champions-journal.com