Manchester City midfielder Ilkay Gündogan is to pay for 5,000 trees to be planted in Germany and Turkey to help the countries recover from recent environmental disasters.
Large parts of Germany experienced severe flooding in July after several river basins burst their banks as a result of extreme rainfall, while Turkey was affected by devastating wildfires due to soaring temperatures.
In a bid to held both nations get back on their feet, the German international has agreed to aid in their environmental recovery, as well as auction unique 'money can't buy' fan packages such as tickets, boots and shirts spanning his football career to date.
It follows several other charitable endeavours that Gundogan has undertaken in recent months, such as sending over 3,000 meals to Indonesia during the month of Ramadan in April 2021, and the launching of a charity campaign to support local businesses in Manchester that are struggling in the wake of the Coronavirus pandemic.
"There has already been a lot of coverage about the floods in Germany and the fires in Turkey. I have been very concerned about both these tragedies," Gundogan said.
"For me, who has family and friends in both countries, it was hard to believe, as both events were so opposite in their respective extremes. It cannot be denied that climate change played a certain role in this.
"It is particularly important that we set an example now that events like these in Summer 2021 do not become a daily occurrence for our children in a few years and do not happen again and again.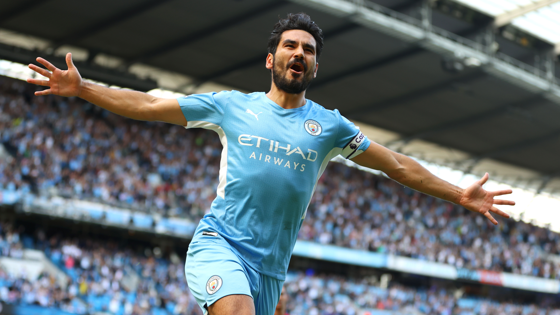 "We must all be aware that we are all in the same boat. During the Covid-19 pandemic it was possible to make very fast political decisions worldwide. But why is this often not possible for climate protection and always so complicated?
"Even in primary school, we learn how important trees are for mankind and for our climate. I would like to play a small part with this campaign to draw more attention to this issue, but also to contribute financial support."
Fan packages are available to bid for on by clicking here and include:
FC Nuremberg:
1x 30 min Zoom Call with Ilkay Gündogan and FCN legend Marek Mintal
2 VIP tickets for the home match of 1. FCN against FC St. Pauli on 28.11.
A FCN merchandise surprise package
A pair of signed adidas Copa football boots
Borussia Dortmund:
2 tickets for BVB vs. FC Köln on 30.10.
Worn items from the 2013 Champions League season
A pair of signed adidas Copa football boots
Manchester City:
Exclusive invitation to Ilkay Gündogan's box for a Premier League home match in Manchester for two people against West Ham United
Two Signed Manchester City jerseys
A pair of signed adidas Copa football boots
Germany (DFB):
2 VIP tickets for the match Germany-Liechtenstein in Wolfsburg on 11.11.
Signed and flocked DFB Jerseys
A pair of signed adidas Copa football boots