İlkay Gundogan enjoyed a 30th birthday weekend with a difference, as he celebrated his big day with people supported by the social care charity Community Integrated Care.
The midfielder marked his milestone birthday by making special socially distanced visits to people supported by the charity and its colleagues,
Holding surprise visits to EachStep Blackley (a specialist dementia care home) and St Annes House (a service in Tameside that supports people who have autism, learning disabilities and other enduring needs), he lifted spirits and brought smiles at this challenging time.
"I like to celebrate my birthdays by visiting local charities," said Gundogan.
"I know that it has been a challenging time for the care sector, so I wanted to visit local care services this year.
"It was amazing to meet the teams at Community Integrated Care and to hear about their hard work during the pandemic.
"I was thrilled to meet the people they support, having conversations with them and sharing gifts.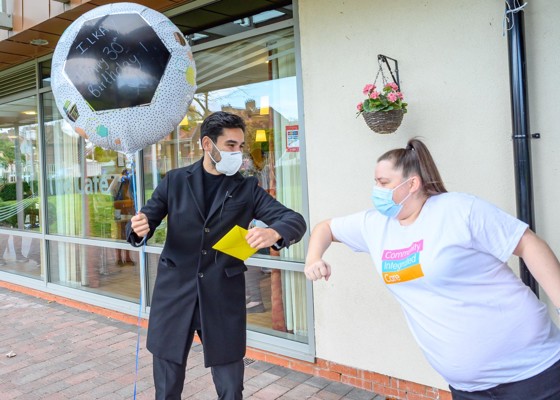 "They told me that it was a special day for them, but it was even more special for me."
At EachStep Blackley, Ilkay met several lifelong City fans and heard how a passion for football unites many at the home.
The visit was creatively facilitated, with EachStep's biggest City fans sitting in the home's downstairs café and the Germany international phoning them from outdoors, at the windows directly outside of the room.
Separated by glass but only metres apart, Ilkay enjoyed a fantastic conversation with residents, hearing their happiest City memories and discussing modern football.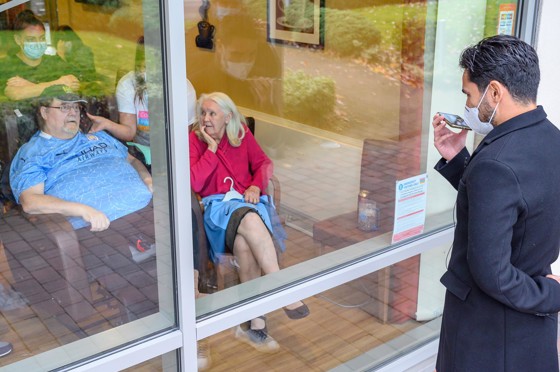 He generously provided special birthday gifts for everyone who lives at the home.
After hearing that staff had been fundraising to purchase streaming subscriptions so that residents could watch live football, Ilkay surprised the team with sports TV packages and streaming devices for every household of the 60-bed care home.
He also provided exclusive memorabilia of his signed boots and a City shirt, which will be proudly put on display to support the home's football reminiscence activities.
EachStep Blackley was recently featured in the high-profile BBC One Panorama documentary The Forgotten Frontline, which captured the incredible efforts of the team battling against an outbreak of COVID-19.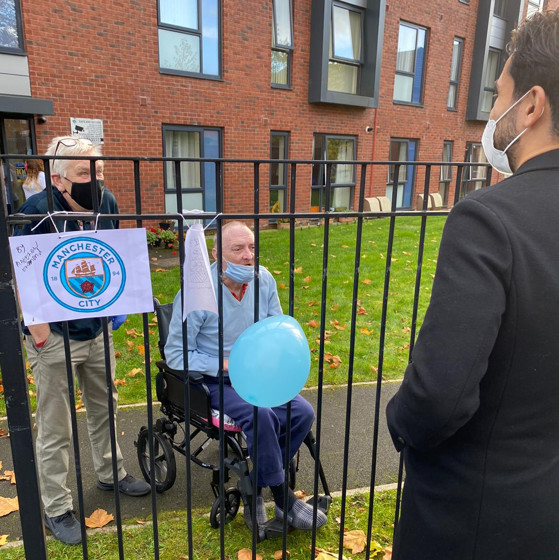 Ilkay was keen to learn about life for residents and colleagues, and to thank staff for their efforts to protect local people.
He was particularly touched to meet Mike, who was poignantly featured in the Panorama film recovering from intensive care to make his return to the home. The lifelong City fan told colleagues, "this has been one of the best days of my life."
The City star then went on to bring gifts to St Annes in Tameside. With Ilkay stood in the service's car park, he met people supported at the service and staff who spoke to him from the adjacent gardens.
The surprise visit was a dream come true for the many Manchester City fans at St Annes, including Nathan, who was stunned to meet his idol. Nathan proudly shared his memory book filled with photos of special days supporting Manchester City.
John Hughes, Director of Partnerships and Communities at Community Integrated Care, said: "We were blown away when Ilkay approached us to celebrate his 30th birthday with our charity.
"The impact of Coronavirus and lockdown on the social care sector has been very tough, so this incredible gesture provided a real boost.
"In these services, football is an absolute passion, so it was a dream come true for many to spend time with their football hero.
"Ilkay was kind, compassionate and really interested about how life has been for our colleagues and the people we support.
"His time alone was enough, but the gifts he gave everyone were beyond all expectations.
"Everyone at our charity wishes him a very happy 30th birthday."
YOU CAN GET EXCLUSIVE CITY CONTENT WITH A CITY+ SUBSCRIPTION