City fan Guido de Pauw thanked the Club and fellow supporters for their support during his recovery from an attack last year.
The Belgian was left in a coma after being hit when travelling home from the 5-1 UEFA Champions League victory over Club Brugge in October 2021.
Pep Guardiola, Ilkay Gundogan, Nathan Ake, Ruben Dias, Bernardo Silva and Rodrigo all sent messages of support to Guido after hearing the news, as did thousands of City fans from around the world.
Our Premier League meeting with Fulham on Saturday marked his first time at the Etihad Stadium since the incident and he was invited pitchside before the match to speak to Matchday Live presenters Natalie Pike and Danny Jackson.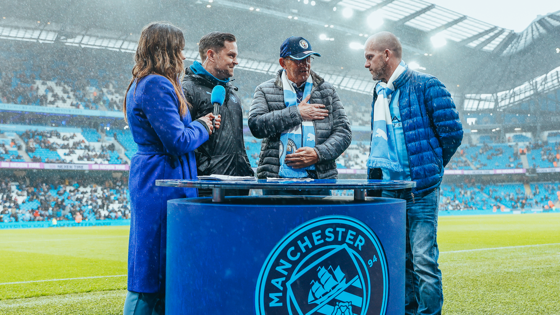 Speaking with the help of a translator, he said: "I was a bit nervous before going to the game because the last couple of months I have watched all the games from home on the television.
"Once I came into the stadium all the stress went away and I felt great. I am grateful to City and the fans for their support. I can't describe how I feel."
It was an incredible return to the ground for Guido as an added time Erling Haaland penalty sealed a 2-1 win for 10-man City following Joao Cancelo's first half dismissal.
As well as being a guest of honour on the day himself, Guido's three grandchildren were official mascots for the game, joining the players to walk out on to the pitch before kick-off.
The Blue Moon Belgium Supporters Club member was lost for words when asked to describe what the occasion meant to him.
"I'm really emotional," he said.
"I am so grateful that I get to see my grandchildren on the mascot experience. It's impossible to use words to describe my feelings."
Everyone at Manchester City was delighted to welcome Guido and his family back to the Etihad Stadium and we look forward to seeing him join us again very soon.