City boss Pep Guardiola reiterated the trust that he has in his squad after the 2-0 Premier League victory over Leicester City at the King Power Stadium.
Goals from Benjamin Mendy and Gabriel Jesus were enough to seal the three points against the high-flying Foxes.
The City squad have had a gruelling fixture list, with many members of the team reporting for international duty at the end of March - and now also have a busy month of football ahead.
CITY+ | WATCH FULL-MATCH REPLAYS OF EVERY CITY GAME
Guardiola admitted that rotation is key and that he trusts all his players to fulfil their required role when in the team.

"They are human beings, not machines," he said after the victory.
"I rotate because it is not possible to play every day - to win all competitions in this year without spectators when we start later and finish earlier, you cannot be there where we are if you don't rotate.

"Ilkay [Gundogan], Joao [Cancelo], of course, they could play because they have that mentality but they need rest.

"We don't have even one midweek off. No player can do that and be ready mentally every game.

"So, I rotate them and I am a genius when we win and when we lose, it's my fault! Next game, we will play fresh legs and against Leeds, fresh legs.

"I trust my players so much. They don't trust me but I trust them with their quality!"
City needed to remain patient to unlock a rigid Leicester defence on Saturday, breaking the deadlock just before the hour mark through Mendy's second goal of the season.
Guardiola was pleased to see that patience in his team's play on this occasion, after being punished in the reverse fixture at the Etihad Stadium earlier in the season.

"We cannot deny that playing here 14 points clear is completely different to the first game," he said. "Give a lot of credit to them for the first game, absolutely.

"We had no striker, we had just had two, three weeks off... We had scored through Riyad [Mahrez] and then became nervous.

"We were attacking quicker than we have to attack. We gave them chances to run and conceded three penalties.

"When the opposition plays deep, you have to be patient. [On Saturday] we were calmer with more passes. Leeds will be completely the opposite. They won't be about patience.

"[Against Leicester], like Everton, we won after 82, 83 minutes but we did not concede a shot on target at Goodison and that is what we need in these kinds of games."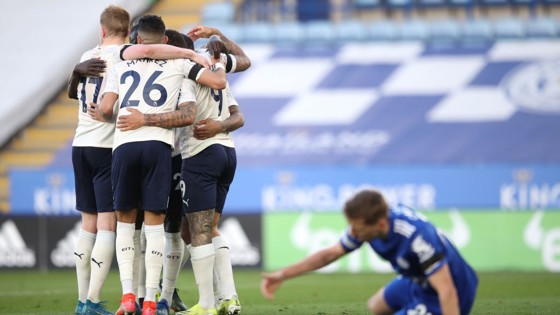 The manager also touched on the upcoming UEFA Champions League quarter-final first leg against Borussia Dortmund - a team that Guardiola admits he knows very well, after his time managing in the Bundesliga.

"One person that knows Dortmund in Manchester, it is me," he stated. "The culture of the club, the way they play - and I don't find one single player at Dortmund without quality. They have incredible quality.

"Maybe they didn't find consistency in the Bundesliga this season but in one game, two games they can do anything. Sevilla saw it. Sevilla are one of the best teams to play two legs and they beat them.

"I have incredible respect for Dortmund. I was in Germany for three years and they were always big opponents. When they run, they can kill you. 
"We try to be aggressive. We want to win. That is what we need to do."