You wait for one Brazilian to arrive – Elano - and then another comes along straight after...
Geovanni became an instant crowd favourite with the City fans who were getting a taste for exciting new talent…
'Geo', as the City fans have already nicknamed Geovanni, looks lean and confident as he settles down to talk. He seems relaxed that he can speak at length in his native tongue, rather than communicate in broken Portuguese or Spanish with certain members of the Club's backroom staff.
CITY+ - Free to Cityzens until football resumes
Carrington and Manchester must seem a long way from the small town of Acaiaca in Brazil, Geo's home and his place of birth on January 11, 1980. His path to the world, let alone stardom, stardom wasn't easy, as he explains: "My mother was a housewife and my father worked on the railways. I am the youngest of eight children and my parents always called me their 'little miracle' – I shall explain why in a moment.
"Of my siblings, my eldest brother, who is now 57, almost got to be a professional footballer, but he was as close as anyone to making it in the family up to that point. My parents had seven children and it had been 12 years since their last child – then I came along! My mother was 49 and my father 54, so you can understand why they call me a miracle because of their ages. They told me I was a complete joy because it is so rare that people can have a baby so late in life."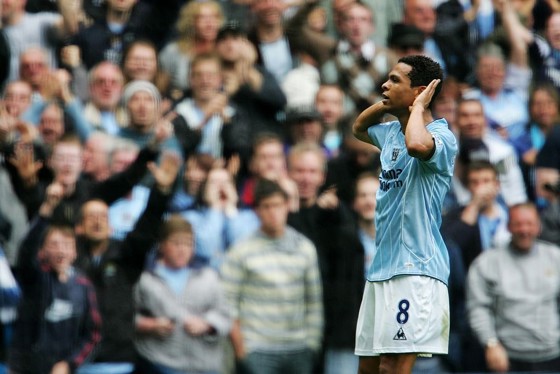 It hasn't taken City fans long to buy into the Geovanni miracle, either. His winner against Manchester United sent his popularity – already high – soaring to new heights. But we'll come to that later.
Geo has four full caps for his country – so how does it feel to pull on the iconic shirt of Brazil and represent the most successful footballing nation on the planet?
"I was 17 the first time I pulled on the yellow shirt," recalled Geo. "That was for the Under-17s and I later played for the Under-20s and went to the Sydney Olympics in 2000.
"In 2001, I played for Brazil in the Copa America and it was then I first met the national coach Luiz Felipe Scolari, who would become like a second father to me. He was another inspirational figure in my life, but he was very demanding of me, which I needed because it brought my game on to new heights.
"To play for my country at senior level was the proudest moment of my career and I think playing for Brazil is the greatest dream any footballer can have."
That dream just kept getting better with the move to the Nou Camp that same year and he made his debut against Atletico Bilbao to great acclaim, winning the man-of-the-match award in the process. It was fairy-tale stuff, but the hefty $18m transfer fee weighed heavy on his shoulders with expectations of him unrealistically high from the demanding Barca supporters.
"I was just 21 and, in truth, it was difficult for me initially," he admitted. "It was a dream come true to play for one of the biggest clubs in the world – all Brazilian kids want to be successful and play in Europe – but there was definitely pressure to perform.
"I took a lot from my two years with Barca, however. I learned a lot and I was still reasonably happy, but it took time. It was my grounding in European football – albeit on a massive stage – and I believe I reaped the benefit in later years, first with Benfica and now with Manchester City, playing in the best league in the world.
"There wasn't just the fact Barca had spent a lot of money on me, there was the fact I was still quite young, had left my country for the first time and had only recently married my wife, Roberta. I had to adapt to all these things in order to play my best football and it did take a little time."
After two years in Spain, Geo moved to Portugal, destination for countless Brazilians over the years, attracted by the mother language and the temperate climate. Benfica spent £11m on bringing the precocious midfielder to the Stadium of Light (the original one, not Sunderland's) and he soon had the supporters eating out of his hand.
In 2005, he also first came to the attention of City fans after his diving header dumped Manchester United out of the Champions League. It was a momentous moment for Geo and Benfica, who moved on to the latter stages of the competition as a result of the victory.
"That goal was very important for me and my team," he smiled. "It helped Benfica progress to a stage they'd never reached before and it was obviously a very high profile goal to score. I didn't know how important it was at the time but have realised since. Many City fans seem to remember it very well!"
The Geo jinx struck the Reds again in the first Manchester derby of this season, with his 25-yard effort just evading the fingertips of Edwin van der Sar for the winning goal against United. It was another dream realised for the 27-year-old Brazilian - and the rest of the City of Manchester Stadium that afternoon, bar a couple of thousand from across the city...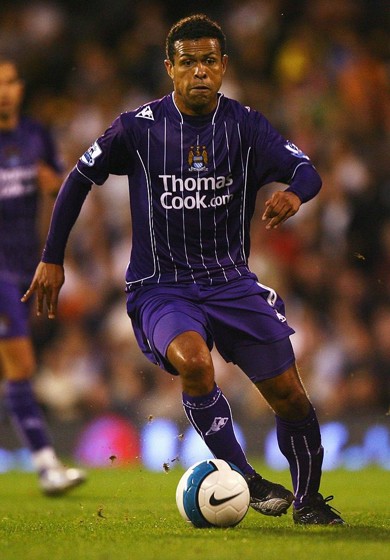 It had Geo running to his latest adoring public with his hand to his ear – his trademark celebration and exactly the same manner in which he celebrated his goal for Benfica. Forgive our Red cousins if he isn't exactly flavour of the month at Old Trafford!
He revealed: "The celebration of putting my hand behind my ear is because I want to hear the supporters cheering to their maximum. It's an indescribable feeling having forty or fifty thousand people celebrating something you've just been part of.
"I have a one-year contract and, regardless of what happens in the future, Manchester City are part of my history and in my heart," said Geo. "I feel a lot of respect and affection towards me from the City supporters and I thank God for everything.
"This club is made from the loyalty and passion of its supporters and I find it amazing they are shouting my name already. They are chanting my name even when I make a good pass or do a trick – I couldn't ask for better backing after such a short time at a new club. It's been a long time since I have had that kind of adoration and I'm really happy with the way things are going. I haven't been with City long, but I already feel I've achieved a lot."
What happened next? Geo's time with City was to be a short one. He would play just 20 games, scoring three goals before being released in July 2008. Despite the brevity, he was a popular figure afforded a warm welcome when he returned in the colours of Hull City, with whom he spent the next two seasons. He then had a brief spell in the MLS with San Jose Earthquakes before returning to see out his career in Brazil, retiring in 2013.