Everything you need to know ahead of our Premier League clash with Everton at Goodison Park.
WHEN AND WHERE
We face the Toffees on Monday 28 December, with kick-off scheduled for 8pm (UK).
The game is available to watch live on Amazon Prime for those in the UK, with live updates also being provided via our matchday centre here on mancity.com, as well as on our Twitter: @ManCity
SUBSCRIBE TO THE OFFICIAL MAN CITY PODCAST
WE'RE NOT REALLY HERE
Joleon Lescott, Richard Dunne and Andy Morrison will be the guests on the We're Not Really Here show.
The defensive trio will line-up in the studio at the Etihad Stadium to offer their expert analysis, while Cel Spellman will be in the presenting chair.
If you like your pre-match build-up to be unashamedly City focused, then We're Not Really Here is a must-watch.
The show begins at 19:00 (UK) - one hour before we kick-off against the Toffees - and resumes at half-time for brief analysis on the opening 45 minutes.
Five minutes after full-time, We're Not Really Here will be live for half an hour of post-match discussion, when Lescott, Dunne and Morrison will provide the benefit of their expertise and respond to the fans' Man of the Match poll, questions, and comments.
Time permitting, we will also hear a player's reaction and watch Pep Guardiola's post-match press conference.
We're Not Really Here is available to watch on all of our official digital platforms, whilst during the game there will be live commentary and footage of fans around the world, which you can enjoy exclusively on mancity.com and our official app.
Official Man City Start Page and Wallpapers
Get the Official Manchester City Start page for your Chrome browser. Add the extension to your browser, for the latest news and wallpapers in your desktop tab.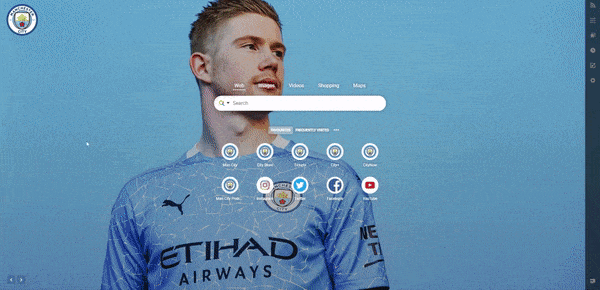 Pep preview: INJURY NEWS
Pep Guardiola says Sergio Aguero and Kevin De Bruyne's minutes must be managed carefully if the pair are to maintain top form.
The dynamic duo featured in Saturday's Boxing Day triumph over Newcastle, as City ran out 2-0 winners, thanks to goals from Ilkay Gundogan and Ferran Torres.
De Bruyne, who was rested in the midweek Carabao Cup quarter-final success at Arsenal, captained the side to victory, while Aguero continued his comeback from injury with a cameo display from the bench.
Guardiola was delighted with the contribution of both players but - previewing Monday's trip to Everton, which takes place 48 hours after the Newcastle win - highlighted the importance of rest and recovery.
Asked for an update on the health of his squad, with Kyle Walker and Gabriel Jesus absent having tested positive for COVID-19, he replied: "The rest are well."
CARLO ANCELOTTI PREVIEW
"We did better away [so far] this season but there is only one reason: if we had our supporters behind us at Goodison Park, we'd have won more games.
"We are pleased, we won a lot of games, this is the fifth game we won away this season and this is really good
"We don't have to look [at the future] too much, we have another game in two days and have to try to do our best to prepare for this game.
"It is almost impossible but we have to try."
LAST MEETING
The last time we met with the Toffees came on New Years' Day as a second half Gabriel Jesus braced proved enough to secure all three points at the Etihad Stadium.
Phil Foden thought he had given City the lead in the first half after he tapped in a Riyad Mahrez cross, however VAR ruled the Algerian was offside in the build-up.
CITY+  SIGN UP TO ACCESS EXCLUSIVE CONTENT
Into the second half and City's patience finally paid off when Jesus picked up the ball on the edge of the box and curled an effort past Jordan Pickford to put Guardiola's side ahead.
Minutes later Jesus and City had a second as the Brazilian capped off a wonderful team move by sliding the ball in at the back post to deservedly double our lead.
The visitors did pull one back in the final stages, but it proved too little too late for the Toffees.
MATCH OFFICIALS 
Referee: Martin Atkinson.
Assistants: Lee Betts, Constantine Hatzidakis. 
Fourth official: Chris Kavanagh. 
VAR: Mike Dean. 
Assistant VAR: Darren Cann.
TV LISTINGS
WATCH LIVE FOR FREE ON AMAZON PRIME
| | |
| --- | --- |
| Algeria | beIN SPORTS CONNECT |
| Andorra | RMC Sport 1 |
| Angola | DStv Now, SuperSport Premier League ROA, SuperSport Maximo |
| Anguilla | Flowsports.co, Flow Sports App |
| Antigua and Barbuda | Flow Sports App, Flowsports.co |
| Argentina | ESPN Play Sur, ESPN2 Sur |
| Aruba | RUSH, Flow Sports App, Flowsports.co |
| Australia | Optus Sport |
| Austria | Sky Sport 1/HD, Sky Sport Austria 1, Sky Go |
| Azerbaijan | Idman TV |
| Bahamas | Flow Sports App, Flowsports.co, RUSH |
| Bahrain | beIN SPORTS CONNECT |
| Barbados | RUSH, Flowsports.co, Flow Sports App |
| Belgium | Play Sports 1, VOOsport World 1 |
| Benin | SuperSport Premier League ROA, Canal+ Sport 3 Afrique, SuperSport Maximo |
| Bermuda | Flowsports.co, RUSH, Flow Sports App |
| Bolivia | ESPN2 Sur, ESPN Play Sur |
| Botswana | SuperSport Premier League ROA, DStv Now, SuperSport Maximo |
| Brazil | GUIGO, Watch ESPN Brasil, ESPN Brasil |
| British Virgin Islands | Flowsports.co, RUSH, Flow Sports App |
| Bulgaria | Play Diema Xtra, Diema Sport 2 |
| Burkina Faso | Canal+ Sport 3 Afrique, SuperSport Premier League ROA, SuperSport Maximo, DStv Now |
| Burundi | Canal+ Sport 3 Afrique, SuperSport Premier League ROA, SuperSport Maximo, DStv Now |
| Cameroon | Canal+ Sport 3 Afrique, SuperSport Premier League ROA, DStv Now, SuperSport Maximo |
| Canada | DAZN |
| Cape Verde | DStv Now, SuperSport Maximo, SuperSport Premier League ROA, Canal+ Sport 3 Afrique |
| Cayman Islands | Flowsports.co, RUSH, Flow Sports App |
| Central African Republic | SuperSport Premier League ROA, SuperSport Maximo, Canal+ Sport 3 Afrique |
| Chad | DStv Now, Canal+ Sport 3 Afrique, SuperSport Maximo, SuperSport Premier League ROA, beIN SPORTS CONNECT |
| Chile | ESPN Play Sur, ESPN2 Sur |
| China | QQ Sports Live |
| Colombia | ESPN Play Sur, ESPN2 Colombia |
| Comoros | SuperSport Premier League ROA, SuperSport Maximo |
| Congo | Canal+ Sport 3 Afrique, DStv Now, SuperSport Premier League ROA |
| Costa Rica | Sky HD |
| Cote D'Ivoire | DStv Now, Canal+ Sport 3 Afrique, SuperSport Premier League ROA, SuperSport Maximo |
| Curacao | RUSH |
| Denmark | Xee, Viaplay Denmark |
| Djibouti | beIN SPORTS CONNECT, SuperSport Maximo, Canal+ Sport 3 Afrique, DStv Now |
| Dominica | Flowsports.co, RUSH, Flow Sports App |
| Dominican Republic | RUSH, Sky HD |
| Ecuador | ESPN Play Sur |
| Egypt | beIN SPORTS CONNECT |
| El Salvador | Sky HD |
| Equatorial Guinea | SuperSport Premier League ROA, DStv Now, Canal+ Sport 3 Afrique, SuperSport Maximo |
| Eritrea | DStv Now, SuperSport Maximo, SuperSport Premier League ROA |
| Ethiopia | DStv Now, SuperSport Premier League ROA, SuperSport Maximo |
| Finland | V Sport Jalkapallo, Viaplay Finland, V Sport Premium |
| France | Free, Canal+ Sport, RMC Sport 1, RMC Sport en direct |
| French Guiana | RUSH |
| Gabon | SuperSport Maximo, DStv Now, SuperSport Premier League ROA, Canal+ Sport 3 Afrique |
| Gambia | SuperSport Premier League ROA, Canal+ Sport 3 Afrique, SuperSport Maximo, DStv Now |
| Germany | Sky Ticket, Sky Go, Sky Sport 1/HD |
| Ghana | Canal+ Sport 3 Afrique, SuperSport Maximo, SuperSport Premier League ROA, DStv Now |
| Grenada | Flowsports.co, Flow Sports App, RUSH |
| Guadeloupe | RUSH |
| Guatemala | Sky HD |
| Guinea | SuperSport Premier League ROA, Canal+ Sport 3 Afrique, DStv Now, SuperSport Maximo |
| Guinea-Bissau | SuperSport Maximo, DStv Now, Canal+ Sport 3 Afrique, SuperSport Premier League ROA |
| Guyana | RUSH |
| Haiti | RUSH |
| Honduras | Sky HD |
| Iceland | SíminnSport |
| Indonesia | Mola TV, Mola TV App, mola.tv |
| Iran | beIN SPORTS CONNECT |
| Iraq | beIN SPORTS CONNECT |
| Ireland | Premier Sports ROI 1, Premier Player HD |
| Italy | NOW TV, Sky Sport Uno, SKY Go Italia, Sky Sport Football |
| Jamaica | RUSH, Flowsports.co, Flow Sports App |
| Japan | DAZN |
| Jordan | beIN SPORTS CONNECT |
| Kenya | SuperSport Premier League ROA, DStv Now |
| Kuwait | beIN SPORTS CONNECT |
| Lebanon | beIN SPORTS CONNECT |
| Lesotho | SuperSport Maximo, DStv Now |
| Liberia | SuperSport Maximo, DStv Now, SuperSport Premier League ROA |
| Libya | beIN SPORTS CONNECT |
| Luxembourg | RMC Sport 1 |
| Madagascar | SuperSport Premier League ROA, DStv Now, SuperSport Maximo |
| Malawi | SuperSport Premier League ROA, DStv Now, SuperSport Maximo |
| Mali | SuperSport Premier League ROA, Canal+ Sport 3 Afrique, SuperSport Maximo, DStv Now |
| Martinique | RUSH |
| Mauritania | beIN SPORTS CONNECT, Canal+ Sport 3 Afrique, DStv Now |
| Mauritius | RMC Sport 1, DStv Now, SuperSport Premier League ROA |
| Mexico | Sky HD, Blue To Go Video Everywhere |
| Monaco | RMC Sport 1 |
| Montserrat | RUSH, Flow Sports App, Flowsports.co |
| Morocco | beIN SPORTS CONNECT |
| Mozambique | DStv Now, SuperSport Premier League ROA, SuperSport Maximo |
| Myanmar | Skynet Myanmar |
| Namibia | DStv Now, SuperSport Maximo, SuperSport Premier League ROA |
| Netherlands | Ziggo Sport Select, Ziggo Sport 14 |
| New Zealand | Spark Sport |
| Nicaragua | Sky HD |
| Niger | Canal+ Sport 3 Afrique, SuperSport Maximo, SuperSport Premier League ROA, DStv Now |
| Nigeria | SuperSport Maximo, Canal+ Sport 3 Afrique, SuperSport Premier League Nigeria, DStv Now |
| Norway | TV2 Sport Premium, TV2 Sumo |
| Oman | beIN SPORTS CONNECT |
| Palestinian Territory | beIN SPORTS CONNECT |
| Panama | Sky HD, Flow Sports App, Flowsports.co |
| Paraguay | ESPN2 Sur, ESPN Play Sur |
| Peru | ESPN2 Sur, ESPN Play Sur |
| Philippines | Premier FOOTBALL |
| Portugal | Sport TV LIVE, Sport TV2 |
| Puerto Rico | RUSH |
| Qatar | beIN SPORTS CONNECT |
| Romania | Eurosport Player Romania, Eurosport Romania |
| Russia | Okko Sport |
| Rwanda | SuperSport Maximo, Canal+ Sport 3 Afrique, SuperSport Premier League ROA |
| Saint Kitts and Nevis | Flowsports.co, Flow Sports App |
| Saint Lucia | RUSH, Flowsports.co, Flow Sports App |
| Saint Vincent and the Grenadines | Flow Sports App, Flowsports.co |
| Sao Tome And Principe | SuperSport Premier League ROA, SuperSport Maximo |
| Senegal | Canal+ Sport 3 Afrique, DStv Now, SuperSport Maximo, SuperSport Premier League ROA |
| Seychelles | DStv Now, SuperSport Premier League ROA, Flow Sports App, SuperSport Maximo, Flowsports.co |
| Sierra Leone | SuperSport Premier League ROA, Canal+ Sport 3 Afrique, DStv Now, SuperSport Maximo |
| Somalia | beIN SPORTS CONNECT |
| South Africa | DStv App, SuperSport Premier League, SuperSport Maximo |
| South Sudan | DStv Now, beIN SPORTS CONNECT, SuperSport Premier League ROA |
| Spain | DAZN |
| Sudan | SuperSport Maximo, beIN SPORTS CONNECT, DStv Now |
| Suriname | RUSH |
| Swaziland | SuperSport Premier League ROA, DStv Now, SuperSport Maximo |
| Sweden | V Sport Premium, Viaplay Sweden |
| Switzerland | Sky Sport 1/HD, RMC Sport 1, Canal+ Sport |
| Syria | beIN SPORTS CONNECT |
| Tanzania | SuperSport Premier League ROA, SuperSport Maximo, DStv Now |
| Timor-Leste | mola.tv, Mola TV |
| Togo | SuperSport Premier League ROA, DStv Now, SuperSport Maximo, Canal+ Sport 3 Afrique |
| Trinidad and Tobago | Flow Sports App, RUSH, Flowsports.co |
| Tunisia | beIN SPORTS CONNECT |
| Turkey | Idman TV, S Sport+, S Sport |
| Turks and Caicos Islands | Flow Sports App, Flowsports.co, RUSH |
| U.S. Virgin Islands | RUSH |
| Uganda | DStv Now, SuperSport Maximo, SuperSport Premier League ROA |
| United Arab Emirates | beIN SPORTS CONNECT |
| United Kingdom | BBC Radio Manchester, Amazon Prime Video |
| United States | Peacock, SiriusXM FC |
| Uruguay | ESPN2 Sur, ESPN Play Sur |
| Venezuela | ESPN Play Sur |
| Yemen | beIN SPORTS CONNECT |
| Zambia | SuperSport Premier League ROA, SuperSport Maximo |
| Zimbabwe | DStv Now, SuperSport Maximo, SuperSport Premier League ROA |
News about Everton v Man City