Erling Haaland says he is hugely excited about the prospect of linking up at City alongside the 'amazing' Phil Foden.
Haaland's summer move to City from Borussia Dortmund means that two of the most talented young players in world football will be operating in tandem at the Etihad for the 2022/23 season onwards.
England star Foden – already a four-time Premier League title winner at the age of just 22 – spoke earlier this summer of his delight about what the Norwegian striker will bring to the City squad.
For his part, Haaland – who amassed a remarkable 86 goals from 89 appearances with Dortmund in just two -and-a-half years – has hailed Foden as an 'amazing player' and says he is someone who is only going to develop even more.
"I have been watching a lot of City games for as long as I can remember. Of course, then I also watched Phil and he is an amazing player," asserted Haaland, who has put pen to paper on a five-year deal with City.
"He is still a talent because he is still young, but he is an amazing player.
"He still has to develop and then we can really talk."
Haaland also revealed how Riyad Mahrez had helped played his own small part in persuading him to consider eventually making the move to City when he met up with Algerian winger while the pair were on holiday in Greece last summer.
The duo were pictured on the Greek island of Mykonos relaxing and enjoying themselves after their respective rigours of the 2020/21 season.
At the time, Mahrez tweeted an image of him alongside Haaland, together with the tongue-in-cheek phrase 'Agent Mahrez at duty'.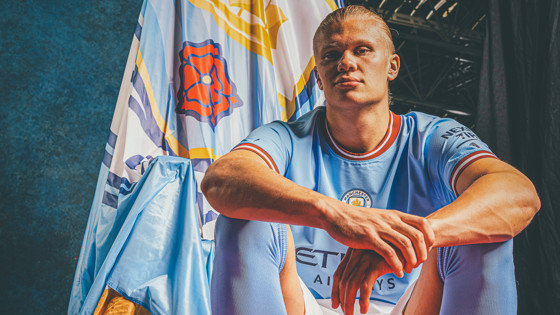 And Haaland revealed that Mahrez had indeed urged him to consider potentially making the move to the Etihad at some stage in his career.
Asked what Mahrez had spoken to him about, Haaland revealed: "He told me to come to City!
"He was right about that. He said some good things about the Club."
Of course, arguably the biggest key figure in outlining just what it would mean for Haaland to represent City was that played by Erling's father, Alfie.
The Norwegian famously played for City between 2000 and 2003, representing the Club with huge distinction before injury prematurely ended his career.
And Haaland said his Dad had helped outline exactly what a move to City would mean and entail.
"He lived in England (and) He played for the club," Haaland added.
"Of course, a lot of things have changed in the last 20 years, but he lived here so he knows what it is.
"We have been speaking about how it is, what it is, what's best for me, to try to find out everything.
"He has been a good dad in that thing there."