Everything you need to know about Manchester City's Premier League clash against Crystal Palace.
Team news
Raheem Sterling is restored to the Manchester City starting line-up as one of four changes for the game against Crystal Palace.
The winger returns to the XI after a two-game absence, with Kyle Walker, Fernandinho and Gabriel Jesus also recalled by Pep Guardiola.
They replace Joao Cancelo, Rodrigo, Riyad Mahrez and Phil Foden, who all drop to a substitutes bench which includes Academy graduate Tommy Doyle, who is back in the matchday squad for the first time since self-isolating due to COVID-19.
CITY: Ederson, Walker, Dias, Stones, Zinchenko, Fernandinho (C), Gundogan, De Bruyne, Bernardo, Sterling, Jesus.
SUBS: Steffen, Rodrigo, Torres, Mendy, Mahrez, Cancelo, Foden, Delap, Doyle,
CRYSTAL PALACE: Guaita, Ward, Tomkins, Cahill, Mitchell, Townsend, Milivojevic (C), McArthur, Eze, Ayew.
SUBS: Butland, Clyne, Van Aanholt, Dann, Riedewald, Benteke, Batshuayi.
WHEN AND WHERE
City host Roy Hodgson's side at the Etihad Stadium on Sunday, 17 January, with kick-off at 19:15 (UK).
In the UK the game will be shown live on Sky Sports Main Event and Sky Sports Premier League. Fans living abroad can check out our global TV listings at the foot of the page to find out how they can tune in to Sunday's league clash.
If you're unable to watch the game, you can get minute by minute coverage in our Matchday Centre here on mancity.com and we'll also have live updates on Twitter: @ManCity.
A full-match replay will be available to watch on CITY+ from midnight after the game.
CITY+ | SIGN UP TO WATCH EXCLUSIVE CONTENT
Match programme
View your FREE digital edition of the City v Crystal Palace matchday programme here...
WE'RE NOT REALLY HERE
Shaun Goater and Nedum Onuoha will appear on our We're Not Really Here matchday show.
The pair - who have over 300 City appearances between them - will be joined by presenter, Natalie Pike to provide expert analysis and opinion on our Premier League clash against Roy Hodgson's side at the Etihad Stadium.
We're Not Really Here provides a City focused perspective to your pre-match build-up and begins one hour before kick-off at 18:15 (UK).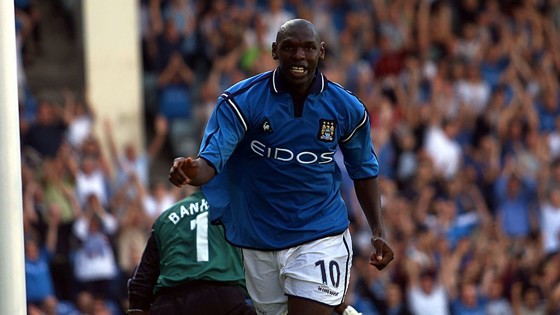 The show will then return at half-time to give a run down on the first 45 minutes and, five minutes after the final whistle, we'll have half an hour of post-match reaction.
We're Not Really Here is available to watch on all of our official digital platforms, whilst during the game there will be live commentary and footage of fans around the world, which you can enjoy exclusively on mancity.com and our official app.
PEP PREVIEW
"A team like Palace knows exactly what they have to do. We have to be patient, find our rhythm.
"They defend so well, we saw that against Arsenal hey were able to control much of the game. 
"All the clubs have their ups and downs this season more than ever. Every team has four good results and then after one or two bad ones. Palace are not an exception."
Hodgson preview
"If they're [Manchester City] not conceding goals, they're always likely to score with the quality of players they have to choose from, It's going to be a very very tough ask for us.
"One should be looking forward to it because it's a fantastic stadium and we're playing against a fantastic team."
"The reason we're in the Premier League really is to play in these games."
FORM GUIDE
Pep Guardiola's side head into the game on the back of an impressive run that has seen City go unbeaten in our last 14 games in all competitions.
Our last outing saw us defeat Brighton and Hove Albion 1-0 at the Etihad Stadium thanks to a first half strike from Phil Foden, leaving us third in the Premier League table.
The Eagles currently sit 13th in the league table after picking up 23 points from 18 games this season.
They head into the clash on the back of a hard-fought 0-0 draw away at Arsenal in midweek.
LAST MEETING
The last time the two sides met resulted in a stalemate as a 2-2 draw was played out at the Etihad Stadium last January.
Cenk Tosun opened the scoring for Palace five minutes before half time to give them the lead at the break.
Two late second half goals from Sergio Aguero looked to have rescued the win for City, however a late Fernandinho own goal meant the spoils were shared.
MATCH OFFICIALS
Referee: Lee Mason
Assistants: Scott Ledger, Tim Wood
Fourth official: Andy Madley
VAR: Martin Atkinson
Assistant VAR: Peter Kirkup.
TV LISTINGS
| | |
| --- | --- |
| Albania | SuperSport 4 Digitalb |
| Algeria | beIN SPORTS CONNECT, beIN Sports HD 2 |
| Andorra | RMC Sport 1 |
| Angola | SuperSport Maximo, DStv Now, SuperSport Premier League ROA |
| Anguilla | Flow Sports App, Flowsports.co |
| Antigua and Barbuda | Flowsports.co, Flow Sports App |
| Argentina | ESPN Play Sur |
| Aruba | Flowsports.co, Flow Sports App, RUSH |
| Australia | Optus Sport |
| Austria | Sky Sport 1/HD, Sky Sport Austria 1, Sky Go |
| Azerbaijan | Idman TV |
| Bahamas | RUSH, Flowsports.co, Flow Sports App |
| Bahrain | beIN Sports HD 2, beIN SPORTS CONNECT |
| Bangladesh | Star Sports Select HD1 |
| Barbados | RUSH, Flowsports.co, Flow Sports App |
| Belarus | Belarus 5 |
| Belgium | Play Sports 1, VOOsport World 1 |
| Benin | SuperSport Premier League ROA, SuperSport Maximo |
| Bermuda | Flowsports.co, Flow Sports App, RUSH |
| Bhutan | Star Sports Select HD1 |
| Bolivia | ESPN Play Sur |
| Botswana | SuperSport Premier League ROA, DStv Now, SuperSport Maximo |
| Brazil | DAZN |
| British Virgin Islands | Flowsports.co, RUSH, Flow Sports App |
| Brunei | Astro Go |
| Bulgaria | Diema Sport 2, Play Diema Xtra |
| Burkina Faso | DStv Now, SuperSport Maximo, SuperSport Premier League ROA |
| Burundi | SuperSport Premier League ROA, SuperSport Maximo, DStv Now |
| Cameroon | SuperSport Premier League ROA, DStv Now, SuperSport Maximo |
| Canada | DAZN |
| Cape Verde | SuperSport Premier League ROA, SuperSport Maximo, DStv Now |
| Cayman Islands | RUSH, Flowsports.co, Flow Sports App |
| Central African Republic | SuperSport Premier League ROA, SuperSport Maximo |
| Chad | beIN Sports HD 2, beIN SPORTS CONNECT, SuperSport Premier League ROA, DStv Now, SuperSport Maximo |
| Chile | ESPN Play Sur |
| China | QQ Sports Live, PPTV Sport China |
| Colombia | ESPN Play Sur, ESPN2 Colombia |
| Comoros | SuperSport Maximo, SuperSport Premier League ROA |
| Congo | SuperSport Premier League ROA, DStv Now |
| Costa Rica | Sky HD |
| Cote D'Ivoire | SuperSport Premier League ROA, SuperSport Maximo, DStv Now |
| Curacao | RUSH |
| Cyprus | Cytavision Sports 3, Cytavision on the Go |
| Czech Republic | Premier Sport, DIGI GO |
| Denmark | Viaplay Denmark, Xee |
| Djibouti | SuperSport Maximo, beIN SPORTS CONNECT, beIN Sports HD 2, DStv Now |
| Dominica | Flowsports.co, RUSH, Flow Sports App |
| Dominican Republic | Sky HD, RUSH |
| Ecuador | ESPN Play Sur |
| Egypt | beIN SPORTS CONNECT, beIN Sports HD 2 |
| El Salvador | Sky HD |
| Equatorial Guinea | SuperSport Maximo, SuperSport Premier League ROA, DStv Now |
| Eritrea | DStv Now, SuperSport Maximo, SuperSport Premier League ROA |
| Estonia | TV3 Sport |
| Ethiopia | SuperSport Premier League ROA, DStv Now, SuperSport Maximo |
| Finland | V Sport Premium, V Sport Jalkapallo, Viaplay Finland |
| France | RMC Sport en direct, RMC Sport 1, Canal+ Sport, Free |
| French Guiana | RUSH |
| Gabon | SuperSport Maximo, DStv Now, SuperSport Premier League ROA |
| Gambia | SuperSport Maximo, SuperSport Premier League ROA, DStv Now |
| Germany | Sky Sport 1/HD, Sky Ticket, Sky Go |
| Ghana | SuperSport Maximo, SuperSport Premier League ROA, DStv Now |
| Greece | Cosmote Sport 1 HD |
| Grenada | Flow Sports App, RUSH, Flowsports.co |
| Guadeloupe | RUSH |
| Guatemala | Sky HD |
| Guinea | SuperSport Maximo, SuperSport Premier League ROA, DStv Now |
| Guinea-Bissau | SuperSport Premier League ROA, SuperSport Maximo, DStv Now |
| Guyana | RUSH |
| Haiti | RUSH |
| Honduras | Sky HD |
| Hong Kong | 621 Now Premier League 1, 620 Now Premier League TV, Now Player |
| Hungary | Digi Sport 3 Hungary |
| Iceland | SíminnSport |
| India | Star Sports Select 1, Star Sports Select HD1, Hotstar VIP |
| Indonesia | Mola TV, mola.tv, Mola TV App |
| Iran | beIN SPORTS CONNECT, beIN Sports HD 2 |
| Iraq | beIN Sports HD 2, beIN SPORTS CONNECT |
| Ireland | Sky Ultra HD, SKY GO Extra, Sky Sports Main Event, Sky Sports Premier League |
| Israel | Sport 2 |
| Italy | SKY Go Italia, Sky Sport Football, NOW TV |
| Jamaica | Flow Sports App, Flowsports.co, RUSH |
| Japan | DAZN |
| Jordan | beIN SPORTS CONNECT, beIN Sports HD 2 |
| Kazakhstan | Setanta Sports Kazakhstan |
| Kenya | DStv Now, SuperSport Premier League ROA |
| Kuwait | beIN SPORTS CONNECT, beIN Sports HD 2 |
| Latvia | TV3 Sport |
| Lebanon | beIN Sports HD 2, beIN SPORTS CONNECT |
| Lesotho | SuperSport Maximo, DStv Now |
| Liberia | DStv Now, SuperSport Maximo, SuperSport Premier League ROA |
| Libya | beIN SPORTS CONNECT, beIN Sports HD 2 |
| Lithuania | TV3 Sport |
| Luxembourg | RMC Sport 1 |
| Madagascar | DStv Now, SuperSport Premier League ROA, SuperSport Maximo |
| Malawi | SuperSport Maximo, SuperSport Premier League ROA, DStv Now |
| Malaysia | Astro Supersport, Astro Go |
| Maldives | Star Sports Select HD1 |
| Mali | SuperSport Maximo, SuperSport Premier League ROA, DStv Now |
| Malta | TSN2 Malta, GO TV Anywhere |
| Martinique | RUSH |
| Mauritania | beIN SPORTS CONNECT, beIN Sports HD 2, DStv Now |
| Mauritius | DStv Now, SuperSport Premier League ROA, RMC Sport 1 |
| Mexico | Blue To Go Video Everywhere, Sky HD |
| Monaco | RMC Sport 1 |
| Montserrat | Flow Sports App, Flowsports.co, RUSH |
| Morocco | beIN SPORTS CONNECT, beIN Sports HD 2 |
| Mozambique | SuperSport Premier League ROA, SuperSport Maximo, DStv Now |
| Myanmar | Skynet Myanmar |
| Namibia | SuperSport Maximo, SuperSport Premier League ROA, DStv Now |
| Nepal | Star Sports Select HD1 |
| Netherlands | Ziggo Sport Voetbal |
| New Zealand | Spark Sport |
| Nicaragua | Sky HD |
| Niger | SuperSport Maximo, SuperSport Premier League ROA, DStv Now |
| Nigeria | SuperSport Maximo, SuperSport Premier League Nigeria, DStv Now |
| Norway | TV2 Sumo, TV2 Sport Premium |
| Oman | beIN SPORTS CONNECT, beIN Sports HD 2 |
| Pakistan | Star Sports Select HD1 |
| Palestinian Territory | beIN Sports HD 2, beIN SPORTS CONNECT |
| Panama | Flow Sports App, Flowsports.co, Sky HD |
| Paraguay | ESPN Play Sur |
| Peru | ESPN Play Sur |
| Philippines | Premier FOOTBALL |
| Poland | nc+ GO, Canal+ Sport Online, Canal+ Sport |
| Portugal | Sport TV LIVE, Sport TV2 |
| Puerto Rico | RUSH |
| Qatar | beIN Sports HD 2, beIN SPORTS CONNECT |
| Romania | Eurosport Player Romania, Eurosport Romania |
| Russia | Okko Sport |
| Rwanda | SuperSport Premier League ROA, SuperSport Maximo |
| Saint Kitts and Nevis | Flow Sports App, Flowsports.co |
| Saint Lucia | RUSH, Flowsports.co, Flow Sports App |
| Saint Vincent and the Grenadines | Flowsports.co, Flow Sports App |
| Sao Tome And Principe | SuperSport Premier League ROA, SuperSport Maximo |
| Senegal | SuperSport Maximo, DStv Now, SuperSport Premier League ROA |
| Seychelles | Flow Sports App, SuperSport Premier League ROA, SuperSport Maximo, Flowsports.co, DStv Now |
| Sierra Leone | DStv Now, SuperSport Maximo, SuperSport Premier League ROA |
| Slovakia | DIGI GO, Premier Sport |
| Somalia | beIN Sports HD 2, beIN SPORTS CONNECT |
| South Africa | SuperSport Maximo, Maximo 360, SuperSport Premier League, DStv App |
| South Sudan | beIN Sports HD 2, SuperSport Premier League ROA, DStv Now, beIN SPORTS CONNECT |
| Spain | DAZN |
| Sri Lanka | Star Sports Select HD1 |
| Sudan | DStv Now, beIN SPORTS CONNECT, SuperSport Maximo, beIN Sports HD 2 |
| Suriname | RUSH |
| Swaziland | SuperSport Maximo, SuperSport Premier League ROA, DStv Now |
| Sweden | V Sport Premium, Viaplay Sweden |
| Switzerland | Sky Sport 1/HD, Canal+ Sport, RMC Sport 1 |
| Syria | beIN Sports HD 2, beIN SPORTS CONNECT |
| Tanzania | SuperSport Maximo, SuperSport Premier League ROA, DStv Now |
| Thailand | True Premier Football HD 2, True Premier Football HD 1 |
| Timor-Leste | Mola TV, mola.tv |
| Togo | SuperSport Maximo, SuperSport Premier League ROA, DStv Now |
| Trinidad and Tobago | Flow Sports App, Flowsports.co, RUSH |
| Tunisia | beIN SPORTS CONNECT, beIN Sports HD 2 |
| Turkey | S Sport, S Sport+, Idman TV |
| Turks and Caicos Islands | Flow Sports App, Flowsports.co, RUSH |
| U.S. Virgin Islands | RUSH |
| Uganda | DStv Now, SuperSport Maximo, SuperSport Premier League ROA |
| Ukraine | Setanta Sports Ukraine |
| United Arab Emirates | beIN Sports HD 2, beIN SPORTS CONNECT |
| United Kingdom | BBC Radio Manchester, Sky Ultra HD, SKY GO Extra, Sky Sports Main Event, Sky Sports Premier League |
| United States | Peacock |
| Uruguay | ESPN Play Sur |
| Venezuela | ESPN Play Sur |
| Yemen | beIN SPORTS CONNECT, beIN Sports HD 2 |
| Zambia | SuperSport Maximo, SuperSport Premier League ROA |
| Zimbabwe | DStv Now, SuperSport Premier League ROA, SuperSport Maximo |
News about Man City v C Palace