Everything you need to know ahead of our Premier League clash with Chelsea.
WHEN AND WHERE
City host Chelsea on Saturday 4 May at the Etihad Stadium, with kick-off at 17:30 (UK).
DOWNLOAD THE OFFICIAL MAN CITY APP
Fans in the UK can watch the game live on Sky Sports Main Event and Sky Sports Premier League, whilst supporters from abroad can check out how they can tune in via the TV listings at the foot of the page.
If you are unable to watch the game you can follow minute-by-minute updates here on ManCity.com and the Man City App courtesy of our Matchday Centre.
City+ subscribers can also watch a full-match replay at midnight following the game.
WE'RE NOT REALLY HERE
Presenter, Natalie Pike will be joined by former City defenders, Joleon Lescott and Nedum Onuoha for this week's We're Not Really Here.
Join Natalie, Joleon and Nedum for all the pre-match build-up as well as a comprehensive, in-depth reaction at both half-time and full-time.
The show will be broadcasted across all of our digital platforms and will begin 65 minutes before kick-off at 16:25 (UK).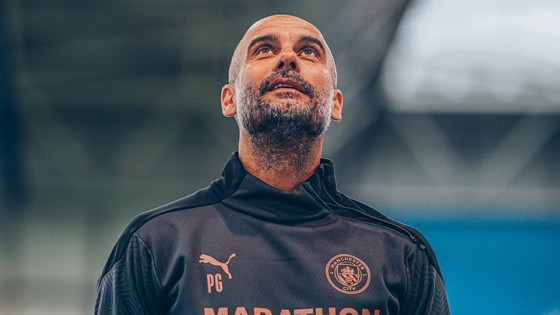 PEP PREVIEW
"I've always said the Premier League is the most important title... we have four games left to get one victory and tomorrow we will try to get it.
"When we have the Premier League, after the focus will be the final of the Champions League and everything will be related to the final.
"I am a cautious guy. In sport you don't talk about it until you have it. We still need points.
"I have a lot of respect for Thomas (Tuchel)... in every place he has been he has always done really well and the teams are always a joy to watch.
"I have not been working with him so I don't know [what he does], but he has always done really well.
"I am not surprised and huge compliments for what they have done so far."
TEAM NEWS
City make nine changes for today's key Premier League home clash with Chelsea.
Ederson and Ruben Dias retain their places from the side that beat Paris Saint-Germain 2-0 in Tuesday's superb Champions League semi-final second leg victory.
Nathan Ake, Aymeric Laporte, Benjamin Mendy, Rodrigo, Joao Cancelo, Raheem Sterling, Sergio Aguero, Ferran Torres and Gabriel Jesus all come into the starting eleven.
Kyle Waker, Oleks Zinchenko, Fernandinho, Ilkay Gundogan, Bernardo, Riyad Mahrez and Phil Foden all revert to the bench.
John Stones misses out on the game as he completes a three-match domestic suspension while Kevin De Bruyne is also absent as he is not fully fit for selection.
It's a vital fixture as a victory for City at the Etihad this afternoon would see us crowned Premier League champions.
TEAMS
CITY: Ederson, Ake, Dias, Laporte, Mendy, Rodrigo, Cancelo, Sterling (c), Aguero, Jesus, Torres,
Subs: Steffen, Walker, Garcia, Zinchenko, Fernandinho, Gundogan, Bernardo, Mahrez, Foden
CHELSEA: Mendy, Azpilicueta, Christensen, Rudiger, James, Kante, Gilmour, Alonso, Ziyech, Werner, Pulisic
Subs: Kepa, Emerson, Livramento, Zouma, Jorginho, Havertz, Hudson-Odoi, Ambraham, Giroud
FORM GUIDE
We go into the game on the back of Champions League triumph, after City booked a place in the Champions League final thanks to a 2-0 win over Paris Saint-Germain.
Domestically, last Saturday's 2-0 win over Crystal Palace means Guardiola's side know victory over Chelsea would secure our third Premier League title in four years.
However, Saturday's clash will be anything but straight forward for City, as the visitors head into the game having lost just one of their last 15 Premier League games.
LAST MEETING
It was Chelsea who took the spoils the last time the two sides met, as Tuchel's side ran out 1-0 winners in the FA Cup semi-final last month.
However it was City who prevailed in the reverse league fixture, as a mesmorising first half saw us record a 3-1 victory, thanks to goals from Ilkay Gundogan, Phil Foden and Kevin De Bruyne.
match officials
Referee: Anthony Taylor
Assistants: Gary Beswick and Adam Nunn. 
Fourth official: Jonathan Moss. 
VAR: Stuart Attwell. 
Assistant VAR: Andy Halliday.
TV LISTINGS
| | |
| --- | --- |
| Algeria | beIN SPORTS CONNECT |
| Andorra | RMC Sport 1 |
| Angola | SuperSport MaXimo 1, DStv Now, SuperSport Premier League ROA |
| Anguilla | Flowsports.co, Flow Sports App |
| Antigua and Barbuda | Flowsports.co, Flow Sports App |
| Argentina | ESPN Sur, ESPN Play Sur |
| Aruba | Flow Sports App, Flowsports.co, RUSH |
| Australia | Optus Sport |
| Azerbaijan | Idman TV |
| Bahamas | RUSH, Flow Sports App, Flowsports.co |
| Bahrain | beIN SPORTS CONNECT |
| Bangladesh | Star Sports Select HD2 |
| Barbados | RUSH, Flowsports.co, Flow Sports App |
| Belgium | Play Sports 1, Play Sports, VOOsport World 1 |
| Benin | SuperSport Premier League ROA, Canal+ Sport 3 Afrique, SuperSport MaXimo 1 |
| Bermuda | Flow Sports App, Flowsports.co, RUSH |
| Bhutan | Star Sports Select HD2 |
| Bolivia | ESPN Play Sur, ESPN Sur |
| Botswana | SuperSport MaXimo 1, DStv Now, SuperSport Premier League ROA |
| Brazil | Watch ESPN Brasil, NOW NET e Claro, GUIGO, ESPN Brasil |
| British Virgin Islands | Flow Sports App, Flowsports.co, RUSH |
| Brunei | Astro Go |
| Bulgaria | Play Diema Xtra, Diema Sport 2 |
| Burkina Faso | SuperSport MaXimo 1, DStv Now, SuperSport Premier League ROA, Canal+ Sport 3 Afrique |
| Burundi | SuperSport MaXimo 1, DStv Now, SuperSport Premier League ROA, Canal+ Sport 3 Afrique |
| Cameroon | Canal+ Sport 3 Afrique, DStv Now, SuperSport Premier League ROA, SuperSport MaXimo 1 |
| Canada | DAZN |
| Cape Verde | SuperSport Premier League ROA, Canal+ Sport 3 Afrique, DStv Now, SuperSport MaXimo 1 |
| Cayman Islands | RUSH, Flowsports.co, Flow Sports App |
| Central African Republic | SuperSport Premier League ROA, Canal+ Sport 3 Afrique, SuperSport MaXimo 1 |
| Chad | SuperSport Premier League ROA, DStv Now, beIN SPORTS CONNECT, Canal+ Sport 3 Afrique, SuperSport MaXimo 1 |
| Chile | ESPN Sur, ESPN Play Sur |
| China | QQ Sports Live |
| Colombia | ESPN Play Sur, ESPN Sur |
| Comoros | SuperSport Premier League ROA, SuperSport MaXimo 1 |
| Congo | SuperSport Premier League ROA, DStv Now, Canal+ Sport 3 Afrique |
| Costa Rica | Sky HD |
| Cote D'Ivoire | Canal+ Sport 3 Afrique, SuperSport MaXimo 1, DStv Now, SuperSport Premier League ROA |
| Curacao | RUSH |
| Cyprus | Cytavision on the Go, Cytavision Sports 3 |
| Czech Republic | DIGI GO, Premier Sport |
| Denmark | TV3 MAX, Viaplay Denmark |
| Djibouti | Canal+ Sport 3 Afrique, SuperSport MaXimo 1, beIN SPORTS CONNECT, DStv Now |
| Dominica | RUSH, Flowsports.co, Flow Sports App |
| Dominican Republic | RUSH, Sky HD |
| Ecuador | ESPN Play Sur, ESPN Andina, ESPN Sur |
| Egypt | beIN SPORTS CONNECT |
| El Salvador | Sky HD |
| Equatorial Guinea | SuperSport Premier League ROA, Canal+ Sport 3 Afrique, DStv Now, SuperSport MaXimo 1 |
| Eritrea | DStv Now, SuperSport MaXimo 1, SuperSport Premier League ROA |
| Estonia | TV3 Sport |
| Ethiopia | SuperSport MaXimo 1, DStv Now, SuperSport Premier League ROA |
| Finland | V Sport Premium, Elisa Viihde Viaplay, V Sport Jalkapallo |
| France | RMC Sport 1, Free, RMC Sport en direct, Canal+ Décalé |
| French Guiana | RUSH |
| Gabon | SuperSport MaXimo 1, Canal+ Sport 3 Afrique, DStv Now, SuperSport Premier League ROA |
| Gambia | SuperSport MaXimo 1, Canal+ Sport 3 Afrique, DStv Now, SuperSport Premier League ROA |
| Ghana | SuperSport Premier League ROA, DStv Now, Canal+ Sport 3 Afrique, SuperSport MaXimo 1 |
| Greece | Cosmote Sport 1 HD |
| Grenada | Flowsports.co, Flow Sports App, RUSH |
| Guadeloupe | RUSH |
| Guatemala | Sky HD |
| Guinea | DStv Now, Canal+ Sport 3 Afrique, SuperSport Premier League ROA, SuperSport MaXimo 1 |
| Guinea-Bissau | SuperSport Premier League ROA, SuperSport MaXimo 1, Canal+ Sport 3 Afrique, DStv Now |
| Guyana | RUSH |
| Haiti | RUSH |
| Honduras | Sky HD |
| Hong Kong | Now Player, 621 Now Premier League 1, 620 Now Premier League TV |
| Hungary | Spíler1 |
| Iceland | SíminnSport |
| India | Hotstar VIP, Star Sports Select HD2, Star Sports Select 2 |
| Indonesia | mola.tv, Mola TV, Mola TV App |
| Iran | beIN SPORTS CONNECT |
| Iraq | beIN SPORTS CONNECT |
| Ireland | Sky Sports Main Event, SKY GO Extra, Sky Ultra HD, Sky Sports Premier League |
| Israel | Sport 2 |
| Italy | SKY Go Italia, Sky Sport Football, NOW TV |
| Jamaica | Flowsports.co, Flow Sports App, RUSH |
| Japan | DAZN |
| Jordan | beIN SPORTS CONNECT |
| Kazakhstan | Setanta Sports Kazakhstan |
| Kenya | SuperSport Premier League ROA, DStv Now |
| Korea Republic | SPOTV ON |
| Kuwait | beIN SPORTS CONNECT |
| Latvia | TV3 Sport |
| Lebanon | beIN SPORTS CONNECT |
| Lesotho | SuperSport MaXimo 1, DStv Now |
| Liberia | SuperSport Premier League ROA, DStv Now, SuperSport MaXimo 1 |
| Libya | beIN SPORTS CONNECT |
| Lithuania | TV3 Sport |
| Luxembourg | RMC Sport 1 |
| Madagascar | DStv Now, SuperSport MaXimo 1, SuperSport Premier League ROA |
| Malawi | DStv Now, SuperSport MaXimo 1, SuperSport Premier League ROA |
| Malaysia | Astro SuperSport 3, Astro Go |
| Maldives | Star Sports Select HD2 |
| Mali | Canal+ Sport 3 Afrique, DStv Now, SuperSport MaXimo 1, SuperSport Premier League ROA |
| Malta | GO TV Anywhere, TSN2 Malta |
| Martinique | RUSH |
| Mauritania | DStv Now, beIN SPORTS CONNECT, Canal+ Sport 3 Afrique |
| Mauritius | SuperSport Premier League ROA, RMC Sport 1, DStv Now |
| Mexico | Blue To Go Video Everywhere, Sky HD |
| Monaco | RMC Sport 1 |
| Montserrat | Flowsports.co, Flow Sports App, RUSH |
| Morocco | beIN SPORTS CONNECT |
| Mozambique | DStv Now, SuperSport MaXimo 1, SuperSport Premier League ROA |
| Myanmar | Skynet Myanmar |
| Namibia | DStv Now, SuperSport Premier League ROA, SuperSport MaXimo 1 |
| Nepal | Star Sports Select HD2 |
| Netherlands | Ziggo Sport 14, Ziggo Sport Select |
| New Zealand | Spark Sport |
| Nicaragua | Sky HD |
| Niger | SuperSport MaXimo 1, Canal+ Sport 3 Afrique, DStv Now, SuperSport Premier League ROA |
| Nigeria | DStv Now, SuperSport Premier League Nigeria, Canal+ Sport 3 Afrique, SuperSport MaXimo 1 |
| Norway | TV2 Sumo, TV2 Sport Premium |
| Oman | beIN SPORTS CONNECT |
| Pakistan | Star Sports Select HD2 |
| Palestinian Territory | beIN SPORTS CONNECT |
| Panama | Flow Sports App, Flowsports.co, Sky HD |
| Paraguay | ESPN Play Sur, ESPN Sur |
| Peru | ESPN Sur, ESPN Play Sur |
| Philippines | Premier FOOTBALL |
| Poland | Canal+ Sport 2 Poland, nc+ GO, Canal+ Sport Online |
| Portugal | Sport TV LIVE, Sport TV1 |
| Puerto Rico | RUSH |
| Qatar | beIN SPORTS CONNECT |
| Romania | Eurosport Player Romania, Eurosport Romania |
| Russia | Okko Sport |
| Rwanda | SuperSport MaXimo 1, SuperSport Premier League ROA, Canal+ Sport 3 Afrique |
| Saint Kitts and Nevis | Flowsports.co, Flow Sports App |
| Saint Lucia | Flow Sports App, RUSH, Flowsports.co |
| Saint Vincent and the Grenadines | Flow Sports App, Flowsports.co |
| Sao Tome And Principe | SuperSport MaXimo 1, SuperSport Premier League ROA |
| Senegal | Canal+ Sport 3 Afrique, SuperSport MaXimo 1, SuperSport Premier League ROA, DStv Now |
| Seychelles | SuperSport Premier League ROA, Flow Sports App, SuperSport MaXimo 1, Flowsports.co, DStv Now |
| Sierra Leone | Canal+ Sport 3 Afrique, DStv Now, SuperSport Premier League ROA, SuperSport MaXimo 1 |
| Singapore | 102 (HD) mio Stadium |
| Slovakia | DIGI GO, Premier Sport |
| Somalia | beIN SPORTS CONNECT |
| South Africa | SuperSport MaXimo 1, DStv App, SuperSport Premier League |
| South Sudan | SuperSport Premier League ROA, beIN SPORTS CONNECT, DStv Now |
| Spain | DAZN |
| Sri Lanka | Star Sports Select HD2 |
| Sudan | DStv Now, beIN SPORTS CONNECT, SuperSport MaXimo 1 |
| Suriname | RUSH |
| Swaziland | SuperSport MaXimo 1, DStv Now, SuperSport Premier League ROA |
| Sweden | V Sport Premium, Viaplay Sweden |
| Switzerland | Canal+ Décalé, RMC Sport 1 |
| Syria | beIN SPORTS CONNECT |
| Tanzania | SuperSport MaXimo 1, SuperSport Premier League ROA, DStv Now |
| Thailand | True Premier Football HD 1, True Premier Football HD 2 |
| Timor-Leste | Mola TV, mola.tv |
| Togo | SuperSport MaXimo 1, SuperSport Premier League ROA, DStv Now, Canal+ Sport 3 Afrique |
| Trinidad and Tobago | Flowsports.co, RUSH, Flow Sports App |
| Tunisia | beIN SPORTS CONNECT |
| Turkey | Idman TV, S Sport, S Sport+ |
| Turks and Caicos Islands | Flow Sports App, RUSH, Flowsports.co |
| U.S. Virgin Islands | RUSH |
| Uganda | DStv Now, SuperSport Premier League ROA, SuperSport MaXimo 1 |
| Ukraine | Setanta Sports Ukraine |
| United Arab Emirates | beIN SPORTS CONNECT |
| United Kingdom | Sky Sports Premier League, Sky Sports Main Event, SKY GO Extra, BBC Radio Manchester, Sky Ultra HD |
| United States | UNIVERSO, SiriusXM FC, Telemundo Deportes En Vivo, UNIVERSO NOW |
| Uruguay | ESPN Sur, ESPN Play Sur |
| Venezuela | ESPN Sur, ESPN Andina, ESPN Play Sur |
| Yemen | beIN SPORTS CONNECT |
| Zambia | SuperSport MaXimo 1, SuperSport Premier League ROA |
| Zimbabwe | SuperSport Premier League ROA, DStv Now, SuperSport MaXimo 1 |