If you see a family member angrily popping balloons at a party or celebration of some sort (when lockdown eases), chances are they were at Bramall Lane on 27 January 2008.
You see, City fans love inflatables – bananas, monsters or whatever – but balloons? You can keep them.
In fact, it's fair to say balloons have never been that popular among City fans, so why so many appeared during an FA Cup fourth round tie at Sheffield United remains something of a mystery.
Sven-Goran Eriksson's side were expected to progress to the last 16 of the cup against the Championship Blades and – bear in mind we hadn't won a trophy for 32 years at that point – around 6,000 City fans travelled across the Pennines hoping to edge closer to Wembley.
And the competition was wide open with Premier League clubs dropping like flies (only six would progress to the fifth round).
As the teams came out, the blue and white balloons were released and maybe a couple of hundred were released and bobbed around the City end from the top tier.
But some balloons started to drift towards the pitch where Joe Hart was taking his place in goal – then it was dozens and the match began.
Hart did his best to stamp on some of the bigger ones, but he also had a game to keep his eye on, so had only managed a dozen or so when Sheffield United attacked down the left.
Now at this stage, one of two things should have happened – Hart should have caught the attention of the referee – Alan Wiley – and asked for the balloons to be cleared.
Or, the referee and his assistants should have called a halt and ordered ground staff to remove the balloons.
Neither happened, but it is fair to say nobody could have predicted what would happen next.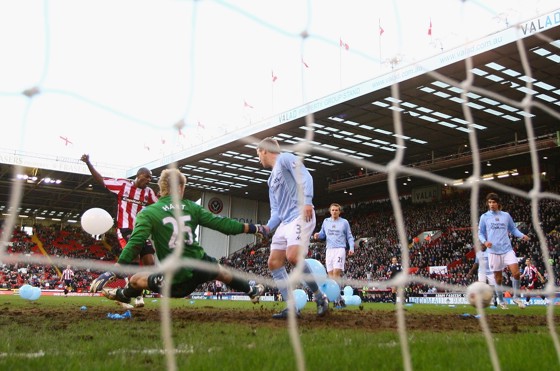 As Lee Martin (on loan from United) attacked down the wing, he cleverly crossed into the six-yard box where a cluster of six balloons had evaded being popper.
Five blue balloons, one white – of course the ball has to hit the white balloon as Michael Ball is about to clear the danger, ever-so-slightly deviating the ball's direction and as Ball kicks what he believes to be a ball (but is a white balloon), so Gary Shelton pounces to stab the real ball past Hart and put the Blades ahead.
CITYZENS AT HOME |  Fun & educational activities to do at home
Hart is furious, the City defenders are bemused and as the travelling army waits for the inevitable whistle to disallow the goal, referee Wiley points to the centre spot and awards the goal.
Bias apart, the question that needs answering is 'how?' How could that goal possibly be fair to Hart or the City defenders?
Thereafter, Hart went around stomping on balloons angrily while at least a few City fans probably were thinking 'oops!'
Sheffield United doubled their lead 12 minutes later and though Daniel Sturridge pulled one back after the break, City went out of the FA Cup, losing 2-1.
That's why balloons are not welcome whether City are playing at home or away and if you ever see one at a match, you know what to do…