City have had some inspirational signings over the years – Colin Bell, Andy Morrison, Vincent Kompany, Sergio Aguero, Kevin De Bruyne… the list is long.
But it's doubtful whether any manager could claim to have had a better impact than John Bond when he brought in three seasoned campaigners whose impact was, considering the situation, quite spectacular.
The first dozen games of the 1980/81 season were painful for all concerned as City fans had to endure some terrible matches before Chairman Peter Swales was left with no other choice but to relieve Malcolm Allison of his position.
Four draws and seven defeats in and City were anchored to the foot of the table headed for Division Two football. Swales turned to Norwich City in search of a man big enough to save his club and build a brighter future.
Enter John Bond; every bit the flamboyant larger than life character Swales felt was needed to erase the memory of a painful couple of years of steady decline.
Bond quit Carrow Road and headed north to take up the reins of a club teetering on the brink.
The effect the new boss had was nothing short of miraculous and undoubtedly his signing of three Scottish veterans for a total outlay of less than £500,000 was one of the main reasons for the Club's incredible turnaround.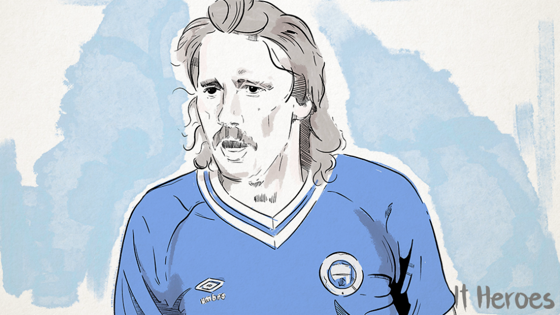 Gerry Gow (£175,000) was drafted from Bristol City and Bobby McDonald (£275,000) and Tommy Hutchison £47,000) arrived from Coventry City. The trio were well respected within the game, experienced and now on the biggest stage of their career, even if they were towards the wrong end of their playing days.
CITY+ - Free to Cityzens until football resumes
While it was true they were good players, it could be argued that none had set the world on fire with their previous sides - but all that was about to change.
Bond watched from the stands as his new club fought a close battle with Birmingham City at Maine Road, but a last minute Archie Gemmil penalty proved to be the only goal of the game.
Bond was still in the process of bringing the three Scots to the club at that stage and again had to make do with what he already had for the visit of Spurs. He gave teenager Gary Buckley his debut feeling width was needed for his side and City played with style and confidence to win their first game of the season 3-1.
Enter Gow, Hutch and Bobby Mac.
From there on in, City were a different team. The next 10 matches saw seven wins, two draws and just one loss as Bond's rejuvenated side steadily climbed away from the foot of the table while making progress in both the League Cup and FA Cup.
In the League Cup, Bond's trio of new signings were cup-tied so he was basically playing the same team Allison had been putting out before he was sacked and for a while, it seemed as though there were two teams at Maine Road, both playing equally well.
FEELING RETRO? Buy your City retro shirt here
Gow was a midfield terrier, full of menace and biting tackles – he set the standards for effort and guts and was technically far better than he was given credit for.
Hutch was as graceful a winger as you could have wished to see. Elegant, skilful, and full of trickery, and having just celebrated his 35th birthday, supremely fit.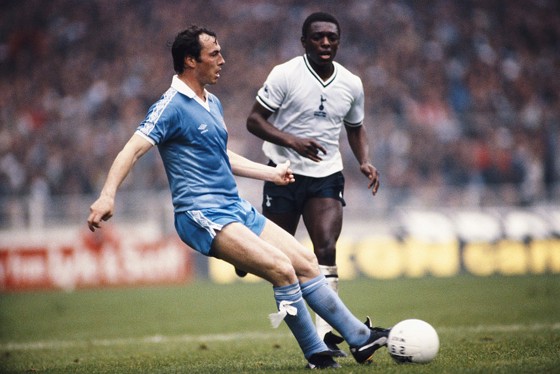 Bobby Mac was a marauding left-back who loved nothing better than to join the attack for set-pieces and particularly corners where he would fearlessly dive in with his head if he thought he get on the score-sheet.
The three would play 96 games between them i 1980/81 and chip in with 18 goals – McDonald and Gow with seven and Hutch with four.
City reached the semi-final of the League Cup but went out controversially to Liverpool 2-1 over two legs with at least one unbelievably bad refereeing decision robbing the Blues of a vital first leg goal.
In the FA Cup, the Tartan Trio were restored to the starting XI and there were a series of ironic pairings with Crystal Palace – Allison's new team and then Norwich City – Bond's old team, in rounds three and four.
Both were easily dispatched 4-0 and 6-0 respectively. A Tommy Booth header saw off the challenge of Fourth Division Peterborough at London Road and then an epic tussle with Everton, - 2-2 at Goodison and then 3-1 at Maine Road - eased City into the semi-finals where they faced Bobby Robson's buoyant Ipswich Town at Villa Park.
It was an unforgettable day for City fans as the Blues won 1-0 with a glorious Paul Power free kick in the 100th minute of the centenary FA Cup competition. Many supporters would later say they enjoyed the semi-final even more than the final. 
With a comfortable mid-table league position secured City walked out with Tottenham onto the lush Wembley turf for the 100th FA Cup final with Gow, Hutch and Bobby Mac all starting – the least they deserved after their magnificent impact.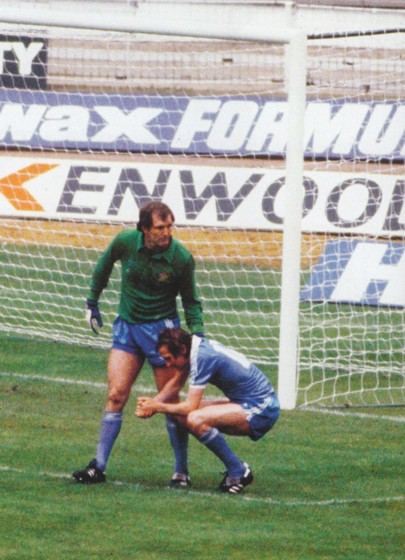 Hutch put City ahead early on and Bond's men led until 10 minutes from time when - bizarrely - Hutch deflected a Hoddle free kick past Joe Corrigan for a late own goal. City still had chances to win the match in extra time but it wasn't to be and the replay went Tottenham's way five days later.
It wasn't the storybook ending such a fairy-tale season had demanded and the season after things weren't the same for the trio from north of the border – but few would forget how they turned an ailing City side from relegation certainties, to a thrilling, cup specialist team.