Pep Guardiola says he is delighted by what he is seeing among his players after a tough period of fixtures and traveling.
City returned to winning ways with a 4-1 win at Bournemouth to move within two points of leaders Arsenal.
But it has been the vibrant atmosphere in the dressing room and on the training pitch that is most pleasing the boss.
"It's important to get back to winning games," said Pep.
"I'm very pleased with what I see and what I'm seeing every day.
"The mood in the locker room is exceptional and the training sessions are really, really good - everyone is helping each other.
"It's tough because we have played a lot of games away this month a lot.
"No recovery, every three days games and big travels a lot of pressure and demands physicality.
"Today, to come here and perform the way we did made me feel we still have the desire to try.
"We will try to fight for this Premier League, I don't have any doubts."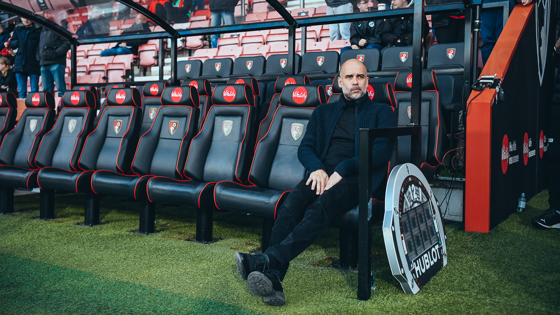 Guardiola had been effusive with his praise for man-of-the-match Phil Foden at his Friday press conference, calling the 22-year-old City's "diamond".
He says his display against Bournemouth proved just how valuable he is to the team.
"No one from managers, staff or players and even fans can doubt Phil," he said.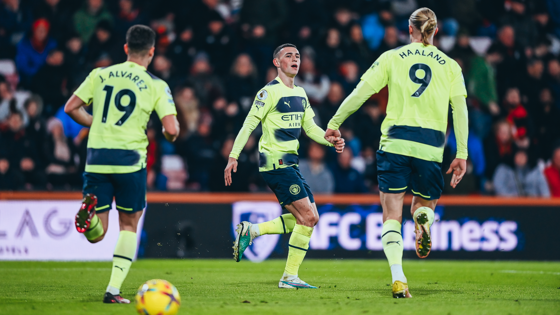 "Still we cannot forget he is a young lad and a young player and there are periods where you have injuries and the ankle is not comfortable, but always he is there his work ethic how he helps and tries to do it.
"Sometimes you are not brilliant like he normally is, but I'm sure this goal will help him and next Tuesday there will be another opportunity, and everyone is going to help us as we have a lot of games.
"Everyone will be important. You cannot do it with 11 players.
"If you have one game a week it's not necessary to use a lot of players but this is not the case.
"We are lucky that we are still in three competitions now in February with many important games coming and every game we will play the best way to win it."