Andy Morrison says City must be "incredibly disciplined" to nullify James Ward-Prowse's danger from dead-ball situations ahead of Saturday's Premier League clash with Southampton.
The England international has found the net 12 times from free-kicks in the Premier League, with the most recent a particularly spectacular strike in the Saints' defeat to Wolves in their previous outing.
Only David Beckham boasts a better goal tally from set-pieces in Premier League history, and the midfielder is equally proficient at delivering dangerous balls into the box from corners or wide free-kicks.
While former City captain Morrison is confident that Pep Guardiola's men have what it takes to get the better of Southampton in Saturday's 17:30 (UK) kick-off, he believes Ward-Prowse's dead-ball delivery will pose the biggest threat from the hosts.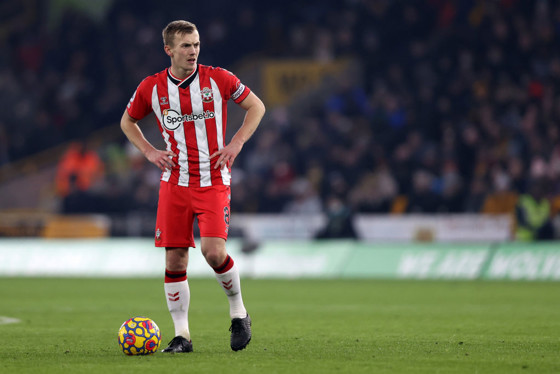 "Southampton are very clever in the way they play, they get into central areas in the attacking third and look to win fouls because of the quality James Ward-Prowse can deliver," he said.
"From wide areas, the defensive line has to be incredibly disciplined and must stay as high as possible.
"You're trying to make it two phases of play before the opponent can get a shot on goal, with the free-kick obviously the first phase.
"Ideally for the attacking team, it's headed or scored on that first phase, but if you can make it so your line is around the 18-yard box, it means a header or shot from there is going to be harder to score (than inside the area).
CITY+ | SUBSCRIBE TO ACCESS EXCLUSIVE CONTENT
"In and around the box though, I think it's a lottery. As Ward-Prowse showed against Wolves, whether it's 35-yards or 20-yards, it's a unique talent he has and something he's obviously worked on.
"To get the whip and to get the ball to actually dip the way it does, so much top spin has been put on it. It looks like he doesn't plant his left foot, he has to have it off the ground to create that movement.
"Ideally, City need to not give free-kicks away, but if we do then we've got to have an incredibly high and disciplined line."
Ward-Prowse aside, Morrison has also highlighted Southampton's high press in last season's clash at the Etihad Stadium as a key area of focus ahead of Saturday's Premier League clash.
City would run out 5-2 winners in March 2021, but were made to work for the result in the opening stages thanks to the Saints' energy and shape from the front.
Morrison said of Southampton: "They're very organised, they're disciplined and play at a high intensity but in a slightly different way to what (another high pressing teams) Leeds do, who tend to man mark and then break off from those positions.
"It's demanding and it asks a lot of the players, but I think the manager's very astute and will think outside the box, he comes up with game plans against City.
"In last season's game, Southampton left two players high and were marking the two centre-halves, so they stopped them receiving the ball. Whenever they made a press, City could basically only play forward and it made play more predictable.
"It was very courageous, it left Southampton vulnerable to overloads in midfield but it worked for the best part of half an hour and they had some really good chances.
"I thought they were the better team against Wolves in their last match and unfortunate to lose, but that's football.
"They'll be a wounded animal, and there's always a great atmosphere at St. Mary's, but if City are at our best we should have too much for them."
You can hear more from Andy Morrison as a co-commentator over on the Man City app's live coverage of every first team match.
From kick-off, Alistair Mann is joined by a former City star to guide you through the action, providing insight, statistics and analysis from wherever you are in the world.
Ex-City forward Shaun Goater will be behind the mic in this Saturday's clash against Southampton, offering his expert insight throughout proceedings.
The best way to follow Manchester City is by downloading the official app!
Download on your mobile phone or tablet via the Apple's App Store or Google Play Store, or, if you already have the app, then simply visit the stores and update.
Don't forget to turn push notifications on, that way you'll get reminders of everything as the day unfolds.