Andy Morrison believes Pep Guardiola's consistently high standards have been crucial in him reaching 500 Premier League points in record time.
City's 1-1 draw with Southampton on Saturday saw the Catalan reach the milestone in just 213 matches, 18 quicker than any other manager in Premier League history.
In that time, Guardiola has claimed every available domestic honour, including three league titles in the past four seasons.
And former City captain Morrison says the success is a product of the boss' constant desire to hit new heights season upon season.
"Pep Guardiola came with an incredible reputation from his time at Barcelona and Bayern Munich where he won everything that could be won," Morrison explained.
"I think the remit of any manager is to raise the standards and improve the Club and I think that's happened when you look at the amount of records that've been broken since he's been at City.
"Even up to this season, he's continually raising the bar year on year and looking to win everything that's available.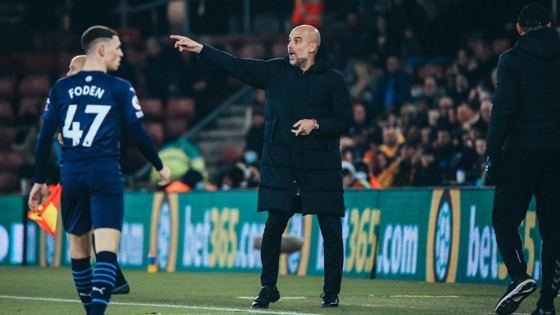 "He's always put his strongest teams out and for me, it's just this relentless nature of his desire to be the best, and that can only come from within.
"I think it's something that's innate in him and that's the thing that's really stood out for me.
"Regardless of the game the application, commitment, preparation, everything is meticulous. He expects to win every game of football and long may it continue."
In an otherwise phenomenal tenure, the Champions League remains the only trophy to elude Guardiola during his time at the Club.
However, the Catalan did break new ground in the 2020/21 campaign by guiding City to a maiden final appearance and, in the process, our first major European showpiece since 1970.
And for Morrison, success in the Champions League doesn't define Guardiola's legacy at the Etihad Stadium, believing instead that the boss already deserves to go down as a legendary figure.
CITY+ | SUBSCRIBE TO ACCESS EXCLUSIVE CONTENT
He declared: "It's too easy to say Pep was brought to Manchester City to win the Champions League, no manager can be brought into a club to win it.
"It may be a by-product of so many things, of the club being in the right place at the right time with the right players and everything, but when you come to a cup competition, for me I don't know how anyone can say that.
"City might not win it in the next ten years, they might win it a couple of times, who knows, but you've got to remember the likes of Liverpool, Chelsea, Bayern Munich, Juventus, Barcelona, Real Madrid and Paris Saint-Germain all have to fail for that to happen.
"Last year we got so close and I think many eyes were perhaps on the manager saying his reign will be judged on whether he can win the Champions League.
"But not for me, the way the Club plays, the way Pep goes into every game positive, aggressive, wanting to win and on the front foot, I think we've been very fortunate and privileged to be able to watch him and have him here."