Continuing our look back at 12 memorable festive fixtures, we remember a pivotal win at Wrexham in the iconic 1998/99 campaign, which reignited City's promotion push from Division Two...
The game
Wrexham 0-1 Manchester City
The date
Saturday 26 December 1998
SUBSCRIBE TO THE MAN CITY PODCAST
The story
To say City were struggling to adapt to life in Division Two would be an understatement: Joe Royle's men were floundering.
Two relegations in three seasons had plummeted the Club to the third tier - confirmed on the final day of a torrid 1997/98 campaign, despite a 5-2 win at Stoke.
With Royle at the helm, many expected an instant return to Division One via automatic promotion but having picked up just seven wins before Christmas, and having suffered humiliating defeats to Lincoln, Wycombe and most famously, York, City were in a perilous situation.
The loss at York is to this day widely regarded (but fondly recalled!) as the Club's lowest point. If City were to somehow mount an ascent up the leagues to the promised land of the Premiership, something had to change - and fast.
Our next game was a Boxing Day trip to Wrexham. As was the case whenever City came to town, the game was a sell-out and to intensify the difficulty of the task, the pitch was in less than perfect condition!
Striker Gareth Taylor - now Head Coach of our women's team - had joined the Club in the November, and he remembers the game well.
"We were understanding that we were the team expected to win," he reflected, "even though we'd come off the rails a bit the previous season.
"When I signed just before Christmas, we were mid-table in the league. I remember going to Wrexham in a packed house there at the Racecourse... on a bog of a pitch.
"There had been a real downpour before the game."
The conditions were dreadful but City had to roll up our sleeves and find a way to grind out a win - three points were absolutely essential.
Those three points would be claimed courtesy of an unlikely goalscorer, as Dutchman Gerard Wiekens headed home Kevin Horlock's pinpoint corner on 56 minutes.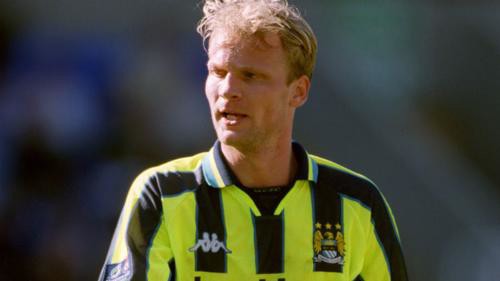 The triumph would prove to be a turning point in City's season - in more ways than one.
Following up the victory with a hard-fought comeback triumph over high-flying Stoke City at Maine Road (with Taylor netting his first goal for the Club), Royle's men would embark on a 12-game unbeaten run, forcing our way into promotion contention.
The signings of Taylor and the colossal Andy Morrison had already sparked a positive impact and Royle bolstered the squad further with the loan signing of Manchester United's Terry Cooke, who had impressed against City in Wrexham red.
"We won the game and that was an important win because we weren't having the best of times," Royle explained.
"We'd had bad times - York away, Wycombe away... Awful!
"(Against Wrexham), Man United loanee Terry Cooke had given us all kinds of problems. We got Terry soon after and we evolved as the season went on."
For Cooke, it was a chance to reignite his career and be part of something special.
The winger had suffered an injury which had threatened to end his career - and had been sidelined for 12 months prior to his loan at the Racecourse Ground - but he shone in sky blue, playing an important part in our promotion charge.
"I went out on loan to Wrexham to get back back on my feet to begin with," he recalled.
"I spent a good month there. I did okay but my best game was Boxing Day '98 against City, although we got beat 1-0.
"The gaffer Joe must have found out my loan period was coming to an end and at the time, City didn't have an out-and-out right-winger, and I just think I was the missing piece.
"So they actually enquired to bring me to Maine Road on loan. I just knew I needed to get back out there and play. I'd been out 12 months and keep playing as much as possible.
"I came to Maine Road, playing to a full house - thirty plus thousand every week - even in the third division and the rest is history!
"I came and spent nearly three years at the Club."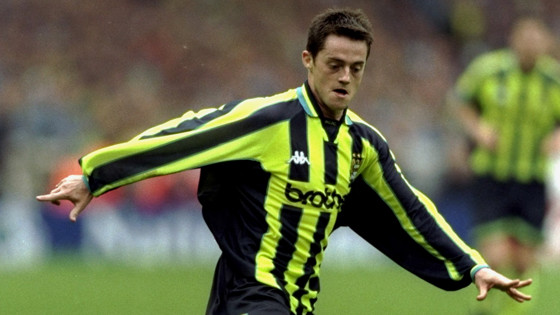 Although City narrowly missed out on automatic promotion, Royle's men would head into the play-offs in excellent form.
Edging out Wigan Athletic over two legs in the semi-finals, we booked our place at Wembley where Gillingham awaited.
In a fitting finale to our rollercoaster season, City would snatch victory from the jaws of defeat, fighting back from 2-0 down in injury-time of the Play-Off Final before defeating the Gills in the most dramatic fashion of a penalty shoot-out.
It could not have unfolded any other way...
"We came with a gallop at the end," Royle recollected. "We went into the game at Wembley in form.
"We fell just short of natural promotion but that wouldn't have been City!"
As for the win over Wrexham, hindsight holds the game in high regard - a turning point in our turbulent season - and therefore, a significant game in our illustrious history...
"We set off from there on a decent run and came around the back door," Taylor smiled.
"I definitely think those two games - Boxing Day and the win over Stoke on the 28th - were vital. 
"We just built that momentum from there. We were demanding of ourselves: 'We're on a run here, we want to do it and what an opportunity we've got.'
"We knew that if we could keep that momentum going and keep picking up the points, we could get there."