Women's Team
1
Houghton: 100 games an 'honour'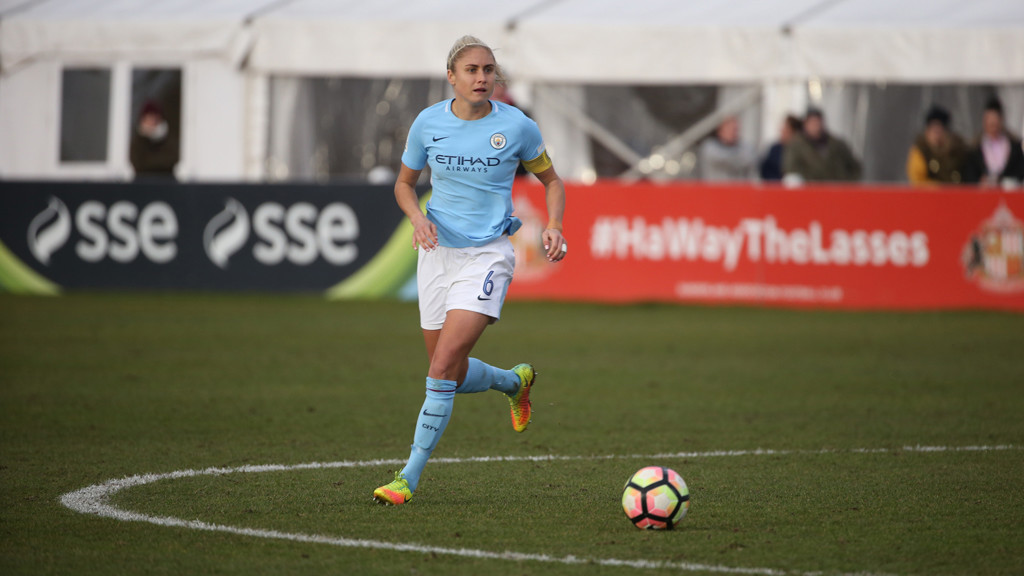 100 UP: Steph Houghton
City captain Steph Houghton spoke of her pride, having made her 100th appearance for the Club in the 3-0 triumph at her hometown side Sunderland.
The defender helped her side to maintain a 100% record in the 2017/18 campaign, against the team she made her debut for, aged 13.
Reflecting on an historic achievement, the England skipper said: "I'm delighted for my family, friends and for myself.
"I didn't know it was going to be my 100th appearance until earlier this week.
"When I came to this Club, I wanted to play as many games as I possibly could.
"To play 100 is a massive honour and it was topped off with a win, a few goals and a clean sheet."
With the achievement accomplished on hometown soil, Houghton was able to celebrate surrounded by family and friends, which made the occasion all the more special.
"Things like this happen for a reason," she continued. 'I grew up playing for Sunderland and now I'm fortunate enough to play for Manchester City.
"I'm very grateful for how I was deemed as a footballer growing up in this part of the world. Coming back always brings fond memories and my only focus is making more memories with Manchester City."
Parris double downs Black Cats
The centre-back had the chance to cap her century with a goal but was thwarted by Sunderland goalkeeper Rachael Laws before stepping up to take a free-kick – her trademark – in injury time. However, a goal was not to be.
"It wasn't the best of free-kicks!" she laughed. "I could probably see the limelight in the distance!
"We deserved to win and it's a pleasure to play with this team every day. We have a great bunch of girls.
"I owe a lot to them and also to Nick [Cushing]. He's been a fantastic manager for me and on a personal level. I'm just looking forward to playing many more games."
With Chelsea having claimed a late win over Everton earlier in the day, it was crucial City came away from South Shields with all three points.
The Super League's top two go head to head on Thursday night at Kingsmeadow before the FA Cup holders kick off the 2017/18 competition with a trip to Brighton and Houghton asserts her side are relishing another pivotal run of fixtures.
"We know it's going to be a big week for us," she added. "There are some tough games coming up.
"We wanted to go to Sunderland, be professional and be clinical. It gives us a food foundation going into the Chelsea game.
"We're excited. The games are coming thick and fast – they always do after international duty.
"This is what this Club and this team is about – playing big games under pressure.
"When you're league champions, everyone wants to break you down, so it's important we keep our foot on the gas and get better with every performance."