Women's Team
1
Women's football pyramid renamed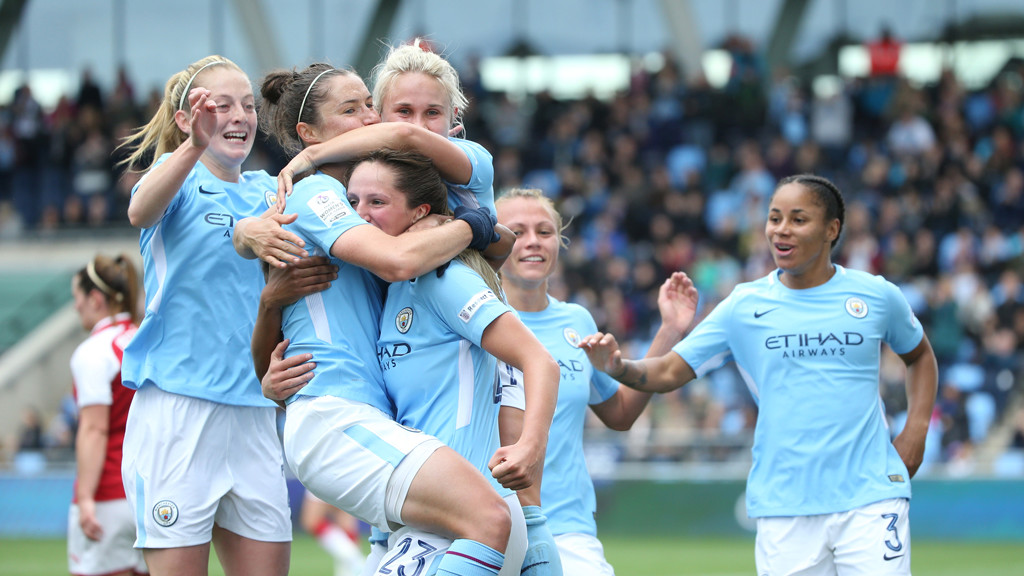 TOGETHER: The team rush over to congratulate Jane Ross on the opener
An FA rebrand of the women's football pyramid will see Manchester City play in a newly named top tier from next season.
Currently referred to as the FA Women's Super League 1, a subtle change will see it named the FA Women's Super League for the 2018/19 season.
The new name will be implemented at the end of the current campaign, with the second tier – the FA Women's Super League 2 – changing to the FA Women's Championship.
With women's football adopting a single competition structure since the merging of the winter and summer pyramid in 2017, the FA have made the decision to rebrand in order to provide a clear separation between the top two tiers - full time professional and part time semi-professional.
The third and fourth tier leagues have also been renamed and from next season will be referred to as:
Tier 3: FA Women's National League - Northern Premier Division / Southern Premier Division
Tier 4: FA Women's National League – Division 1 North, Midlands, South East, South West
Licenses to participate in Tier 1 and Tier 2 were granted in December to current FA Women's Super League (FA WSL) clubs who applied.
The application process has now moved to an open application phase where applications from clubs outside of The FA WSL or from those who didn't apply in the first phase are being accepted for both tiers until Friday 9 March, 2018.