Women's Team
1
Cushing: Carli Lloyd an ideal fit for City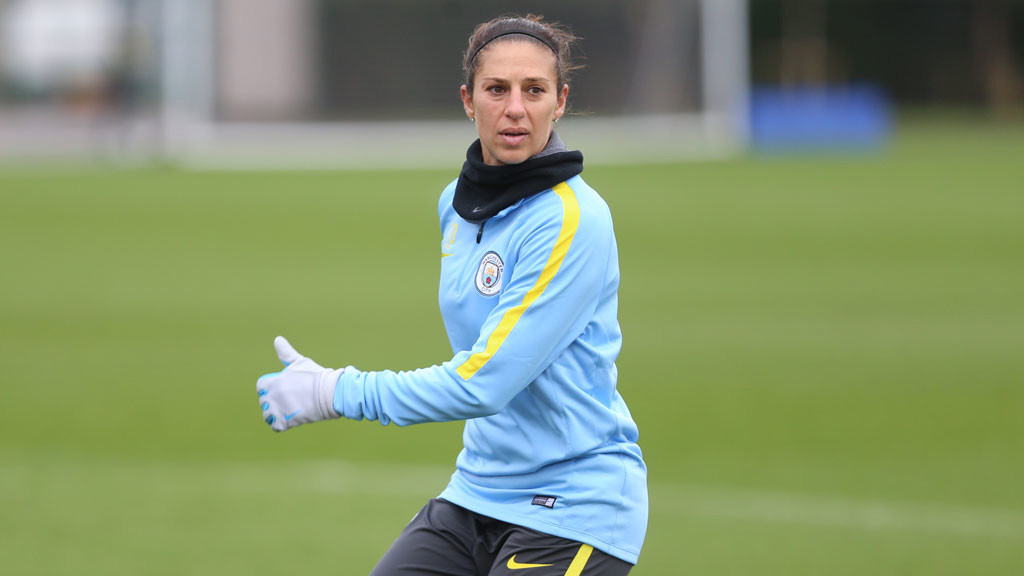 FULL SWING: Carli in action
Nick Cushing believes Man City Women and Carli Lloyd are a perfect match.
The two-time FIFA Women's Player of the Year signed for the Super League champions, seeking a new challenge in a bid to further improve herself.
With an already-glittering CV, which boasts Olympic and World Cup medals, USA captain Lloyd has enjoyed plenty of success in her homeland and is relishing the chance to achieve more under her new manager, who led the Blues to a league and cup double in 2016.
Talented, industrious and hungry for success, Lloyd's attitude has been dubbed one of her best traits.
Cushing certainly agrees and feels his new recruit will strengthen his squad – both on and off the pitch.
"We're excited for Carli to come and play here," he told ManCity.com.
"Everybody knows what she's achieved in the game – it is unrivalled – and from the moment I met her, I knew she would be a great asset to the team. Her main attribute is her character. Carli is definitely somebody with a winning mentality.
"The character of each individual is going to be the make or break for us. If we keep pushing with a good mentality and good people in our team, we have a chance of retaining our title.
"When you are the type of player she is, you come here and you see what we have as a team – our operation and our facilities – and it can only inspire you. What we have here matches her professionalism and aspiration as a footballer and she definitely has what we want from our players.
"We're really pleased to have added her to our squad and we're delighted she's joined us on the training pitch to help move the team on."
With 96 goals in 232 appearances for her country – including strikes in two Olympic finals and a hat-trick in the 2015 World Cup final – Lloyd has an excellent goalscoring record.
Cushing added he is looking forward to unleashing Lloyd's offensive threat onto the Super League.
"She's an unbelievable attacking player and she brings real intensity and aggression," he continued.
"She scores lots of goals – and lots of goals in important games. Her character, mentality and ability to win games will improve us. We feel this is moving us in the right direction.
"We're committed and we want to be in the best team in England. Adding Carli Lloyd to our squad shows we want to move it on and improve.
"We know we'll be a good fit for her and we hope she can come on the pitch and produce what she has in the past.
"We think we can improve her as a player as well – that's what we do here. We want to make our players better and it's a really good opportunity for both us and for Carli to move forward."
Manchester City Women host Reading in the FA Cup at the Academy Stadium on Saturday 18 March. Buy your tickets online or visit the ticket office.