Women's Team
1
Cushing pleased with squad ahead of Hjorring test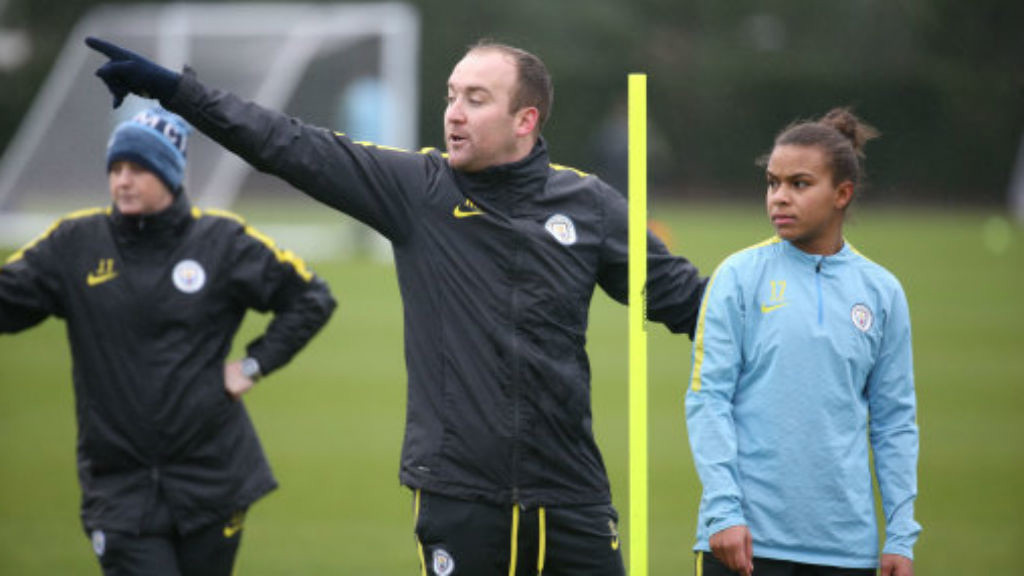 GREAT SHAPE: Cushing is pleased with his squad ahead of Thursday's game with Fortuna Hjorring
Manchester City Women boss Nick Cushing says his squad are in the best shape they've ever been in as they prepare for arguably the biggest match in their history.
The Blues face Fortuna Hjorring on Thursday in the second leg of their Champions League last-16 tie having established a 1-0 lead in last week's first leg in Denmark.
Cushing, who took the reins in 2013, has praised his players' preparations ahead of the big game and says they have never looked sharper during his time at the Club.
"We brought two players in and we knew we didn't have a lot of work to with the way we play," he said.
"Physically, yeah we had work to do but the players going on international duty helped. I'm really pleased with where the team are now.
"This is probably the best condition the squad's been in since I've been manager."
In just three seasons, Cushing has led City to two Continental Cups and one Women's Super League title, and they are now impressing in their debut Champions League campaign.
It's been a hugely impressive period that has seen them establish themselves as England's best side.
How, then, does Cushing keep his players hungry for more?
"We're nowhere near where we want to be," he said.
"The achievements we want are a greater than individual trophies. We want to put a team out there that football fans around the world can relate to because of our style of play.
"We don't want people to come and watch us just because we win trophies. Our aim is to develop something that's greater than being champions for just one season.
"We're not there yet, but we're a lot closer than we were in year one or year two."
The arrival of two-time FIFA World Player of the Year award Carli Lloyd in February has added further quality to the City squad - and she has made an immediate impact.
Lloyd, who scored a 16-minute hattrick in the 2015 World Cup final and is widely regarded as the world's best player, bagged the winner in the first leg against Hjorring in her first ever Champions League appearance.
And Cushing says her arrival has been good for everyone in the Blues squad and he believes all the players can learn from her approach to the game.
"The players have reacted really well because we want good people here," he said. "She's hit the ground running and she's fit into the squad like we knew she would because of the type of person she is.
"Her character has almost enticed the others to see the bigger picture of what you can achieve and that by working hard on the training pitch you can achieve what you want to achieve."
You can buy tickets for Thursday's game and watch City Women in their biggest game so far.