Women's Team
1
Middag: It's a great time to be at this club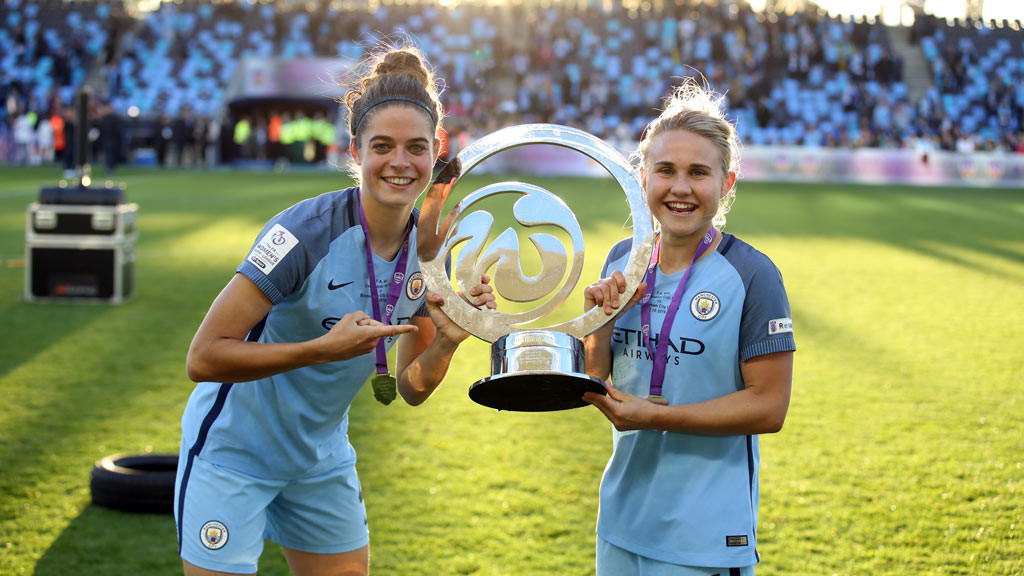 DOUBLE DELIGHT: Tessel Middag and Izzy Christiansen celebrate with the Continental Tyres Cup
Tessel Middag says her move to City has bettered anything she ever dreamt of.
The Dutch international, who joined the club in June, has helped Nick Cushing's side to a league and cup double, and hopes to experience much more success in the coming years with the Blues.
Speaking after the Continental Tyres Cup victory over Birmingham, she declared: "I'm so glad. To have already won two trophies in four months is great but we are here for more!
"The move… it is more than I expected. When you go to a new club, you never know exactly what to expect but it has been better than my dreams.
"I really can't complain and I'm looking forward to playing more matches to eventually become a starting player.
"I want to be a better player and play more matches with this beautiful team."
Reflecting on the extra-time win, she admitted: "We struggled a bit. Birmingham are a very good side – they are very organised. It was hard for us to create chances but eventually, after 120 minutes, we were the best.
"To be honest, we just needed to go back to our own style of play we were used to. We weren't doing that.
"We knew once we were back in a passing game and back in control, the chances would be high to win the game.
"Luckily, we got more control and grip of the game."
Coming off the bench, Middag almost marked her appearance with a goal, as she explained: "I was so close – the inside of the post! I thought I'd scored but too bad… Luckily, 1-0 was enough."
There is little time for City to celebrate their double triumph with the Blues' first Champions League game on Thursday 6 October – but the Netherlands star joked the team are happy to wait!
"We only have a couple of days to rest so I don't think it will be a wild party!" she laughed. "We will save that for later.
"I'm really looking forward to the Champions League match. For me, it's the first time and for the club, it's the first time. It's a great time to be at this club because a lot of good things are happening here."
MAN CITY WOMEN v ZVEZDA PERM: TICKET INFORMATION