MCWFC News
1
Christiansen excited to play sister Club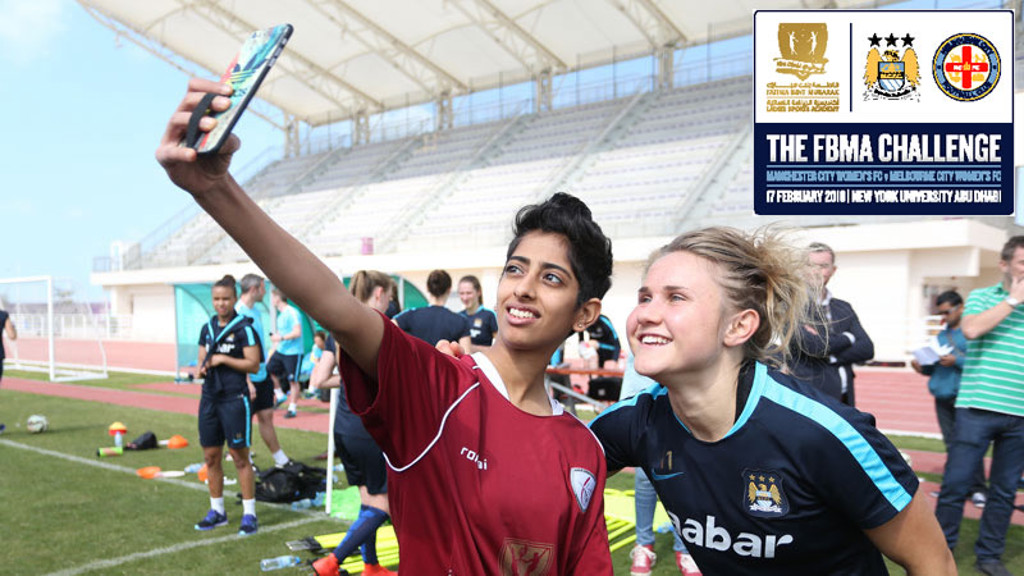 Izzy Christiansen asserts Manchester City Women are having the time of their lives in Abu Dhabi.
Having jetted to the Emirates for their pre-season training camp, the Blues are enjoying the warm weather, the friendly faces, the culture and the time spent with 'sister Club', Melbourne City Women.
On Wednesday (2pm GMT), history will be made as the two teams lock horns in the very first game between members of the City Football Group, for the Fatima Bint Mubarak Ladies Sports Academy Challenge.
Unsurprisingly, MCWFC's Player of the Season for 2015 is relishing the encounter, and expressed her joy to see women's football showcased once more.
"It's an exciting time," Christiansen told mcfc.co.uk. "We play our sister Club and it will be a great spectacle for our partners, aabar and the FBMA Foundation.

"It's brilliant to have such supportive people behind us who are allowing this tour to happen for both teams.

"Moving forward, it's a real statement from the Club and it shows our intent in terms of our plans for women's football within our association. It's amazing to be part of.
"Last year's trip to Abu Dhabi was a huge success and this year is even better. We really enjoy being out here and it's a fantastic place for us to come.
"The people here are extremely welcoming and accommodating and we're all enjoying our time here."
The midfielder also spoke of the friendly atmosphere around the camp, with the two MCWFCs meeting one another for the first time.
With Melbourne having secured the W-League Championship title with a 100% record and Manchester in the hunt for four trophies in 2016, Christiansen hopes the sides can learn from one another as new friends are made.
"It's been great to be with them," she continued. "We're in the same hotel and the other night, we had a nice moonlit dinner together. It was great to interact with them and chat about our similarities as teams.

"It was good to hear about their successful season too and it's been cool to get to know new people."
In addition to the Clubs' regular training sessions, with the support of aabar, technical football clinics have also been delivered to the UAE under-14 women's side. Delighted to be in a position to inspire, taking time to do so with the youngsters also pleases Christiansen.

She explained: "They've been along to a couple of our training sessions and it's been great to spend time with them and speak to them.
"It's warming to know we're inspiring them to take football further in their careers.


"Hopefully, they'll turn out to be stars of the future for the national team."
In terms of her own side's development, the England international declared the Blues are in excellent spirits and ideal condition ahead of their new FA Women's Super League campaign.
"We've managed to get some really good sessions under out belts on the training pitch," she added, "as well as some warm weather, which is a nice change!

"We're really gelling as a team and the new players have integrated well - they're fitting in perfectly.

"We do a lot of work on the psychology side of football and it's good to be able to see each other in different lights.

"The team are a really enjoyable bunch to be around and we're really excited for the season ahead.

"The mood is great. The girls have been really putting in some hard work on the training field and we'll be 100% ready for the new season."
You can watch the Fatima Bint Mubarak Ladies Sports Academy Challenge from 1:50pm GMT right here on mcfc.co.uk. Click here for more information.
---
Manchester City Women's Seasoncards for 2016 are now on sale.
Be part of the action as the team challenge for silverware on four fronts, including the UEFA Women's Champions League for the first time in the Club's history.
Click here for more details.