Women's Team
1
City sign Janine Beckie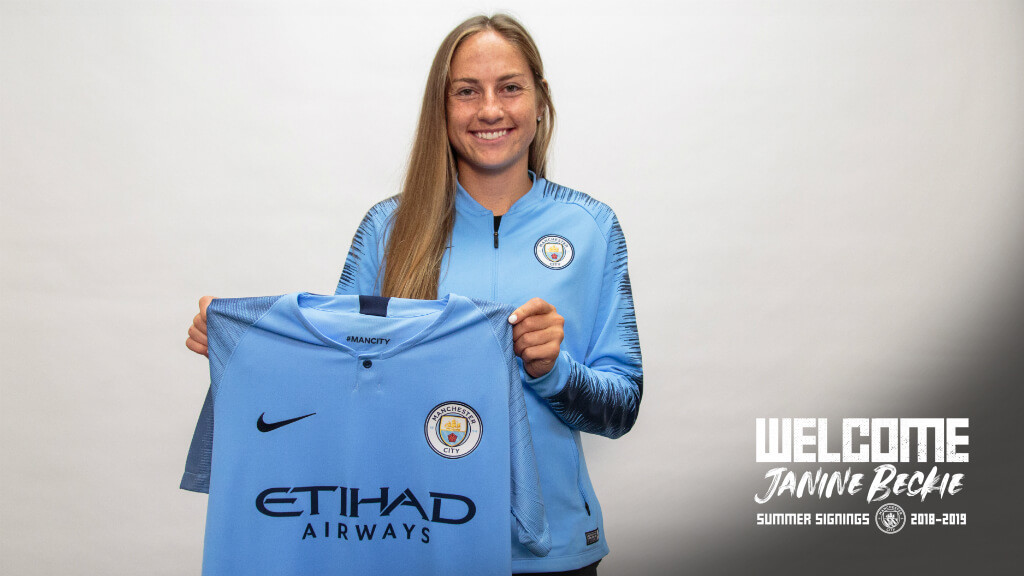 WELCOME, JANINE: City have signed Janine Beckie from Sky Blue FC
Manchester City are delighted to announce the signing of Canadian forward Janine Beckie.
The 23-year-old joins the Club on a one-year deal from Sky Blue FC subject to international clearance, having also represented Houston Dash and Texas Tech University.
One of the most exciting young talents, Beckie - a dual-citizen of Canada and the US - spent her early life in Saskatchewan before moving to Colorado. During her time at University, she became the all-time leading goalscorer with a remarkable 57 career goals.
Beckie would rewrite history once more on the international stage. After making her international debut for Canada's Under-20s, she was promoted to the senior squad and netted three goals at the 2016 Olympics in Rio, helping her country to a bronze medal.
On the breezy afternoon of 3 August 2016, she bagged a goal that would forever mark her international playing career. A proverbial blink-and-you'd-miss-it affair, Beckie lasered in a pass from Christine Sinclair before most spectators had even fully settled into their seats - a feat that anointed her the holder of the record for fastest-ever goal scored in Olympics games history.
Then, she stopped for a breath and looked up at the clock: nearly the entire match, a battle against Australia at Sao Paulo's Corinthians Arena, still stretched ahead. Just 20 seconds in, Beckie had decisively steered the game in Canada's favour.
"I remember scoring and coming back to half and looking up at the scoreboard and realising we had 89 minutes left to play," she recalled of that moment, in her first interview with City TV on Wednesday in New York.
"We actually ended up going down to 10 players in that game and ended up winning 2-0. That's one of my favourite games that I ever played with the national team."

Beckie's college and club career along the way, had too proven similarly decorated. At University in Lubbock, Texas, her 57 goals, which cemented her spot as the all-time leading women's scorer, earned her the eighth overall 2016 NWSL College Draft Pick in the US women's league.
It was the latter stint which brought Beckie to CityTV in New York on the day she completed her medical and paperwork for her transfer to City from Sky Blue FC, who were instrumental in ensuring this move was smooth for both Janine and the Club.
In fact, neither of her two NWSL teams will prove unfamiliar to close followers of City. The forward has played alongside Carli Lloyd, who of course spent the 2017 on loan in Manchester from the Houston Dash, bringing back to the States the kinds of raves and accolades that only made Beckie's transfer opportunity more appealing.
"She came back raving about it; absolutely loved it," she explained. "She's someone who's really put soccer on the map in America, and now all over the world.
"To hear her come back and talk about what a professional environment it is - the soccer's great, the coaching is great, the facilities are great - it's really cool to have a player like her speak so highly of my new team."
Soon, Beckie should draw similar accolades in return. As a former multi-sport athlete in high school - besides football, she played basketball and ran track - she hopes to bring plenty of that overall athletic prowess and power to her new club.
While she can offer a distinctly North American physicality, she also spoke highly of her skill and tactical development in NWSL as crucial to her step forward to Manchester.

"[Sky Blue FC] really tried to instil a style of possession, one-two touch, which was something that wasn't really a huge part of my game before Sky Blue," she continued. "It definitely was [part of my game], but the emphasis was more than it ever has been and that was really important for me, to take the next step."
At City, she's hungry to further combine strength and speed with the Club's brand of beautiful football, and the challenge will not stop, she said, until the squad comes within grasp of some silverware.
"They take a bit more of a look at the tactical side of it, possession, breaking teams down," she added. "Like I said, I think you're seeing a little bit more of that in North America, but I'm really excited to dive right into that atmosphere.
"That's what I love as a player, and what I love as a footballer, and I'm really excited to get into an environment where I'm challenged and pushed.
"I'm nervous, I'm excited, so come out, embrace the new."
Finally, she asked of fans just getting to know her: "Help us grow the game in this league, and help us bring home a championship. I want to win a trophy!"
Reflecting on his latest recruit, manager Nick Cushing told ManCity.com: "Janine is an excellent addition to our squad. She has developed over recent years as one of Canada's most exciting potential talents and we are delighted to add her to our squad.
"Her eagerness to work hard and her enthusiasm to play is something that together will improve us."
---
Manchester City women's team Seasoncards are now on General Sale. Includes all home games in all competitions. Priced from £60 for Adults and just £32 for U16s! More info HERE.