Media Watch
1
BBC Sport: Kompany is best overseas defender ever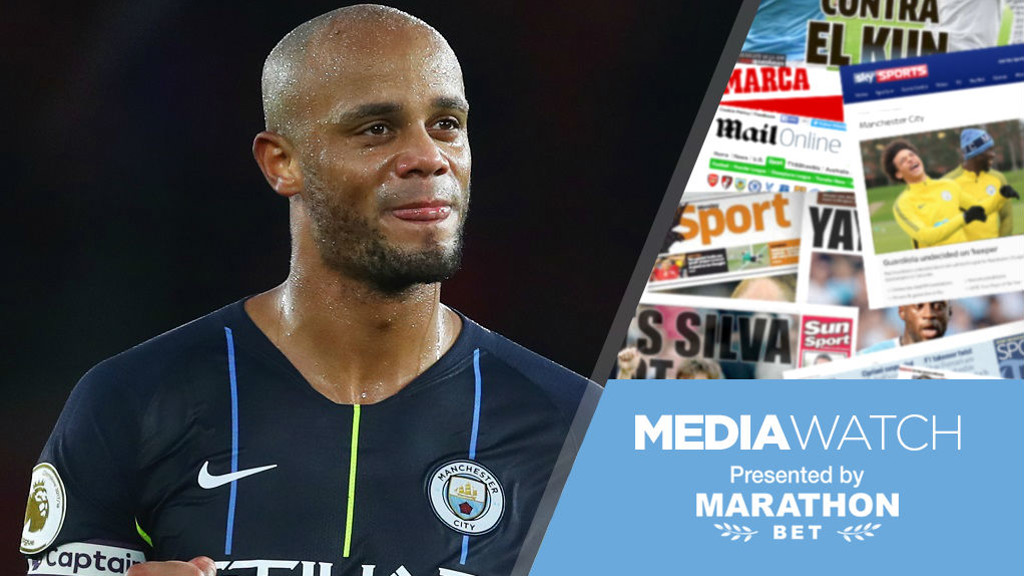 Loads to go at this morning with the result of BBC Sport's best-ever overseas Premier League players and loads more terrific opinion pieces on Raheem Sterling.
Big Joe Corrigan shares his thoughts on Ederson and Alisson and Phil Foden and Jadon Sancho reveal the City players who are helping them develop into the country's most exciting talents.
But first, back to that BBC Sport vote.
READ: Made in Manchester - City's goals and assists to date
A panel of experts including Alan Shearer, Chris Sutton, Ruud Gullit and New York Times journalist Rory Smith cast their votes and arguments while the public also had their say.
The task was to find the best in every position in a shortlist of three, then find an overall winner.
David Silva was voted second best midfielder, Sergio Aguero third best striker (not sure we agree with either of those, panel!) but the best defender was Vincent Kompany.
Here's what Shearer, Sutton and Smith said about our very own Captain Fantastic:
Shearer: "He played in midfield when he first arrived and has been a fantastic player for Manchester City. He won three titles and has made 260 appearances, but it would have been so many more but for his injury struggles."
Sutton: "What a fantastic leader. I played against him when he was at Anderlecht at the age of 17 and he marked me out of the game. He was mature at that age and read the game superbly well."
Smith: "When you take away the raw achievements on the field, Kompany arrived before the money kicked in and he has been there throughout City becoming a force in the Premier League. To have experienced all of that, to have survived all those managers and styles, that is testament to his abilities."
Moving on and Raheem Sterling is still deservedly basking in the warm glow of his Wembley hat-trick on Friday evening.
For City fans, none of this is a surprise, but the features on him that have covered many column inches over the past few days are a welcome addition to his impressive CV.
His tireless charity work and support for various groups has been continuous, and it's not something he seeks recognition for, with much of his generosity and role model efforts purposely done away from the cameras.
Of course, since Friday evening, people are discovering much more about the City winger and how he is inspiring youngsters and doing what he can to make a difference.
Here's a selection of stories On Raheem from this morning's back pages…
James Sharp in the Daily Mail writes: "The implication is that Sterling is not a youngster any more. That seems odd for a player who only turned 24 three months ago.
"But, when you consider Sterling's journey to get to this moment, it's easy to see why Southgate could not have selected a more worthy candidate to be one of his leaders.
"Southgate also called him a role model. It is an over-used phrase but in Sterling's case it is apt.
"Born in Jamaica but raised in the shadows of Wembley, he has paved the way for a generation of young footballers from the tough areas of London, emerging talents like Sancho and Hudson-Odoi."
Give Me Sport then report on what could be a late voting swing for Raheem in the PFA Player of the Year vote – with one England team-mate revealing his choice.
Have you read...?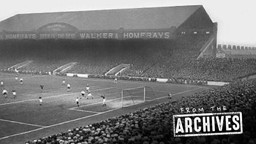 They write: "Sterling was awarded the Man-of-the-Match award as he scored three times against Czech Republic in a 5-0 win. Although many think the PFA Player of the Year award should go to Virgil van Dijk, Sterling is arguably his biggest threat in the race for the crown.

"And after Sterling's performance on Friday, Harry Maguire has admitted he has voted for Sterling over Van Dijk.
'I went for Raheem Sterling,' said Maguire. 'He's been the best player in the Premier League.
'He's scoring goals, creating goals and believe me, he's a nightmare to play against.
'I think the poll should take place later, at this stage you don't know who is going to win the title, but I don't think I would be changing my mind.
'Raheem was good last year and this season he has taken his game to another level. It's exciting to have someone that good playing for England, we should cherish him, though we've got a few really fast, sharp young players in this squad now, and the thing about Gareth [Southgate] is that he gives them opportunities.'
Well said, Harry.
And it doesn't end there – The Irish Examiner are one of several papers carrying the words of the young boy Raheem paid tribute to after his second England goal on Friday.
They report: "Raheem Sterling's tribute on the pitch to a youth player who died of leukaemia was a "pleasant surprise" to the family, his father said.
"Damary Dawkins died on Sunday after he relapsed twice following a stem cell transplant shortly before Christmas.
"England forward Sterling lifted his jersey after scoring his second goal in their match against the Czech Republic to reveal a picture of him and Damary.
"The 13-year-old, who was diagnosed with acute lymphoblastic leukaemia when he was nine, played in Crystal Palace's development squad.
"His dad Tony Dawkins, from Dagenham, Essex, told the Press Association: 'It was a pleasant surprise.
'I knew that they used to speak because (Sterling) came down to the hospital, they played pool together and apparently they swapped numbers.
'I remember when Crystal Palace played Manchester City and they lost Damary put on his tracksuit with the Crystal Palace badge and took a picture to send to Raheem. They had banter with each other.
'It was very, very touching and fitting. I know Damary touched his heart.'
Our last Raheem snippet is from BT Sport, where ex-City youngster Jadon Sancho has revealed how his former team-mate has helped him get to where he is…
"Sancho made his first competitive start for the Three Lions in Friday's 5-0 Euro 2020 qualifying win over the Czech Republic, where Sterling was the hat-trick hero.
"The Manchester City forward, who knows Sancho from their days at the Etihad Stadium together, is only 24 himself but has acted as a senior figure to both Sancho and Callum Hudson-Odoi.
'He is a great player, he is showing all the youngsters what it is about,' the Borussia Dortmund winger said.
'I am sure that he is going to go far in his career, and I am just happy I am sharing a pitch with him.
'He's cool, he speaks to me and Callum about what to do and what not to do and he gives us advice.
'It's very good, especially as he is from London as well, he knows the background I've come from.
'He has been helping me a lot, but it's not just him, everyone has made me and Callum comfortable and made us feel welcome.'
And while we're on the subject of emerging talent, The Telegraph's Sam Dean suggests Phil Foden is starting to show flashes of genius that resemble another City legend…
He writes: "Six minutes had passed at Ashton Gate on Thursday night when Phil Foden seized on a loose ball in the centre of midfield, nicked it away from a sliding opponent and dropped a shoulder to evade another.
"Looking up, he then slid a majestic pass through midfield for Dominic Calvert-Lewin, his England Under-21 team-mate, and watched as it arced into the striker's path.
"If Foden's frame was a little stockier and his hair a little fuzzier, it could easily have been David Silva creating that chance. It was the same twisting of the hips, the same flawless weight of pass.
"In a single move, Foden had underlined his own natural ability and also showed the benefits of a season spent training with the likes of Silva, Kevin De Bruyne and Fernandinho at Manchester City.
'He's always giving me advice,' Foden said of Silva afterwards. 'Just knowing your time on the ball and things like that, he will help you out.
'He'll say 'oh, you could have set the ball there instead of turning.' Everyone is good with that, Vincent Kompany is the same.
'To learn off them, it's special.'
Finally, legendary former City keeper Joe Corrigan believes it will be the goalkeepers who decide the title this season.
Speaking in the MEN, he says: '"They will have a massive say. They've both done really well.
'I think it could end up on that situation in terms of which of the two come out the best in the remaining games, but I wouldn't put my money on the best of the two.
'I think Ederson's got a little bit more nous about him with regards to the Premier League. It's Alisson's first season, we can't forget.
'I thought he could have done better with the save against Fulham at the weekend [when Alisson was involved with a mix-up with Virgil Van Dijk that led to Fulham's equaliser].
'You can't afford to make that kind of mistake between now and the end of the season.'

And that's it for today – more of the same tomorrow…