Media Watch
1
Media Watch: Blues tracking Inter Milan ace?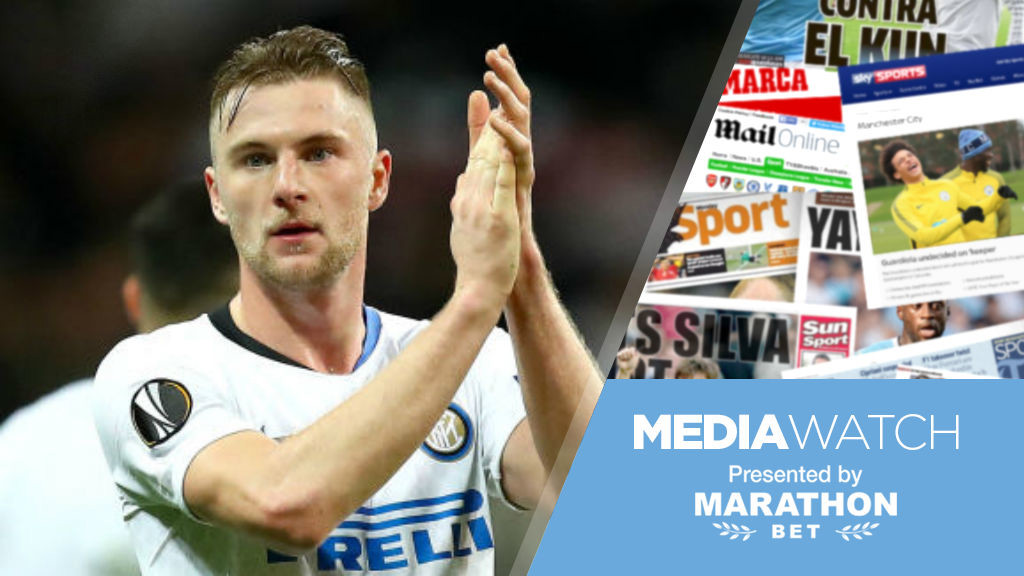 The international scene still dominates the Monday media agenda with England back in action away to Montenegro tonight and man-of-the-moment Raheem Sterling the subject of yet more praise.
There's also news of an important Euro 2020 qualifying goal for Germany's Leroy Sane, a focus on the key role of Ilkay Gundogan, another intriguing slice of transfer gossip as well as a look at what City fans can expect from Tottenham Hotspur's brand-new stadium next month.
But we begin with Sterling who, fresh from his stunning hat-trick against the Czech Republic on Friday, will be England's key man again tonight in the Three Lions' latest Euro 2020 qualifier away in Montenegro.
And the Standard's James Robson has penned an opinion piece describing the Blues winger as the heartbeat of Gareth Southgate's England side.
Robson highlights a number of key areas where Raheem has provided further compelling evidence of his quality and importance to the City cause.
Robson writes: "On Friday at Wembley came confirmation, if required, of Raheem Sterling's status as the most important English footballer of his generation.
"International football was his final mountain to climb after making a habit of forcing doubters to eat their words.
READ: Super Sterling hits first England treble
WATCH: Head tennis world title | Ederson v Bernardo
"It will take more than a hat-trick against the Czech Republic to see the Manchester City forward mentioned in the same breath as Three Lions legends – but it was the latest evidence of him fulfilling his potential at the highest level.
"His role in City's quadruple pursuit will surely see him named Footballer of the Year, while he is well on the way to becoming a national hero."
Ahead of the clash in Podoriga, the Telegraph also carries warm words about Raheem, with Tom Morgan drawing special attention to his role as one of the leaders in the dressing room – and how he is emerging as a father figure to England's emerging young stars.
Morgan reports: "So rapid is this boy-to-man journey that on Saturday Jadon Sancho, the teenager who has so much in common with the Manchester City hitman, compared Sterling to a father figure. "Yeah, that's what happens, if you show it on the pitch," said the fellow Londoner, who turns 19 on Monday - the day England face Montenegro. "His numbers are crazy this year, so I'm happy for him."
"Nowhere is Sterling's recent maturity welcomed more than in the England dressing room, where Gareth Southgate has recently promoted him to his group of squad leaders. "I just think he's really matured as a person and a footballer," said the manager.
"Despite his own relatively tender age, Sterling – just 18 months old when Southgate missed his penalty at Euro '96 – already has so much to teach Sancho and Callum Hudson-Odoi, both potential game-changers of the Manchester City man's mould.

"It is Sterling, battle-hardened from his pre-World Cup critics, that the two potentially spectacular English prospects really look up to. "He is just a great player," said Sancho. "He showed all the youngsters what it's about. And I'm sure that he's going to go far in his career and I'm just happy that I'm sharing a pitch with him."
Meanwhile, in last night's Euro 2020 qualifying action, Leroy Sane was a on target as Germany got their Group C campaign up and running with a thrilling 3-2 win away to the Netherlands.
SBS.com carries details of an enthralling encounter, reporting: "Germany had seemed well set for victory after a superb first half produced goals for Sane and Serge Gnabry to give coach Joachim Loew an unexpected fillip as he seeks to restore the flagging fortunes of the 2014 world champions.
"But some of the frailties of the last 12 months returned as they let their grip on the game slip, with Memphis Depay laying on a goal for Matthijs de Ligt and then scoring the equaliser himself in another influential display from the in-form forward.
"However, in a dramatic finale, wing-back Nico Schulz produced the decisive moment of the match though when he netted in the final minute after a fine build-up down the left to re-establish Germany's advantage and claim a crucial victory to get their qualifying campaign underway."
READ: Which TV channel is Fulham Man City on?
WATCH: Inside City | Episode 334
Sane's City team-mate Ilkay Gundogan came on as a second half substitute in that Rotterdam win and there is an in-depth feature over on skysports.com, hailing the way the midfielder has smoothly stepped into the holding midfield breach during Fernandinho's absence.
Sky's Adam Bate scribes: "The injury to Fernandinho could have derailed Manchester City's Premier League title bid but that hasn't happened. It's thanks to the brilliance of Ilkay Gundogan that they remain on track
"As it has turned out, Manchester City have managed to win five in a row without their holding midfielder. Much of the credit for that must go to Ilkay Gundogan for making light of Fernandinho's absence. He has given everyone a reminder of his versatility.
"Guardiola has always been an admirer. He described Gundogan as "an incredible player in all senses" after the win over Watford last time out in the Premier League and it was easy to see why.
"The German playmaker dominated possession throughout, making 104 passes in the opposition half and creating more chances than any other player on the pitch.
"The 28-year-old can play in an advanced position, of course, but the role that he is currently performing in Fernandinho's absence is the one in which he first captured wider attention during his days at Borussia Dortmund. Jurgen Klopp certainly saw him in this deeper role.
"He has the necessary calm, the eye and the vision," said the then Dortmund coach at the time. "Ilkay now sees bigger spaces and can also find them with long balls. He is strong on the ball while knowing when to make a tackle."

"Would Fernandinho's absence prove more telling against, say, Manchester United? That is something for Guardiola to ponder. But Gundogan has helped City through this passage of games and it may be that this run of results will be seen as crucial come May."
The start of another week, heralds yet another flurry of transfer speculation with the Daily Mirror reporting on how the Blues now being linked in Italy with Inter Milan's Slovakian international centre-back Milan Skriniar.
The Mirror claims: "Manchester City are prepared to flex their financial muscle to beat rivals United to Inter Milan centre-back Milan Skriniar.
"Quadruple hopefuls City are ready to smash their transfer record to sign the 24-year-old Slovakia international for £85.5m, according to reports in Italy.
"Pep Guardiola's City, like bitter rivals Manchester United, need to bolster their defence, with centre-backs Vincent Kompany, 32, still to agree a one-year extension to his contract while Nicolas Otamendi, 31, has struggled to hold down a regular starting place this season.
"And Skriniar has been identified as their top target, reports Italian outlet Calciomercato .
"Both City and United reportedly tried to snap up the centre-half last summer. Calciomercato claims Jose Mourinho tried to sign him for Manchester United, while the player's agent says City also had a bid rejected."
Finally, the Manchester Evening News looks at what Spurs' glittering new 62,000 seat Tottenham Hotspur Stadium holds in store for Blues fans ahead of next month's Champions League quarter-final first leg tie in North London.
City will be only the only second team to sample the new stadium - built at a reported cost of almost £1 billion - which held its first test event at the weekend.

And the MEN look at what City fans can expect when they visit the new stadium for the first time.
The MEN's Daniel Murphy reports: "For starters, the away fans will be sat in the lower tier of the North East corner and there will be a 3,000 ticket allocation for Premier League games, though that can be varied for European and domestic cup competitions.
"The designated pub for away fans is Elmhurst Arms on Lordship Lane.
"The stadium has been designed with getting supporters as close to the action as possible in mind. The distance from the stand to the touchline ranges from 4.9 metres to 7.9 metres and they are angled at a steep 35 degrees to make an intimate feel.
"The 62,000+ capacity stadium also has the largest stand in the UK standing at 34 metres in height and holds 17,5000 people - clearly inspired by Borussia Dortmund's yellow wall.
"For your travels, the ground is located in the same place as White Hart Lane and is addressed 782 High Road, London, N17 0BX. Fans are encouraged to use public transport to get to games as there is limited parking and road blocks will be in place on event days.
"Supporters should also be aware that the new stadium is the world's first cashless stadium, and no cash will be accepted for any purchase inside or in the surrounding campus.
"Contactless and chip and pin payments from all major credit and debit cards will be accepted as well as Apple and Google pay."