Media Watch
1
Media Watch: 'Pep one of football's great bosses'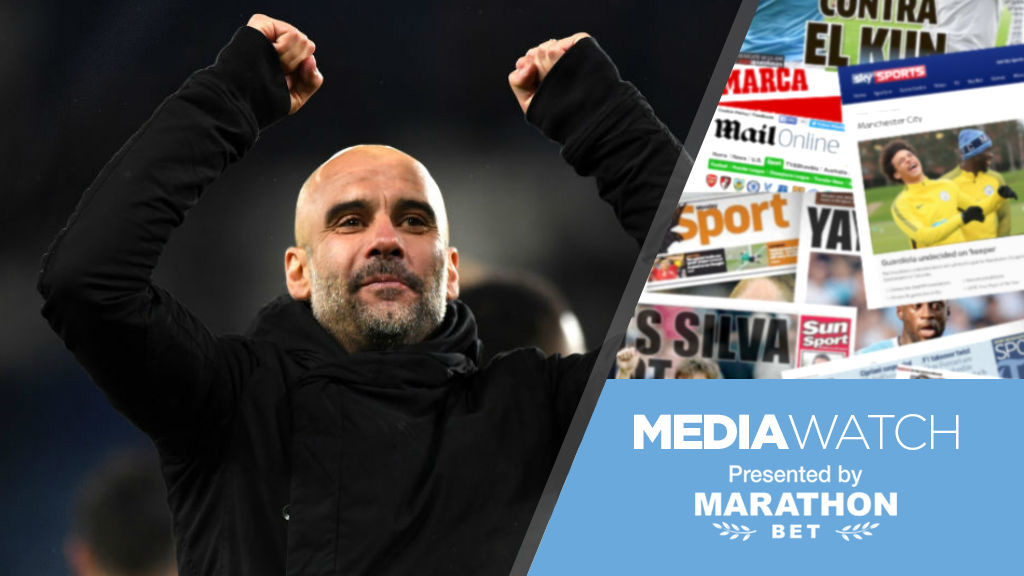 The build-up continues ahead of Manchester City's return to Premier League action at home to Wolves on Monday evening.
And, looking ahead to the encounter, Saturday's media watch carries glowing praise for Blues boss Pep Guardiola from his Wolves counterpart Nuno Espirito Santo.
There's also a suggestion of a potential long-term successor to Fernandinho in the crucial midfield holding role as well as a call for City's beautiful football to be cherished and appreciated following a memorable start to the New Year.
But we start with a report from BT Sport who describe how the Wolves leader believes that Guardiola's incredible record in the 10 years since he became a manager has already elevated him to the pantheon of truly special managers.
BT Sport reports: "Wolves boss Nuno Espirito Santo insists Pep Guardiola is one of the greatest managers of all time.
READ: City v Wolves | Aguero and Kompany update
WATCH: City 9-0 Burton | Tunnel Cam
GALLERY: City train sights on Wolves
"The Portuguese believes Manchester City manager Guardiola has helped change the game.
"Wolves go to the Etihad Stadium on Monday with City having scored 16 goals in their last two games, in cup clashes with Rotherham and Burton.
"Guardiola won his seventh title in a third different country as a manager with City last year and the Wolves boss feels the former Spain midfielder is one of the best.
"He said: "Yes, no doubt, but how far back do you go? Rinus Michels? (Arrigo) Sacchi? There are a lot.
"When someone brings something new to the game – because everybody knows the game – I think we as managers must develop our ideas to help and develop the game.
"Pep is in that small circle of persons.
"He's changed his game. By doing that, he was able to change some mentalities of others, whether it be Tiki-taka or whatever."

Meanwhile, speaking to the official Wolves website, the Molineux boss further extended his praise to a collective appreciation, describing City as one of the 'best teams in the world.'
Santo told wolves.co.uk: ""City is going to be tough, we have no doubts about it. They're a fantastic team, with a fantastic manager and fantastic players, the way they play. We have to prepare ourselves for it.
"I know the reality of the game, the reality of football. You have to be prepared for everything, consistency is very hard to achieve through the season. They are a very good team, one of the best in the world, so there's no doubt that on Monday they're going to be as good as they always are."
"I remember (the 1-1 draw at Molineux in August) and can assume it was a very important moment because of the performance we achieved. It made us realise we were ready to compete in the Premier League.
READ: City v Burnley | FA Cup fourth round date confirmed
WATCH: City Wolves | Guardiola wary of Wolves threat
"That was the first moment we really put our standards high and tried to maintain them. The result and performance and result were helpful at the beginning of the season, no doubt about it."
Meanwhile, the Manchester Evening News highlight an intriguing sub-plot to Monday's encounter, suggesting that the visitors could possess a potential answer to City's search for an eventual successor to key midfield operator Fernandinho.
Tyrone Marshall scribes: "Another summer can't pass without a long-term replacement coming in, someone to provide cover and competition for the inspirational Brazilian in the short-term before filling those boots and covering the ground he does when age catches up with him.
"There's no simple solution for City but Monday night's Premier League fixture with Wolves could give them a glimpse of an ideal replacement.
"They ran the rule over Wolves' Portuguese midfielder Ruben Neves in the summer before deciding to shelve any plans to bring anyone in in that position, but the 21-year-old's performances in his first Premier League season can't have done his chances of a big money move any harm.
"Wolves have impressed in games against the top six this season and Neves has caught the eye with his silky passing in midfield alongside countryman Joao Moutinho, while he can also be deadly from distance as City's title rivals Liverpool found out earlier this week.

"But his defensive stats from midfield do stand up to those of Fernandinho and Monday night will be a chance for Neves to show he has the attributes to fill that role, with Wolves likely to need to do plenty of defending."
City, of course, will head into Monday's game on the back of three suucessive wins at the Etihad across three competitions.
Our titanic 2-1 Premier League win over leaders Liverpool was followed by goal fests against Rotherham (7-0) in the FA Cup third round and Burton (9-0) in our Carabao Cup semi-final first leg.
And in a separate comment piece for the MEN, Marshall argues why that remarkable start to 2019 should serve as a reminder that Guardiola's Blues deserve to be both cherished and appreciated
READ: Which TV channel is City v Wolves on
WATCH: Rochdale 2-4 City U21s | Checkatrade Trophy highlights
"It's the standards they set last season that have forced Liverpool to raise their own game, with Tottenham now trying to respond as well," Marshall writes.
"The sheer beauty of some of the goals City have scored recently has to be admired and against Liverpool they combined that grace with guts to haul themselves back into the title race.
"It was wave after wave of attack against Rotherham and Burton, with the Championship and League One sides mesmerised by the speed of the passing, the movement and the angles. While you had to have sympathy with the opposition, this was wonderful to watch.
"Guardiola may have spent plenty of money since his arrival at the Etihad, but it's impossible to say that it's not money well spent. Other teams have splashed the cash and failed to get results. Guardiola has spent and with that money he's produced one of the best football teams this country has ever seen.
"Forget the argument about where this City side rank against Arsenal's Invincibles, or United's treble winners. Ultimately, it's impossible to compare them.
"Instead, appreciate them for what they are and the fact that they're the here and now."