Media Watch
1
Media Watch: City to 'step up' Chilwell pursuit?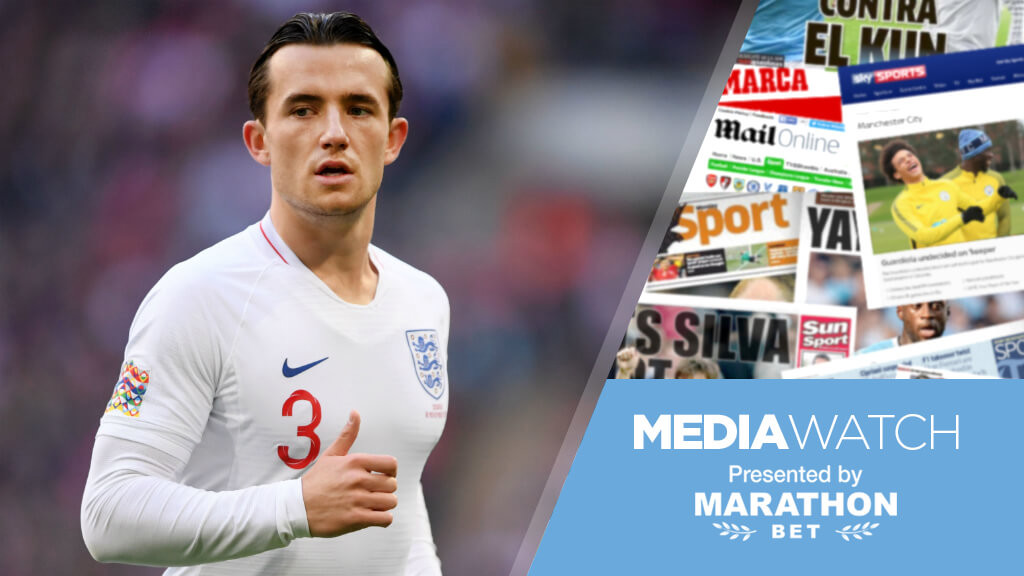 SUMMER RECRUIT?: It's claimed City are set to 'step up' a pursuit of Ben Chilwell...
They say the key to good nutrition is a varied diet and Tuesday's media compilation provides a flavoursome assortment of topics to feed your hunger for City news…
It may be matchday, with the Premier League Champions locking horns with Newcastle United tonight, but today's headlines are packed with a range of subjects.
So without further ado, let's kick-off with the main matter: tonight's clash at St James' Park and Newcastle boss Rafa Benitez has asserted that 'damage limitation' is the focus for the Magpies, in a bid to preserve a goal difference advantage over the rest of the bottom six.
READ: City to play Newport or Middlesbrough in FA Cup
WATCH: Guardiola | 'We have to be faultless'
GALLERY: Blues prepare for Toon test
As BT Sport report, the Spaniard stated: "Last year, we said that one point could make the difference. This year is exactly the same.
"It makes no sense to have a go and lose 6-1 and be happy with that because we had a go, or lose 9-0. You cannot do that because it's really bad for the confidence of your players.
"If your players are much better than the other team, you will attack, for sure. I have been with top sides where we were attacking and we were scoring goals.
"But at the same time, balance is the key and this group of players - when they do what they have to do and when they work hard like they have - are quite strong and we are quite solid."
Meanwhile, Sports Mole have analysed how they expect City to line-up, in the midst of a gruelling period of fixtures.
Writes Daniel Lewis: "Guardiola was given the luxury of making eight changes between his side's two cup wins last week, retaining only Danilo, Kevin De Bruyne and Riyad Mahrez.
"Mahrez looks certain to be given a breather on Tuesday, meaning that Leroy Sane and Raheem Sterling - who is currently on 99 goal involvements in his Premier League career - should start either side of the central striker.

"Gabriel Jesus has filled in to good effect, but Sergio Aguero remains first choice and boasts a return of four goals in his 12 Premier League appearances against Newcastle - more than any player has scored against an opponent for a single club in the competition's history.
"Elsewhere, Mendy is still not fully over a knee injury and needs to be eased back in, leaving a gap for either Fabian Delph or Oleksandr Zinchenko to fill."
In other news, Leroy Sane has reflected on his impressive campaign so far, adding he is 'relishing' the comparisons with former United man Ryan Giggs.
Quoted by the Manchester Evening News, the German winger declared: "I'm happy with how it's gone so far. I'm happy that the whole team is playing well, we are all in a good mood and that's especially true for me.
"Comparing him [Giggs] to me, I can't do it at all! If you see the kind of player he was, he's a legend for Manchester United and the Premier League. How he played was special and how many titles he won, I'm not nearly there!
"Obviously I'm pleased that people do it because it means I'm doing some things well and I'm really happy about it."
Sane also discussed Pep Guardiola's influence and drive for perfection, expanding on how his style is positively affecting the squad.
"I think it's good. I think it's the best thing a player can have to improve and always be the best level that I can be, to take me to the next level," he continued.

"This is what he wants for all his players, to try and help them to the next level. Everyone knows how he is.
"He wants to win, he wants to be perfect in everything and it's a good thing because everyone knows he wants to win trophies. That pushes us more and motivates us more.
"He always pushes us but says we have to motivate ourselves too, to say we want to win trophies, games and improve and be better. That's what makes better players.
"He pushes us to play well and hopefully at the end of the season we can win trophies. Everyone can see [the team spirit].
"Everyone wants to play, to win, to not concede goals, to score goals, to give an assist, to play well and I think this pushes each other in the team to and makes our level so high."
Elsewhere, away from the pitch, Manchester Mayor Andy Burnham has hailed Vincent Kompany 'a giant of a man' for his work to tackle homelessness in the city.
"It is just an amazing thing that he has dedicated his Testimonial year to this whole cause of ending rough sleeping," Burnham praised, as shared by Sky Sports.
"I think it just confirms what many people felt about him. He's a giant of a man on and off the pitch.

"For me it really differentiates a footballer when they get to this stage of their career and they have the respect not only of their own supporters but supporters throughout the game.
"Vincent Kompany is in that category for the way that he's conducted himself throughout his career and I think this initiative will only strengthen that respect for him throughout the game."
Finally, according to ESPN, City have highlighted Leicester defender Ben Chilwell amongst our 'top summer targets.'
Scribes Jonathan Smith: "Pep Guardiola is looking for quality competition amid the injury problems suffered by French defender Benjamin Mendy since he joined the club 18 months ago.
"Chilwell made an impression when he captained Leicester's youth team during an FA Cup semifinal against City in 2015 before breaking into the first team the following season.
"The 22-year-old has since gone onto win five caps for England and is seen as potentially strong competition for Mendy. He would also qualify as an English-trained player with City short of homegrown talent in their squad.
"Guardiola wants two top quality players for every position but was short of full-backs after allowing four to leave during the overhaul of his squad in his second season."