Media Watch
1
Sky Sports: Free-scoring City are Europe's best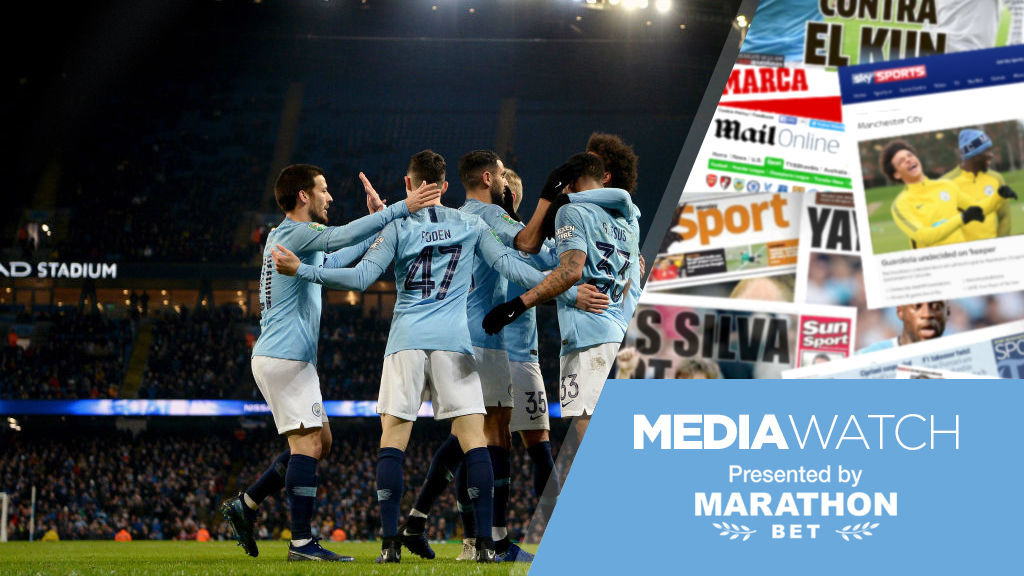 MEDIA WATCH: 16 January
City have raced clear as Europe's top scorers for the season so far.
The New Year goal blitz – including 19 in the last three games – has seen the Blues top the charts in all competitions with 99 scored to date.
Sky Sports take up the story: "Manchester City are one goal away from reaching 100 for the season ahead of their Super Sunday clash with managerless Huddersfield.
VIEW: Post-Wolves training gallery
"Their 3-0 win over Wolves on Monday Night Football took them to 99 goals in all competitions with four months of the campaign still to play.
"Pep Guardiola's side still have plenty of work to do to catch Liverpool at the top of the Premier League, but no side in Europe's top leagues - let alone in England - comes close to their extraordinary scoring record this season.
"City's total of 99, which works out at an average of 2.9 per game, puts them 18 clear at the top of Europe's scoring charts ahead of French giants Paris Saint-German.

"City's scoring feats have accelerated in 2019, with 22 goals scored in four games so far, including their seven and nine-goal thrashings of Rotherham and Burton Albion respectively."
Better still, Inside World Football predict the Blues will eventually overhaul Liverpool and secure a second successive Premier League title.
The stats-based website suggest City have been slightly under-achieving this campaign while Liverpool might have been punching above their weight – but claim this pattern is likely to change in the coming months.
They report: "This season's Big 5 European league champions will be Manchester City, Barcelona, PSG, Juventus and Bayern Munich, according to a set statistical model developed by the CIES Football Observatory.
"Barca, PSG and Juve already lead their divisions, while both Man City and Bayern currently sit in second place.
EUROPE'S BEST WINGERS? :Raheem and Leroy...
"The CIES Football Observatory data is built around what it calls 'pitch production' which includes data sets on shots on target, ball possession and shots conceded from the box.

"The result is a calculation of expected points per match. The model has been built over the past two seasons with the first half of this season's data being used to create the current tables.
'Manchester City achieved so far 5% of points per match less than expected according to its pitch production. Conversely, Liverpool obtained 15% more and its results are supposed to decline in the second part of the season,' say the report authors.
Interesting!
Finally, it's not only statisticians that are warning Jurgen Klopp's men that the Blues are coming up on the rails.
Our brilliant playmaker Bernardo Silva is convinced that the Blues will kick on again with a fully-fit squad – something the champions haven't enjoyed all season - but could have imminently.
The Independent report: "Bernardo Silva has warned Liverpool that Manchester City are approaching full strength as they maintain pressure on the Premier League leaders.
"Defending champions City comfortably beat Wolverhampton Wanderers at the Etihad on Monday night to move back within four points of Liverpool.
"Pep Guardiola's side have recovered from losing three of their seven league games in December to record back-to-back victories in the new year, including a crucial 2-1 win over their title rivals.
"Meanwhile, Kevin De Bruyne, their outstanding player of last year's title-winning campaign, has fully recovered from the separate knee ligament injuries which have blighted his season and limited him to just seven league appearances.
"With left back Benjamin Mendy also nearing a return after around two months out, Bernardo believes that everything is beginning to fall into place for City.
'It feels like we have all the squad which is important because we need all of them,' the Portuguese playmaker, who has stood in for De Bruyne this term, said.
'It is good finally to be back together and of course until now, until this moment of the season we have had so many injured players.
'We never played with the whole squad so to have almost the whole squad available is fantastic for us and it is very good to try and go for all the competitions.
'I think it is a good sign for us that we are still in all the competitions, that is what we try to do and big teams try to do,
'We will keep going that way, we have a good squad, we will try to make things work, knowing that it is not easy. We are playing in four competitions, against good opponents.
'I don't think it really matters to reach our goals because when you play in a club like Man City, season after season, you get used to play lots of games so all these games that play in a high level for so many years are used to this.'
More news on the Blues tomorrow...