Media Watch
1
Media heap praise on 'exquisite' Foden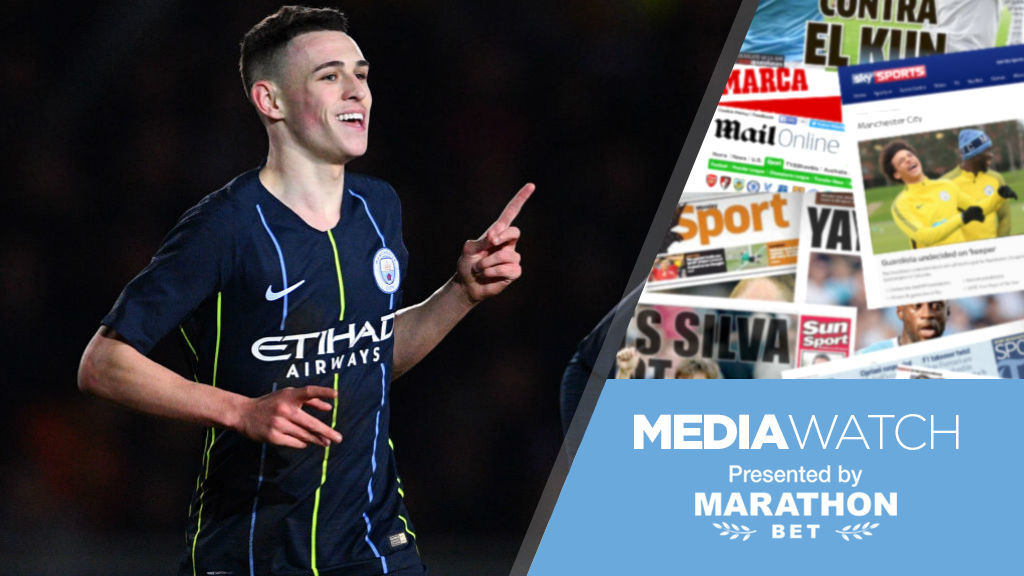 MEDIA WATCH: Your Sunday round-up!
It's your Sunday media round-up!
Plenty of praise in this morning's media watch as we look at the reaction from last night's FA Cup win over Newport County.
READ: Match Report | Newport 1-4 City
READ: When is the draw for the FA Cup quarter-final?
First up, we begin with our very own Phil Foden.
Foden sealed his brace in fine fashion at Rodney Parade, and the media have been very quick to praise the teenager.
Stuart Brennan of the Manchester Evening News hailed the midfielder's touch as "exquisite".
"This was the moment when he took the destiny of a game – and it could prove to be an important game in the Blues' history – into his own hands, and decided it for himself," the MEN journalist scribes.

"OK, it was an FA Cup game against League Two opposition, a game in which Sergio Aguero was left at home and De Bruyne did not have to rouse himself from the bench.
"But on a pitch which betrayed the best of touches and made mugs of maestros, he was the best out there.
"That aspect of his game is often missed by the critics. He flits into space, takes the ball, gives it usefully and then flits again.
"But it's tough for a teenager, even one who was named best player in the tournament as he helped England to an under-17 World Cup win, to make the step up.
"It looked like a tough ask for him. The ball was bobbling onto shins, bouncing awkwardly and doing everything but behave.
"But Foden's exquisite touch and balance came to the fore. He focussed, played smart and used the conditions to his advantage.
"His goals saw him throwing defenders off balance on a pitch that was slippery as well as uneven, letting the ball run its course before seizing the moment and lashing it in twice."
Brennan then went on to award Phil his highest player rating of the night: "Played the difficult conditions better than most, showing good awareness and coming up with two lovely solo goals – 9."

Last night's opposition manager, Michael Flynn, had some very kind words to say about us too.
The Newport boss told Sky Sports: "Getting to share the touchline with Pep Guardiola was magical for me. He said 'you should be proud, you are doing a fabulous job, and good luck'.
"Manchester City are such an excellent team. The players are full of class, the manager is full of class. They invited our players into their changing room, and that means a lot for any player, especially League Two ones.
"I can't speak highly enough of Manchester City and their manager. He is a serial winner and he is also full of respect."
That's all for your Sunday media round-up, but we will be back tomorrow with all the latest news and headlines!