Media Watch
1
Media Watch: Pellegrini dissects quadruple chances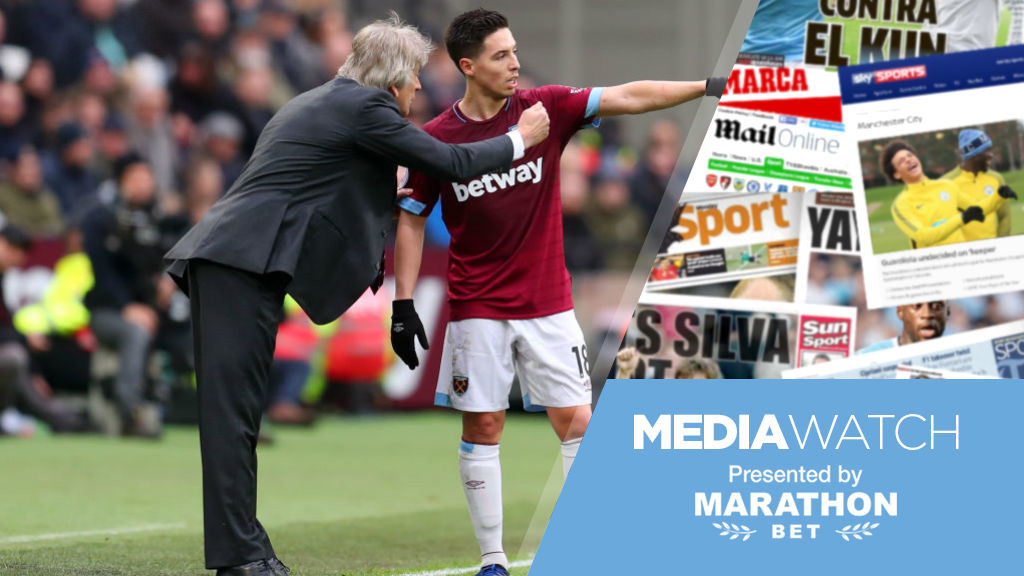 MEDIA WATCH: Manuel Pellegrini has been asked to dissect our chances of a quadruple
The dust has barely settled on our Carabao Cup triumph and attention has already turned to Manchester City's chances of an unprecedented quadruple.
With one trophy in the bag, a close title race on our hands, a place in the last eight of the Champions League in sight and an FA Cup quarter-final date already set, the prospect of winning all four trophies is increasingly being discussed.
Let's start today's Media Watch with West Ham boss Manuel Pellegrini, who says City are capable of achieving the feat – but admits it will be fraught with difficulty.
The Chilean, who spent three years as City manager between 2013-2016, winning the Premier League and League Cup in his first season in charge, doesn't doubt the quality in our squad, but does suggest our schedule would be tough to negotiate.
"City are in a good moment. They have to play their quarter-final of the FA Cup and maybe they will continue," Pellegrini told the London Evening Standard.
"They are already in the quarter-finals of the Champions League as I don't think they will lose at home – and they continue fighting with Liverpool for the title. The club can try to do it.
"You don't have time to play that amount of games you need to play. Maybe the first season. You can do it of course. But it is not easy.
"All is possible in football.
""The way that you continue in all the competitions is more difficult, but I said during the first season that I was in charge that if we continue in the Champions League – we were eliminated by Barcelona – and we continue with the games you must postpone because of the cups, you don't have enough Wednesdays to finish the league, so maybe in one week you must play four games, but of course you can do it."
READ: City celebrate the ultimate weekend
WATCH: Blue skies for Carabao Cup winners
Meanwhile, Pellegrini has described his time at City as "beautiful".
He returns to the Etihad for the first time on Wednesday when his Hammers side will look to derail our title bid - but he has nothing but positive words about his period in the City hotseat.
"It was three beautiful years, especially when we won the Premier League," Pellegrini told Sky Sports. "It was a team that had a very successful season, not only when we won the league and the cup, but also the team that scored the most goals [in a season] in the history of English football [a record broken by City last season]."
The Guardian's Barney Ronay has dissected City's quadruple chances - and he believes City fans can dare to dream.

"Nobody manages the details like Guardiola," he writes. "He knows exactly where City stand. The squad is strong. The fixtures are tough but not impossible. City have won 13 of their last 15 games. So, for now, let's just take a moment to dream.
"Straight away City have an advantage on timing. The fixtures come thick but not that fast. If they can finish off Schalke in two weeks' time and get past Swansea in the FA Cup there is one obvious logjam to come. Between 6 April and 24 April City would play six high-pressure games in 19 days, a run that goes: FA Cup semi; Champions League quarter-final (first leg); Crystal Palace away; Champions League quarter-final (second leg); Tottenham at home; Manchester United away.
Have you seen...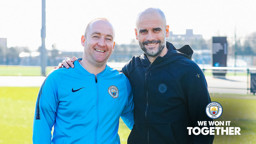 "Get through another flurry around the Champions League semi-finals and the season ends in fairly orderly fashion. Brighton away is the final Premier League fixture on 12 May. The FA Cup final is on 18 May. The distant prospect of a Champions League final would round things off on the first day of June."

That's all for today's media roundup - but stay with us throughout the day as we continue our buildup to Wednesday's Premier League clash with West Ham.