Media Watch
1
Media Watch: City hailed after historic Cup double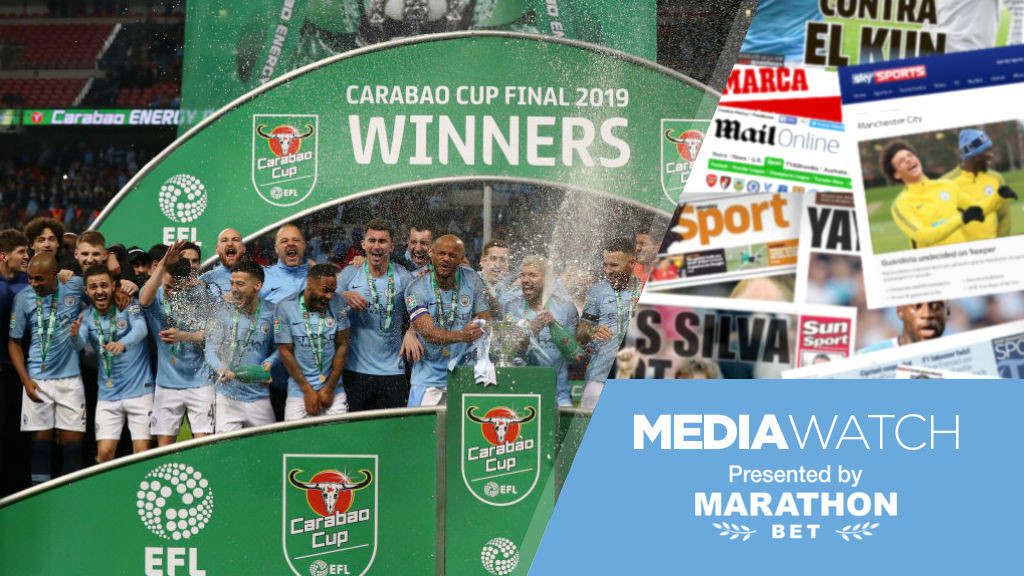 Manchester City dominate Monday morning's back pages following our historic cup-winning weekend double.
The Blues secured the first domestic prize of the season at Wembley yesterday as Pep Guardiola's side retained the Carabao Cup in a thrilling 4-3 penalty shoot-out win over Chelsea.
That had been preceded 24 hours earlier by Cup glory for Nick Cushing's Manchester City Women, who lifted the Continental Cup, again via spot-kicks, against Arsenal at Bramall Lane..
And the twin achievements have generated plenty of post-match analysis and praise from journalists and pundits alike .
We kick-off with reaction to yesterday's Carabao Cup success – the sixth time we have lifted the League Cup – and the Daily Telegraph's chief sports writer Paul Hayward was full of admiration for the role of Raheem Sterling, who successfully converted City's winning penalty.
READ: Raheem Sterling | Pep couldn't watch my penalty!
WATCH: Mendy gatecrashes Bernardo interview
Hayward writes: "One by one, Raheem Sterling is settling all his scores. With his media enemies called out, and after many match-winning performances to silence his football critics, Sterling scored with the final penalty of a marathon Cup final against a club to which he paid a painful visit in December.
"Top bins is where Sterling told Pep Guardiola he had struck the 10th and final penalty. City's manager wanted to know because he had been unable to watch the denouement. For all the gazillions City have spent on players, the least of the four competitions they hope to win assumed an importance far out of proportion to its actual value.
"Penalty shoot-outs always turn the winning team giddy. The players always sprint across the pitch like Lottery winners. Yet City's stars will struggle to show more joy if they win the next World Cup for their country. They have positioned themselves as a team fighting back after a slump, and after Liverpool seemed to be running away with the Premier League title. This contrived underdog outlook is serving them well.
"The 'quadruple' remains uncharted territory. The mere mention of it annoys many people.
"But the fact is that City have just won the season's first trophy and are well placed in the league, Champions League and FA Cup - though there are many tests ahead.
"In victory, though, City were in no mood to dwell on any blemishes to a trophy win that will further energise them for the domestic battle with Liverpool and Spurs.

"Sterling seems so sure of himself now, so content. Deep in extra-time he wriggled into the Chelsea six-yard box and threatened Arrizabalaga's left-post but City could not force the ball in. Seven minutes later Sergio Aguero surged through but ignored Sterling to his right, shooting, instead, into the keeper's hands.
"But Sterling would not be thwarted. Under the most duress any shoot-out can inflict - the final-kick, to win the game - he smashed the ball "top bins." The kiss Guardiola planted on his cheek recognised his grace under pressure and his talent for righting wrongs.
Meanwhle, the Daily Mail's Jack Gaughan penned a piece focusing on the remarkable trophy-hunting achievements of manager Pep Guardiola.
And Gaughan says the way Pep galvanised the City squad to successfully defend the trophy we won 12 months is further testament to his drive and desire.
Gaughan scribed: "Sunday was the 26th time he has lifted silverware in 11 years. Ferran Soriano and Txiki Begiristain lured a winning machine when they convinced Guardiola to succeed Manuel Pellegrini. No trophy is too small for the winning obsessive.
READ: Guardiola | City personality key to Carabao Cup triumph
WATCH: Aymeric Laporte 2025 | City TV interview
"The Catalan actually attempted to play this victory down afterwards. 'I have to say it has a lot (of significance), for the Carabao people,' he laughed.. Everybody in that room knew kidology was at play.
"He was all a bit cool but certainly was not when the outcome of this final remained uncertain. Guardiola after the event - after the tickertape, hugs and waves - was not the man who could not bear to watch the penalty shootout, looking down at his feet as Raheem Sterling thundered another chapter into his own ever-expanding book.
"Forget what he might say, this meant something to Guardiola, although he was left counting the cost of injuries to Aymeric Laporte and Fernandinho, both of whom he believes will miss the next few weeks.
"Those pieces of misfortune are actually something of the point with City. This is a trophy they respect and one they seemed desperate for, evidenced by Aro Muric, the exceptional 20-year-old goalkeeper, only watching on from the bench after having kept four clean sheets in five games on the way to the final.
"There is wider meaning to clinching the Carabao Cup, the first time City have ever retained a title. The momentum generated helped this time last year.. 'England is the only country you can win a trophy in February,' Guardiola added, before channelling his inner Jose Mourinho.

"'We've got the Community Shield too, that's nice. We've already got two titles in our basket.'
"Guardiola's edge - his relentlessness - is something City have craved ever since Sheikh Mansour took the helm.
"When Guardiola is old, retired and reminiscing, he will revel in his medals over how they were won."
The Manchester Evening News's Simon Bajkowski, meanwhile, penned a piece in praise of the contribution of Oleksandr Zinchenko who again impressed at left-back.
And Bajkowski believes his Wembley display was further evidence of his key value to the collective cause.
"He could have gone to Napoli in the summer of 2017 but opted to stay and wait for an opportunity. It came thanks to his willingness and ability to play in a different position and he ended the season with two winners' medals," writes Bajkowski.
READ: Karen Bardsley | I'm over the moon with Continental Cup final triumph
WATCH: Janine Beckie | Team spirit carried City to Cup glory
"However, the decision to stay and fight for his place has won out every time and Mendy's injury continues to present chances.
"If the fact that the Ukrainian is the only player to have started in every round of the League Cup hints at his role as a squad or fringe player, that he was picked for the league game against Chelsea earlier this month highlights just how far he has risen.
"This was one of his most accomplished performances defensively, successfully shackling two excellent players in first Willian and then Callum Hudson-Odoi.
"Another medal for the collection, and Zinchenko's place in the squad has never been more secure."
There is plenty of reaction too following our Continental Cup success against Arsenal – not least an interview on the BBC Sport website with goalkeeper Karen Bardsley.
The England international was City's penalty shoot-out hero, saving two Arsenal spot-kicks to help us secure a 4-2 win.
And Bardsley told the Beeb's Tom Garry she had been determined to remind people of her qualities

Garry reported: "The 34-year-old - previously the outright number one for club and country - has faced competition to start recently.
"But she saved two Arsenal penalties as City won the shoot-out 4-2 to lift the trophy for a third time.
"Bardsley is part of the England squad for the SheBelieves Cup in the United States, starting on Wednesday.
"There are no two ways about it - I'm getting older, so I can't play forever," she said.
"It's obvious the club do need a succession plan, whenever that time does come, but by no means can anybody write me off."
Meanwhile BT Sport carried an interview with Nikita Parris who revealed City's Continental Cup triumph had only heightened the hunger for more success amongst the squad.
READ: Arsenal Women 0-0 City | Continental Cup verdict
GALLERY: City clinch Continental Cup
BT Sport reports: "Parris has emphasised Manchester City Women's sights are firmly fixed on claiming a domestic treble this season, declaring after Saturday's Continental Cup win: "We'll be coming for the rest."
"Nick Cushing's side, who failed to win a trophy last term, are two points clear of second-placed Arsenal in the Women's Super League having played two games more and are through to the Women's FA Cup quarter-finals.
"Saturday's contest extended their unbeaten domestic run to 28 games, stretching back to May.
"City and England forward Parris said: "It's massive for us. It's one trophy down and two to go, so we keep rolling.
"We go on international duty and then we come back and get ready for the league games and the FA Cup because we are coming for those trophies too.
"I compete every single day in training and matches to win trophies and be the best person and player I can.
"The treble is definitely possible, there's no reason not. This is our first trophy and we'll be coming for the rest."