Match previews, tactical analysis, praise for a young star, transfer gossip and more... Friday's City-centric headlines are packed with variety.
With City back in action on Sunday with a Premier League trip to Bournemouth, main attentions return to matchday build-up, but there are also plenty of other topics for discussion...
READ: Raheem's an inspirational role model, says SWP
WATCH: Pep and Fernandinho on maintaining success
TICKETS: City v United | Kids go free!
Opinion
AFC Bournemouth: Media View: Expert insight on Manchester City
Sam Lee: "Overall, the beauty with City is that you know what you're going to get. All the players know their roles and they are all obviously quality players.
"Pep Guardiola demands so much that they are going to perform to a high standard virtually every week and the only thing that can really affect the outcome is bad luck or mistakes on the day.
"If they avoid either of those two things then City are going to win. That's what we've seen for the past two seasons and we've seen it already in the first two games.
"They have been fairly tight games between them at Vitality Stadium in the past couple of years but I think City will win 2-0."
The Manchester Evening News: The new Manchester City selection dilemma facing Pep Guardiola

David Alexander Hughes: "Through his performances at Monaco, and his sparse displays at the Etihad, Mendy has proven he is the best example of a modern day full-back. He is physically imposing, boasts good stamina and of course blistering pace.
"In his absence, Oleksandr Zinchenko has cemented himself as City's key left-back. Although a right-sided midfielder by trade, his left-footedness made him the perfect candidate for Pep Guardiola to coach and evolve into a more than adequate replacement for Mendy.
"Firstly, it's important to point out the defensive solidity Zinchenko provides. He is smaller at 5ft9in and weighs much less than Mendy at 64kg, yet he still averaged a higher success rate in terms of defensive duels and duels in the air.
"Additionally, perhaps fine tuned from his more natural role as a midfielder, he also proved apt in reading and intercepting oppositions attacking play, averaging more interceptions than the Frenchman.
"Whilst more than competent in defence, Mendy, of course, built his name through his strong attacking credentials. Again, Zinchenko proved more than adequate last season in this department, averaging four assists and two goals.
"Given City's all round dominance in most matches, it is likely that Mendy's attacking prowess may prove the decisive factor in cementing him a route straight back into the City first team."
The Daily Mail: The Secret Scout: Manchester City youngster Tommy Doyle

The Secret Scout: "The grandson of ex-City stalwart and captain Mike Doyle, this youngster looks as though he will follow in his footsteps.
"Pep Guardiola likes a holding midfielder like Fernandinho and Rodri.
"But Doyle is 17 and has time on his side. Here, he gave a mature performance, dictating play from deep areas in an Under-23 game.
"It looks as though he is a strong character and his team-mates respect his ability. He continuously positions himself to receive the ball from his back line and from there his job is to feed the players in front of him.
"He's a player with the vision to spot an unmarked team-mate in an instant. Early on I assumed he was a right-footed player only for my judgment to be blown to pieces with two cross-field passes to the wide right player with an accurate sweep of his left foot.
"This player appears to have an old head on young shoulders and as such he will surely progress."
Transfer gossip
Sports Mole: Manchester City 'monitoring Argentine teenager'
Matt Law: "Manchester City are reportedly monitoring Velez Sarsfield's Thiago Almada with the view to a potential move for the teenager.
"Almada, who has made seven appearances for Argentina's Under-20 side, has scored three times and registered two assists in 19 first-team matches for El Fortin.

"The 18-year-old has little under two years left to run on his current deal, however, and according to A Bola, City are monitoring his contract situation at the Jose Amalfitani Stadium.
"Almada has already made three appearances for his Argentine club during the 2019-20 campaign.
"The attacker had been representing Velez's Under-20 side before making the step into the first team in July 2018."
City Social
Ilkay Gundogan's Twitter Q&A
Send in your questions, using #AskIlkay!
Going to do a Q&A here on @Twitter tomorrow afternoon. ✌🏼👍🏼 You can send me your questions using #AskIlkay 🎱 I will try to answer as much as possible.

— Ilkay Gündogan (@IlkayGuendogan) August 22, 2019
Football Fancast: Manchester City's Raheem Sterling shares a throwback snap with Usain Bolt
Domagoj Kostanjsak: "If there was a player one could pick out from the crowd for Manchester City so far, it would most likely be Raheem Sterling.
"The young forward has already netted four goals in just two appearances in the new campaign and he doesn't look like stopping anytime soon.
"But now, he has taken to Instagram to share a brilliant throwback photo with none other than Usain Bolt.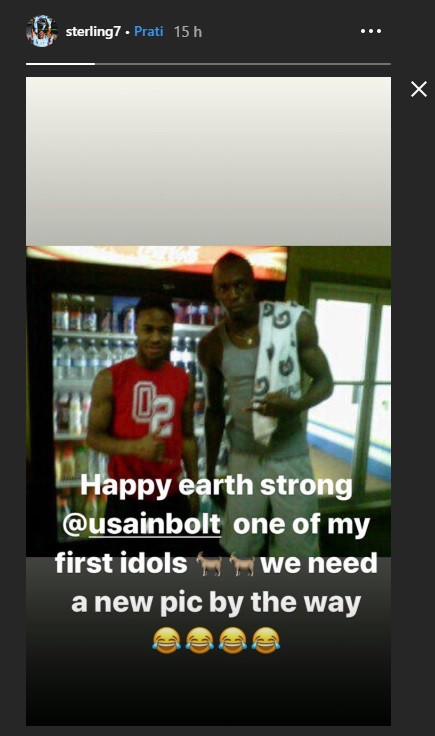 "And interestingly enough, the talented forward mentions Bolt as one of his first idols from his youth.
"It seems that the two are good friends and Sterling also mentioned that they should definitely get a new picture together since this one is rather old, and just a bit blurry."