Media Watch
1
Media: City set to make bid for midfielder?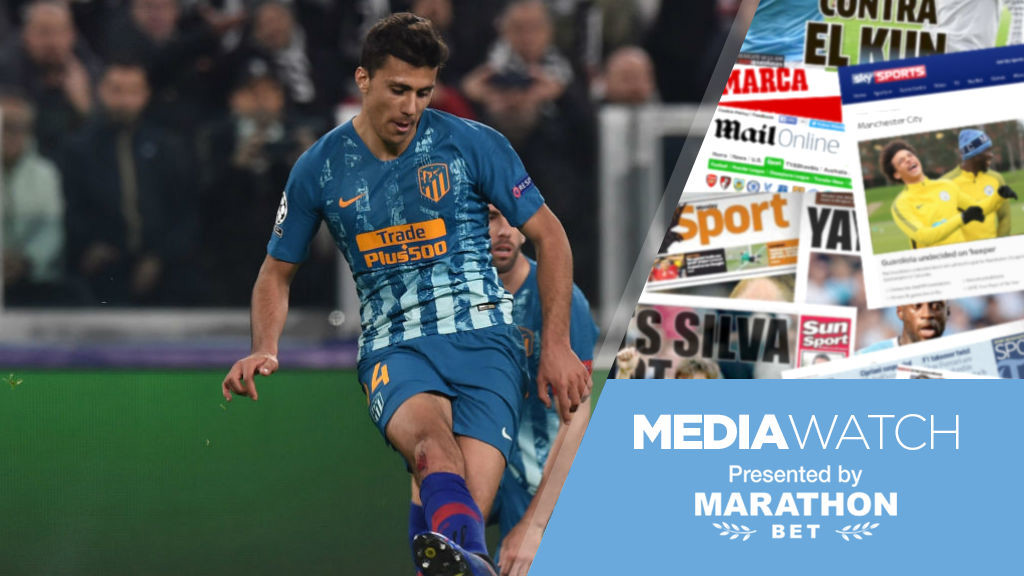 MEDIA WATCH: City have been linked with a move for Rodri
The season is drawing to a close and talk of where the Premier League title will end up still dominates the back pages.
And there's some transfer talk, too, which is where we'll start.
According to Spanish outlet AS, City will make Rodri a summer target.
The Atletico Madrid midfielder reportedly has a release clause of €70million [£60m], which AS say City are prepared to trigger.
READ: Sterling thrives in City's numbers game
READ: Talking Points | Super Sergio's fine margins
Gary Neville says City's win at Burnley was the mark of champions.
The former Manchester United right-back, who won eight titles during his playing career, believes the grit and defensive quality City have shown in recent matches suggests we have a title-winning mentality.
Speaking on Sky Sports, he said: "I remember when we were going for titles, Sir Alex used to love 1-0 wins because he felt that was a measure of a champion team.
"To really be pushing for that goal, get the goal — not get the second but have to be flawless defensively and not make a mistake, knowing that one mistake now by a Manchester City defender, one bad pass, one goalkeeping error, one defensive error costs them the title.
"You come through it, you see it off and that is a true champion team, it really is."
Meanwhile, Newcastle manager Rafa Benitez has promised to send his team out to win when they face Liverpool on Saturday.
The Spaniard has moved to quell any concerns that he may try and help his former side, saying: "We will do what we have done the whole season and that's try to win the game.
"We play at home in front of our own fans and will try to do our best," report the Mirror.
"It's my responsibility to look after Newcastle and if I was on the other side, I would be expecting the opposition to do their best and the manager to try his best."
And, finally, Ken Early has written a fascinating piece for the Irish Times in which he discusses how much the game has changed in recent times.

And in it, there is a passage about Manchester City that may please some of you!
"You'd almost forget that these were City's 156th and 157th goals of the season – an all-time record in English football," Early writes. "How do they seem to find it so very easy to score? Is it because most of their opponents are cheats and bluffers, so rotten from too much money and first-class travel and Dr Dre headphones that they have forgotten or stopped caring about the basics of football?
"Or might it have something to do with what City are doing? Their game is about systematically presenting the opponent with a bad choice, and a worse choice. Which is it going to be?
"You are Luke Shaw and Bernardo Silva is coming at you on the edge of the box. Do you challenge him and risk getting dribbled or maybe conceding a penalty, or do you stand off and risk him shooting past you? You decide that David de Gea will probably have the shot covered and . . . congratulations it is 1-0 to City and you are already trending on Twitter, and not in a good way."
That's all for today's Media Watch -stay with us throughout the day as we continue to bring you all the latest City news.