Media Watch
1
Media Watch: City are the ultimate test - Hughton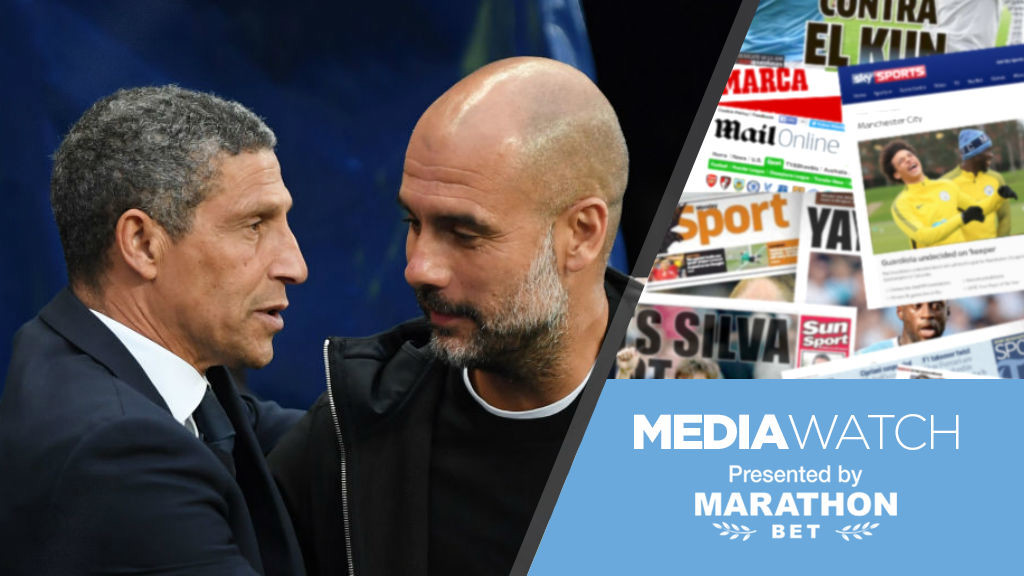 FA Cup semi-final talk, Manchester City's powers of endurance and another slice of intriguing transfer gossip are on the menu in today's media round-up as Pep Guardiola's marathon men gear up for their latest challenge.
All eyes today will be on Wembley of course where City will be seeking yet more capital gains by reaching the FA Cup final when we tackle Brighton in the first of the semi-finals.
And we kick-off with some high praise indeed from Brighton boss Chris Hughton who, as he prepared to pit his wits against Pep Guardiola, told the Brighton Independent the prospect of facing City was the ultimate test.
Steve Bailey reports: "Hughton was asked if playing Manchester City is the toughest challenge in Europe at the moment and said: "Yes I think it is. They made seven changes (against Cardiff) and still had 26 shots at goal last night and had close to 80 per cent possession.
READ: Guardiola | Quadruple quest is a 'joy'
WATCH: David Silva | Valvoline Midfield Engine
GALLERY: City head to London for FA Cup semi-final
""At this moment they are one of if not the best team in the world with an array of players that are top players. They're not only technically gifted, they are a fit side and a very motivated side hence the reason why they are going for all four trophies.
"They are an exceptional squad of players which makes the challenge even bigger."
"I think it's foolish to go toe to toe and I'm not embarrassed to say you have to try to contain them.
"They have too many options. If you feel you can take the game to them and play a very open game, they have so many strategies to open you up and that starts with a goalkeeper who can play a pass some 60 or 70 yards.
"The important thing is we stay in the game. Nobody knows at this moment how the game will pan out."
Meanwhile, the Daily Telegraph carries a typically honest interview with City midfielder Kevin De Bruyne who, as well as talking about the battle of having to come back from several injuries this term, also highlights the incentive of reaching the his first FA Cup final.

The Telegraph's James Ducker scribes: "De Bruyne has never reached an FA Cup final and is desperate to add the trophy to his list of silverware with City, who, having already won the Carabao Cup, are also top of the Premier League and into the Champions League quarter-finals.
"It makes it exciting," he said. "In the end maybe we lose everything, but at least we are here at this stage. For me personally I've not been there yet [the FA Cup final], I've not won it. It would be nice to go to the final and compete for a title."
"The Belgium midfielder – who was narrowly beaten to Professional Footballers' Association and Football Writers' Association Player of the Year awards by Liverpool's Mohamed Salah last term – said he was determined to play his part as City attempt to take another step towards an unprecedented quadruple by beating Brighton at Wembley on Saturday night.
"But despite impressing and scoring in Wednesday's 2-0 win over Cardiff City, De Bruyne has revealed successive knee injuries and a number of associated problems, which sidelined him for a - total of almost 20 weeks and have contributed to a stop-start season, have - affected his high-intensity game.
READ: Trautmann biopic a dream for Henshaw
WATCH: Inside City | Episode 336
"I feel sometimes my season had double the length of other players because every time [with an injury] you need to be in, you need to make almost double the hours. You never have a day off because you need to work on your recovery. It's more draining than to play in the end.
"A lot of the time you're alone, but you have to do it. I did it and I'm happy I'm back. I've been injured and have had to come back three or four times now.
"Now it's the business end and I just need to do what I can to help the team win games. If that means playing five games or 10 games, I'll take it. It's been that kind of season."
There's a fascinating piece in the Daily Mail which reveals how City could be on course for a potential 64-game season if we progress in every competition - a tally which would be the third highest number of games ever recorded by an English club since the advent of a 38-game league season..
Kieran Gill reports: "Chelsea's 69 games played in 2012-13 remains the record for the longest season endured by a club since the Premier League became a 38-round competition in 1995.
"Behind them is the 66 played by Sir Alex Ferguson's Manchester United in 2008-09, when they won the title and reached the final of the Champions League.
"Pep Guardiola's Manchester City are closing in. As it stands, with them continuing to chase an unprecedented quadruple, they are on course to compete in 64 games this campaign.

"Such a haul would leave them third in the list. Liverpool, on the other hand, can only rack up a maximum of 53 matches this season – the fewest of the Premier League's big six clubs.
"On Saturday afternoon, when City walk out at Wembley Stadium to face Brighton in their FA Cup semi-final, it will be their 52nd outing of the season.
"By comparison, Friday night's trip to Southampton was Liverpool's 43rd."
Finally, away from today's encounter and there's another slice of transfer gossip over in Goal.com where City are being linked with another La Liga midfielder.
Goal's Sam Lee claims: "Manchester City have identified Atletico Madrid's Rodri as their priority midfield transfer target this summer, Goal understands.
READ: Guardiola | Aguero in contention FA Cup semi-final
WATCH: City 2-0 Cardiff | Brief highlights
"City believe the 22-year-old is the ideal candidate to strengthen their midfield and are prepared to pay his buy-out clause, which is thought to be €70 million (£60m/$80m).
"Other leading European clubs are interested in Rodri, but City are especially determined to secure his signature having missed out on several high-profile targets in the last 18 months.
City boss Pep Guardiola is still frustrated by his club's failed attempt to sign Frenkie de Jong from Ajax, which followed on the heels of Jorginho and Fred electing to go to Chelsea and Manchester United, respectively.
Football director Txiki Begiristain, who is in charge of City's transfer negotiations, is acutely aware that Rodri is now the preferred option of Guardiola and his coaching staff.
That means that interest in Lyon's Tanguy Ndombele, who City had started scouting seriously over a year ago, has cooled, and there is a suspicion at the Etihad Stadium that the France international may have his heart set on a move elsewhere in any case."