Media Watch
1
Gundogan: City must win UCL to be considered great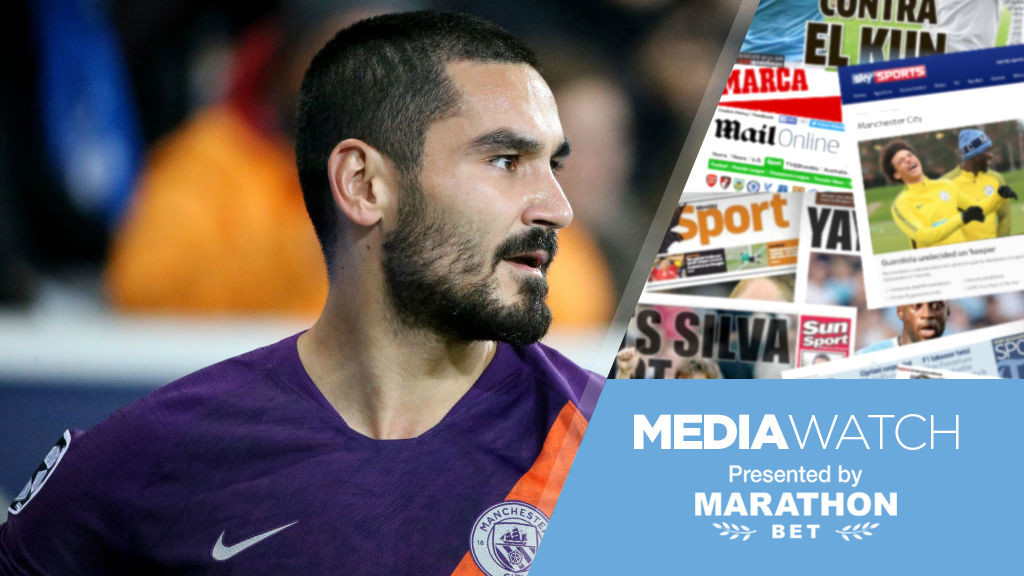 MEDIA WATCH: Your Tuesday round-up!
It's your Tuesday media round-up!
A word from Ilkay Gundogan ahead of our UEFA Champions League clash, a Youth League preview, focus on Fernandinho and your daily dose of transfer gossip feature in today's media watch.
First up, we hear from Gundogan, who believes that to be considered one of the greatest teams City must win the Champions League.
READ: Pep Guardiola | 'Laporte France call-up inevitable'
WATCH: Press conference | 'Fernandinho is a joy'
GALLERY: City train in the rain... in Ukraine!
Speaking to ESPN ahead of our group stage game against Shakhtar Donetsk, the midfielder, who is currently sidelined with a hamstring injury, said: "The Champions League is, in terms of club football, the most prestigious one. And if you, let's say this way if you don't win it you will never be named one of the greatest teams, no chance.
"So that's what you have to achieve, otherwise you will be centurions in England and I'm sure one day another team will come, I'm not sure how long it will take but some other team will come and also get 100 points in a Premier League season.
"It will not make the last season worse, it will still be special and a lot of positive and nice memories in our minds. But when you ask me how to be remembered as one of the greatest teams I think it's a fact to win the Champions League."
At Youth level, Under-19s manager Paul Harsley has called for a positive response from his young Blues as they step up to take on Shakhtar.
With two losses from two in Group F, Tuesday morning's European encounter is now crucial and Harsley has called for his young charges to respond with a much-improved display, by cutting out mistakes and maintaining a confident mindset.
"100%, we need a positive reaction," he told ManCity.com. "That's all we can work toward.
"We all know the importance of the game. Hopefully, it will carry a big significance and get a bit more out of the players.
"It's a bit of a trip and we've trained on Sunday and again on Monday, working hard, trying to get ready for the game."
Next, our focus turns to Fernandinho, as our midfielder states that his recent break from international duty has helped him rest and recover ahead of our match against his former club.

When asked if he was done with Brazil by the Manchester Evening News, he explained: "Maybe, I don't know. We'll see. You never know in football."
"When you are out of international duty you can forget just a little bit about football, spend more time with your family and clean your mind and your body. I think it helps a lot," he added.
"I had a rest last week. I've been in Dubai for a week. I have enough time to rest."
Meanwhile, Garth Crooks had some kind words to say about the 33-year-old following his stunning performance – and goal! – against Burnley at the weekend.
Crooks named Ferna in his BBC 'Team of the Week' and scribed: "I absolutely adore this player. Fernandinho has been as important to Manchester City as Yaya Toure, David Silva and Vincent Kompany over the years. He's ever-present, seldom gets the plaudits and is always in the midst of the action for City."
Finally, we finish up with a sprinkling of transfer gossip from the back pages.

The rumour mill continues to turn and two frequently mentioned names have cropped up in the papers once again.
ESPN claim that Ruben Neves or Frenkie de Jong could be moving to Manchester next summer. It's a long way off but that doesn't stop the gossip!
"Manchester City are ready to wait until the summer to strengthen their squad despite missing out on a holding midfielder," Jonathan Smith writes.
"Ajax's Frenkie de Jong and Ruben Neves of Wolves are among the potential signings after City missed out on top target Jorginho in the summer.
"The City boss wanted to add an extra midfielder before the start of the season with Jorginho identified as his top target, but he followed Maurizio Sarri to Chelsea instead with City unable to bring in an alternative before the transfer window closed."
As always, we will always be the first to confirm any official transfer news…
That's all for today's media watch, but we will be back tomorrow morning with all the latest news and headlines from the back pages.