Media Watch
1
Media Watch: Sterling - 'It's about the end goal'
CENTRE OF ATTENTION: Raheem Sterling is playing some of the best football of his career
We kick-off Monday's media round-up with an insight from Raheem Sterling into his superb start to the season for Manchester City.
There are also words from Pep Guardiola who has sought to play down talk of the Blues being favourites for the Champions League.
And one of Phil Foden's former coaches reveals how he recognised from an early age what special qualities the teenager possesses.
But we begin with Sterling who, fresh from a marvellous first two months of the season with City, will be on England duty tonight in the Three Lions' latest UEFA Nations League clash in Spain.
And speaking to the Daily Mirror, Raheem revealed how his excellent start was driven by a desire to focus on the end product.
READ: Where to watch Man City v Burnley
READ: From the archives: The much loved Maine Road flag
WATCH: Liverpool 0-0 City | Brief highlights
Reports John Cross: "Sterling, 23, has been in superb form for Manchester City this season, scoring four goals and providing two assists and making himself a mainstay in Pep Guardiola's starting XI.
"Sterling knows he must produce for England as well but, at club level, he has risen to the challenge after bringing a new maturity and understanding to his game.
"Sterling said: "The main thing now is to keep trying to be a goal threat.
"When I was a bit younger, I wasn't too interested in scoring goals, I was all about trying to look nice and show people I've got a lot of ability.
Have you read..?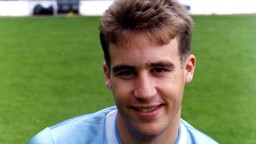 "But now I've started to realise that no-one remembers the fancy stuff you do on the pitch, it's about the effectiveness and what you do for your team."As I'm growing and developing, I understand that now, especially with the national team because I need to get these goals going.

"I think I'm probably more driven now to be able to get on the end of things, being in the box a lot more

"I'm much more confident when I'm in and around the penalty area now so I feel the goals will come for England as they have been doing for City."
Meanwhile, the Daily Mail reports on how City manager Pep Guardiola has sought to cool talk of the Club being touted as potential Champions League favourites.
Sam McEvoy writes: "Chelsea boss Maurizio Sarri has insisted several times that City are the team to beat in both the Premier League and in Europe.
"However, Guardiola has refuted the Italian's claims on Sunday as he attended the festival of sport in Italy with Napoli manager Carlo Ancelotti.
READ: Etihad Player of the Month | Sergio Aguero
GALLERY: Manchester City's season so far
"Manchester City can't be considered the favourite for the Champions League,' Guardiola said at Festival dello Sport in Italy.
"'Our history tells us that a semi-final is the maximum we could get. I don't know if we are ready.
"'We should be very, very good to be favourite. Juve, for example, are getting closer and closer.'"
City teenager Phil Foden is the focus of a fascinating interview in the Manchester Evening News with coach Steve Eyre, who helped oversee his development as a youngster.
Speaking to Dan O'Toole, Eyre says: "I think he's the best young player that I've ever seen with the ball at his feet. And I said that when he was ten."
"At the age of nine I watched him dribble round a whole team after getting the ball from a goalkeeper," Eyre says.
"But there was more. "In the next move he'd involve all his teammates with safe, sound passes."

"It is this quality - "an appreciation for the team game", as Eyre puts it - that made Foden the subject of particular attention at City from the moment he joined the club's junior academy at the age of six, after being spotted playing for his local team in Reddish.
"Straight away his talent was obvious," Eyre, who is now a first-team coach under Joey Barton at Fleetwood Town, explains.
"On a training evening at Platt Lane he would be first there and he would be on the astro-turf dribbling around his little baby brother with his dad watching.
"The session would begin at six o'clock with the coaches and his own age group, but we quickly realised that he needed to be challenged because his talent and his temperament were so good.
"I chose different age groups to work with over three or four evenings and basically Phil was in all those evenings and I put him with all the age groups at the club. One night he would be with his own age group of nine-year-olds but at times he even trained with the under-14s and -15s such was his talent and temperament."
READ: Man City 7-1 West Ham
WATCH: Man City Women boxing training video
Finally, BBC Sport Online reported on what was a superb afternoon for Manchester City in the FA Women's Super League as we crushed West Ham 7-1 at the Academy Stadium.
The Beeb reports: "Nikita Parris and Georgia Stanway both scored twice as Manchester City crushed West Ham at the Academy Stadium.
"Caroline Weir volleyed the home side ahead before England forward Parris beat Becky Spencer with a back-header.
"She then rounded Spencer to net her second, before Brianna Visalli almost pulled one back when she hit the post.
Stanway's double came either side of a Steph Houghton header, and Tessa Wullaert rounded things off after Esmee de Graaf's consolation strike.
"Third-placed City went into the game without seven players because of injuries and international calls, and were not at their best either side of the break after establishing their early three-goal cushion.
"But they reasserted themselves with four goals in the final 20 minutes, the last an unfortunate error by Spencer, who fumbled Wullaert's shot into her own net."