Media Watch
1
Media Watch: Press purr over Silva-inspired win
GOLDEN SILVA: David Silva produced another magical display...
Morning has broken… and what a glorious morning it is!
As we awaken and recall the events of the previous night, there is reason to be joyous, as City rose to the top of Group F, having become the first English side to win at Shakhtar Donetsk with another superb display.
It was a performance of real quality – the best in Pep Guardiola's three-years of tenure, he claimed – and many believe the triumph provided evidence of the Blues' Champions League title credentials.
Goal's Sam Lee shared that view. He reflected: "Such was the English champions' dominance over Shakhtar that the Ukrainian fans resorted to a Mexican wave on the hour-mark. It was 2-0 to the visitors by that point and it could have been so much more.
READ: Superb City march on with win over Shakhtar
WATCH: Fernandinho | 'Strong start laid foundations'
GALLERY: Match action | Shakhtar Donetsk 0-3 City
"In the end it was three, after Bernardo Silva came on to succeed where some of his team-mates failed; while others slashed at their chances, he kept a cool head to put the game to bed with a precise finish from the edge of the box.
"City could have added a couple more before Aymeric Laporte – perhaps the Blues' most reliable performer this season – headed in the second.
"Guardiola may not believe his team are ready to win the big prize but he certainly rates them; he also said on Monday that the first 45 minutes against the French side was their only dip in form this season.
"And on the evidence on Tuesday night they are certainly up and running now.
"No English side had previously won here and this was perhaps City's best performance of the season, in any competition. Not bad when you consider they are top of the Premier League, having scored 26 goals in nine games, and came within a missed penalty from beating Liverpool, their supposed bete noir.
"Shakhtar simply could not get the ball. The Ukrainians travel to the Etihad Stadium in a fortnight's time and they will hardly relish the prospect. Neither will many other sides around Europe.
"Also consider that this most polished of performances came with Leroy Sane, Sergio Aguero, Bernardo Silva and Kyle Walker on the bench."

Jack Gaughan of the Daily Mail echoed: "City won the game in vintage fashion, registering a shot every three minutes before half-time and with the points sealed quickly, owing to their sheer relentlessness against a Shakhtar Donetsk team who ended their long unbeaten run here last December.
"De Bruyne is feeling his way back in after knee ligament trouble but his inclusion, that aura in midfield, enhanced those around him.
"David Silva ran the game and scored the opening goal as Guardiola took them to the top of Group F. He and his staff looked exceptionally calm in the mouth of the tunnel afterwards. A commanding win completed so thrillingly.
"They were irresistible in Kharkiv, playing with an arrogant swagger and accelerating at their own pace. Guardiola watched City keep the ball for almost the entire opening three minutes, where everyone had a touch during a move that ended with Silva's hooked effort clipping the bar.
"Shakhtar's fans – 188 miles away from home in Donetsk – were left shrugging their shoulders and laughing. There is nothing else to do when met by a City in this kind of mood."
Elsewhere, Four Four Two's Daniel Story asserts the Blues' 'astonishing' defensive record heralds equivalent cause for celebration.
He scribed: "When watching Manchester City this season, you would be forgiven for wowing only at their attacking prowess.
"It's the variation in City's attack that is most alluring: their last 12 goals have been scored by nine different players. It's enough to put the fear into any opposition manager.
"The deep understanding between players that Guardiola forged at Barcelona is incredibly difficult – almost impossible – to replicate. It relied upon the La Masia conveyor belt and the short passing Cruyffian ethos established under the great man's stewardship.
SILVA REACTION...
"But City are getting close. Guardiola's principles demand that his City players learn each other's behavioural patterns on the pitch in order to second guess what a team-mate will do next. The passing triangles, played at an increasing tempo until the opposition is lured into leaving a player in space or over-committing in one area, is mesmerising to watch.

"Opposition supporters may disagree, but there is no better team in Europe to watch at their attacking peak. For all the talk of bridging the gap to City this season, they set a record last season for goals scored with 106. Continue at their current rate, and Guardiola's team will score 110 this season. They have already played their closest challengers for the title away from home.
"Yet the most frightening thing for Guardiola's peers is that Manchester City's attack is actually being outperformed by their defence.
"City last conceded in the league against Newcastle on September 1. They have now gone over 500 league minutes without being breached. If their attack has barely needed to improve this season, the defence is far more resilient.
"Alex Ferguson's old adage was that the 'attack wins you games, defence wins you titles'. Manchester City's attack is so supreme that it could cover a multitude of defensive sins, but Guardiola's challenge in Manchester was to combine sustained domestic success with Champions League glory. He now has the right balance to achieve the dream."
.@21LVA: Man of the Match vs Shakhtar Donetsk - Rating 9.34, Goals 1, Woodwork Hit 2, Shots 5, Key Passes 5, Pass Accuracy 92.6% @ManCity

Full player ratings -- https://t.co/UcHAgMqQ66 pic.twitter.com/MFzuKliIOb

— WhoScored.com (@WhoScored) October 23, 2018
Such was the Blues' impressive display, it proved difficult to select the Man of the Match, with several candidates receiving deserved acclaim.
While the Manchester Evening News' Stuart Brennan decided on Laporte, awarding the Frenchman a nine in their player ratings, he also penned a separate piece, hailing the 'enduring quality' of midfield maestro David Silva.
He purred: "Seven years ago today, the man the Manchester City fans call Merlin waved his wand of a left foot to complete the humiliation of Manchester United.
ICYMI: The City striker who had the lot...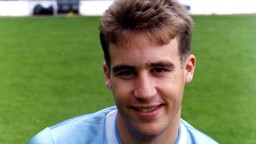 "And in another big match, the little Spanish wizard that is David Silva was at it again, using his magical limb to ease the Blues' early Champions League agitation.

"His volleyed pass against the Reds, effortlessly dissecting a disbelieving defence at Old Trafford, remains an abiding memory of that record 6-1 victory.
"And while this goal, a spanking shot into the far corner when a Shakhtar defender's block span teasingly into the air, will not be remembered in the same way, the technique was equally sorcerous."
Sky Sports, the Daily Star, ESPN, Four Four Two and Eurosport also awarded the Spaniard the 'star man' prize, while Laporte and Raheem Sterling were also singled out for praise.