Media Watch
1
Media: Sterling can smash records for England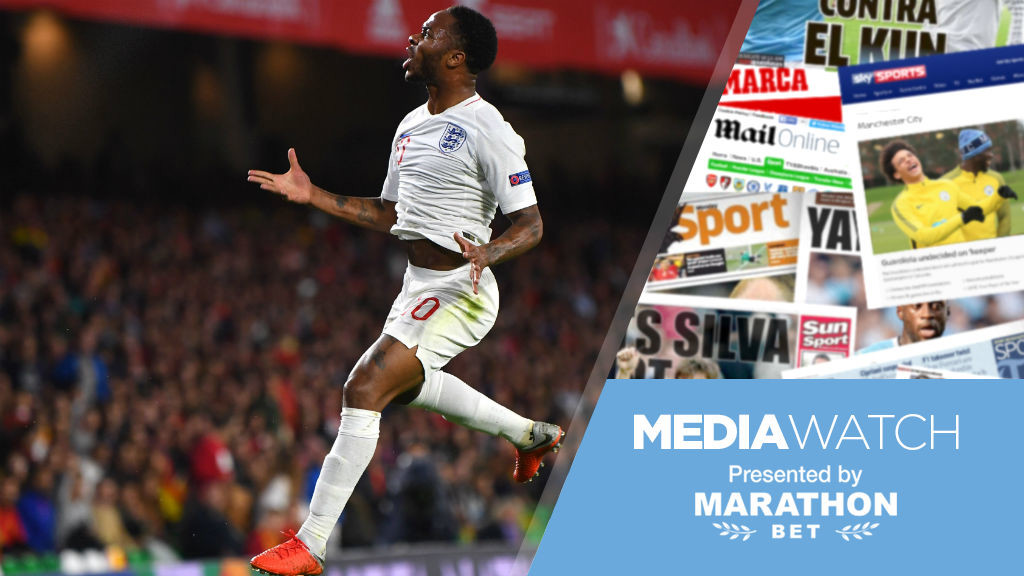 MEDIA WATCH: Your Wednesday media round-up!
Continued praise for Raheem Sterling, the predicted City line-up to face Burnley and a sprinkling of transfer gossip feature in this morning's media round-up!
As the international break draws to a close and the Blues travel back to Manchester, we take a look at the latest City headlines splashing the back pages.
READ: Why Edin Dzeko is still singing the Blues
GALLERY: Sergio and KDB training ahead of Burnley
First up, Sterling.
Plaudits for the England international have been coming in thick and fast after his impressive performance over Spain on Monday evening. It doesn't stop there, as an opinion piece in the Manchester Evening News highlights why our winger can become "world class"and even tips him to break some England records in the process.
Stuart Brennan writes, "Sterling had gone three years without a goal for his country, along with the fact that Southgate has been asking him to play a sacrificial role which placed the emphasis on Harry Kane as the focal point of the attack.
"A tweak to a 4-3-3, the formation in which he has thrived for Pep Guardiola's City in the last two years, threw off the shackles, and Sterling scored twice in the 3-2 win over Spain.
"Maybe now Southgate will realise that if he HAS to build his attack around a focal point, Sterling is more dangerous than Spurs striker Kane.
"He is loved and appreciated at City, but had become a ready-made scapegoat for any or all of England's woes.
"Sterling has had a love-hate relationship with goalscoring. Guardiola admitted that getting into goalscoring positions had been 'a bit scary for him' in the past.

"But last season, his impressive haul of 23 goals felt like a watershed moment.
READ: City v Burnley | Preview
READ: Which TV channel is City v Burnley on?
"In fact, the misses became so rare that his astonishing blooper at Burnley stands out in the memory – and caused Pep Guardiola to haul him off the field.
"Now you wonder if those two goals against Spain – especially the first, at 0-0, against a man viewed by many as the world's best goalkeepers – could actually complete the jigsaw in Sterling's mind.
"Of course he will still miss them, for club and country, because everyone does.
"But his formidable mental strength is now applying itself to that final thorny issue, and the final barrier between Sterling and being truly world-class is coming down.
"At the age of 23, Sterling has four international goals, and 46 caps. No-one with any sense would back against him smashing an England record or two."
Sterling also impressed BBC journalist Phil McNulty, as he writes: "No-one doubted his talent and application but where was the crucial end product?

"Well here it was in all its glory and Sterling deserves every plaudit that will rightly come his way.
"Sterling's pace terrorised Spain but the glorious bonus was the two goals that doubled his tally from 45 previous England appearances."
Next, Joe Bray predicts Saturday's City line-up.
The MEN journalist believes that this will be our starting XI against the Clarets: "Ederson; Walker, Stones, Laporte, Mendy; Fernandinho, De Bruyne; Sane, David Silva, Sterling, Aguero."
Let's see if he is right when the team news is announced on Saturday!
Finally, we turn our attention to some transfer gossip. As the January transfer window fast approaches the rumour mill continues to turn, and we take a look as some of the speculation.
The latest gossip comes from The Sun.
"Manchester City boss Pep Guardiola is ready to step up his pursuit of £80m Ajax star Frenkie De Jong," Daniel Cutts writes. "The 21-year-old has become one of the most highly-regarded youngsters in Europe, with Barcelona and PSG also interested.
"The Etihad club have sent scouts to watch him on a number of occasions so far this season, and have been impressed.
"And City are looking to launch bid for the Dutch midfielder in January, and could let him stay at Ajax for the rest of the season.
"The Eredivisie side are reluctant to sell one of their star assets, but may be interested if the right offer comes onto the table."
As ever, the reports are just gossip and we will be the first to bring you any confirmed news!
That's all for your Wednesday media round-up, but we will be back at the same time tomorrow with all the latest news and headlines from the back pages!