Media Watch
1
Kompany: It's too close to make big statements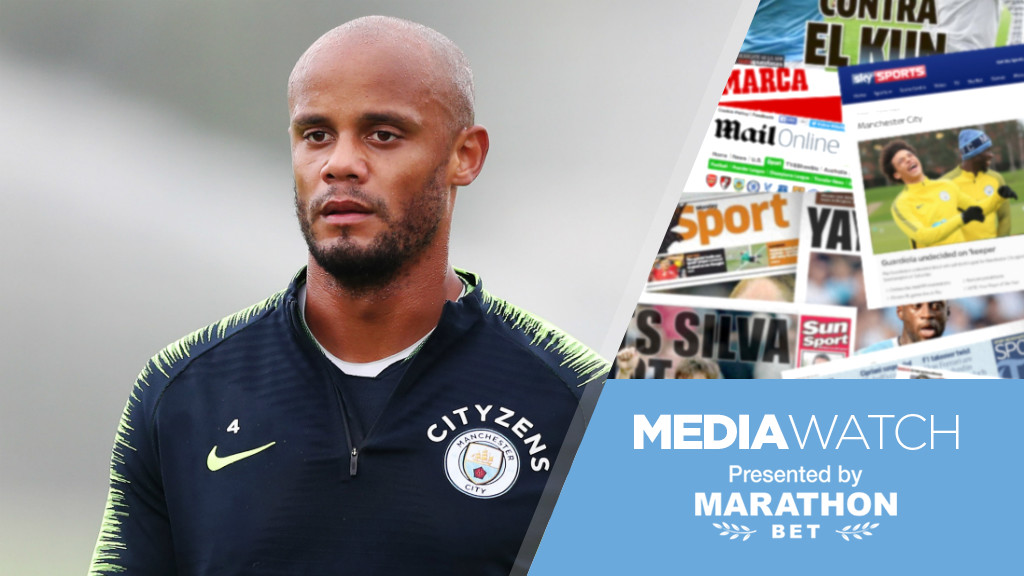 CAPTAIN'S CALL: Vincent Kompany says it's too early for City to make big statements in the title race...
As Sunday's eagerly-awaited Premier League trip to Anfield draws ever closer, the anticipation is building…
With the division's top two locking horns, it's the fixture everyone is talking about, particularly due to its added spice of countless subplots and potential impact on the title race – you wouldn't believe it's only October!
So, who's saying what?
City skipper Vincent Kompany believes the clash will be decided by 'small margins', as per previous encounters.
READ: Liverpool v City | Key battles
WATCH: Match highlights | Hoffenheim 1-2 City
GALLERY: Training | Buoyant Blues
As Four Four Two report, the defender declared: "I think if you take all four games of last season, including the home [league] game, it's a game of small margins.
"You look at each and every game and there's not a lot of difference in terms of how the games happened.
"One game we were more efficient and scored five; the other game they scored three in, what, 15 minutes [sic – 19]. And that's how these games seem to go.
"The margin is so small between both teams and a lot of things happen in a very short period of time. You have to make sure you can control this and be at our best.
"[In] these kinds of games, you need a lot of things to come together – you need a little bit of luck, a good performance, you need to be clinical and defend well and that goes for both teams.
"It's too close I think to actually make any big statements – that's what makes this game so interesting."

On the suggestion the game is billed as a title decider, Kompany added: "I don't agree with just putting City and Liverpool as title contenders.
"Chelsea have shown so much already this season. Arsenal, Tottenham are coming back. You'd think there'd be a bigger points gap by now but it's not.
"I think most teams at the top are firing on all cylinders at this moment in time and this makes this league exciting."
Conversely, Liverpool's Andy Robertson asserts past meetings will have no bearing on Sunday's encounter.
He told the Reds' official website: "It's a new season. I'm sure Guardiola will be looking at the three games where we managed to get one over on them and seeing what he can change. We have to be prepared for that.
"Last season we did very well against them. The two quarter-finals were very good, especially at home when we went 3-0 up.
"Everyone expected it to be a tight game. In the second half we showed a side we hadn't really shown before – we sat a bit deeper and limited them to very few chances. That's what got us through in the end.
"We did get one over on them last season but they ended up with the Premier League and that's what everyone strives for.
"They are the champions and they'll have a game plan. But hopefully our game plan is better on the day."
THINGS WE LOVE...
City have not won at Anfield since May 2003 but Sky Sports pundit Paul Merson believes that torrid run is set to come to an end, having backed the Blues to emerge victorious with a 2-1 triumph.

"I'm slightly favouring Manchester City," he said. "For me, it looks like hard work for Liverpool at the moment.
"Last week, they had a great game against Chelsea but I think it took its toll on Jurgen Klopp's team.
"Their pressing from the front looks like hard work whereas last year it looked natural. I think they are going to fall asleep a couple of times during the game for City to punish them.
"The pressure will be on City though. If Liverpool can pick up a win, they'll be serious contenders for the title.
"However, a win for City and I think they'll run away with it again. The big difference is that certain Liverpool players have to play all the time and that will take its toll."
One of the many enticing subplots is Raheem Sterling's return to his old stomping ground, with several predicting the forward to 'prove a thorn in the side' of his former employers.
Danny Higginbotham shares that opinion, as he told Sky Sports: "He's matured and if you look under [Pep] Guardiola, there's just a few minor changes that he's done.
"Now you see his movement and he's always looking to get across and into the box. What he does really well now is with his first touch – he used to put his foot on the ball but now he gets it and gets it out of his feet, play the ball and he's on his way again.
"He's a player in great form going back to his old club. You're going to be a better player when you're playing with better players.
"When he plays with Manchester City he's probably playing with better players than he does with England; therefore he gets more chances made for him and is afforded more space."

In other news, close friends Benjamin Mendy and Riyad Mahrez have opened up on life under Pep Guardiola in a joint interview with Onze Mundial.
The pair, who have known each other for almost a decade, discussed several topics, including their thoughts on the boss, their own friendship and their moves to City.
On Guardiola, Mendy began: "His intelligence! Mate, it's crazy! His way of understanding football – to see it and his vision – it's just incredible.
"It's a pleasure to work with him. That's why I kill myself for him every game because I want to give back everything he teaches us on a daily basis.
"The game plans and the tactics are insane. And he wants us to call him Pep. He doesn't want us to call him Boss or Coach."
Mahrez agreed: "Even when we win games 6-1 or 6-0, he tells us: 'We can do better, I saw the game yesterday, we can improve.'

"He works so much. I've had many coaches, and I've never had one who works so much. He works too much.
"Everything he tells you about an opponent happens. Everything he tells you that week happens. When he says: 'They'll play like that', that's how they play. He's always right, it's mad."
Finally, as always, there's a snippet of transfer gossip with the Mirror claiming City are eyeing Swansea City youngster Joe Rodon.
According to Alex Bywater: "The 20-year-old local lad has had an impressive start to his first full season in the Championship and City boss Pep Guardiola has already looked at the 6ft 4in centre-half.
"But Swansea manager Graham Potter has urged both Rodon, who has made just nine first-team appearances for the club, and Wales international wing-back Connor Roberts, 23, to continue their progress under him.
"The players are both set to be out of contract in the summer but have begun talks with Swansea over new deals."