Media Watch
1
Klopp: I love watching City play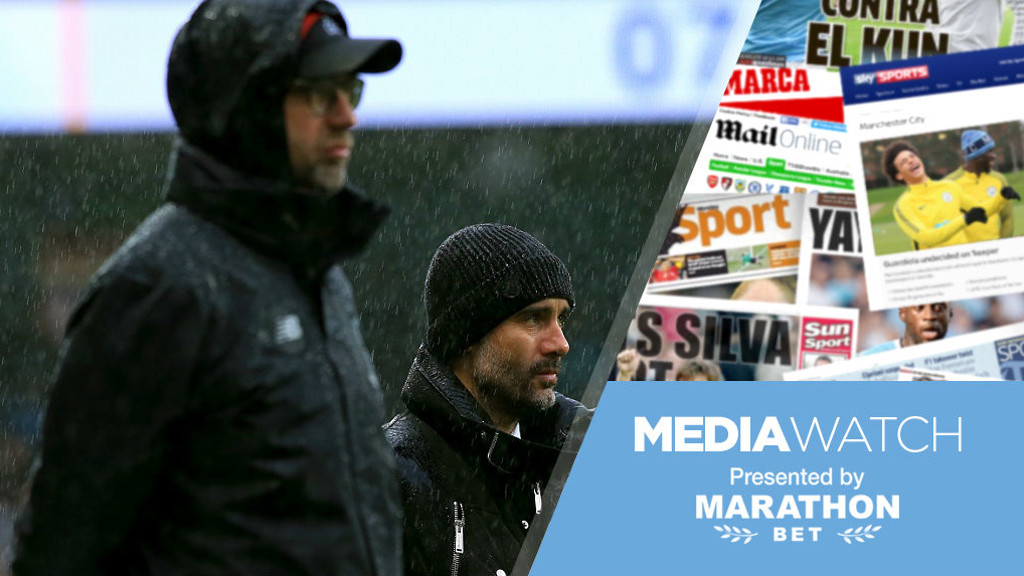 Just hours until the Premier League's biggest game of the season and this morning's media is brimming to the top with opinion and previews of Liverpool v City.
We'll begin with FourFourTwo who feature Jurgen Klopp and his admiration for Pep and his achievements.
They write: "Liverpool boss Jurgen Klopp could not hold Pep Guardiola or Manchester City in much higher esteem, although he is eager to beat them.
READ: Which channel is Liverpool v City on?
WATCH: Liverpool v City: Countdown to kick-off
"Jurgen Klopp has described Pep Guardiola as the best manager in the world ahead of Liverpool's showdown with Manchester City on Sunday.
"The Premier League champions head to Anfield looking for a win that will take them three points above Liverpool at the top of the table, with only goal difference separating the sides after seven matches.
"Klopp says he has huge respect for the way in which City play under Guardiola and described it as 'exciting' to face his teams.
'I've said it a few times, that if we couldn't be champions last season then Manchester City are very welcome,' the Liverpool boss told Sky Sports.
'They had an outstanding season, I respect it a lot – I love it, actually. Watching them is really good.
'My respect for Pep Guardiola couldn't be bigger, he is the world's best manager and that makes it so difficult, but so exciting to play his teams.
'I have a really good relationship with Pep. A few times before these games, you say a few things and then realise obviously it could have been misunderstood, but then it's really important to say I really like and respect Pep and his staff.'
Nicely done.
Meanwhile, Give Me Sport, (via The Mirror), have Kyle Walker comparing the many merits of Mo Salah and Sergio Aguero…
OCTOBER: All the dates you need to know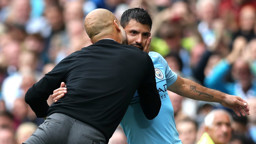 'Salah is younger, it was his first year back in England since his time at Chelsea, so we will see in the ¬future, but a guy who has the quality to score nearly 50 goals in a season always has that quality,' said Walker.

'Football is all about ups and downs. Salah remains an excellent player and will score goals in the future. When you are in there, scenting goals, sometimes this happens. Sergio has scored a lot of goals, but there were periods when he didn't score.
'How many years has ¬Sergio scored all those goals, eight or nine years? For Salah, it was the first one, so we will see in seven or eight years. For Sergio, his huge value comes from being ¬consistent over many, many years. It is about being consistent every three days during 11 months.
'That is why the big, big players around Europe do that because it is the most difficult thing.'
Match of the Day pundit and former Liverpool midfielder is intrigued by today's game and wonders how City will respond to last season's three losses against the Reds.

In his Daily Mail column, Murphy says: "Jurgen Klopp has become a bit more pragmatic. He's got more confidence in his defence with Alisson, Virgil van Dijk and Joe Gomez, so knows when to push and when to protect.
"The big question is whether Guardiola will adapt or continue with his philosophy of taking risks, playing between the lines and trying to beat the press. I suspect he won't change and will hope Klopp's side are tired from the midweek trip to Napoli.
"If Pep pulls it off, he'll be a genius. But if they get strangled again, I'll be reminded of that old definition of insanity; trying the same thing again and again and expecting a different outcome."
Finally, it's not often we feature the Radio Times in this round-up, so here is a snippet of Simon Barnes' preview of today's game.
"Manchester City came as close as any team ever has to a perfect season, but their flaw made it clear that they were still vulnerable human beings like the rest of us. The name of that flaw was Liverpool.
"Now City must make the short trip to Anfield for a match that will go some way towards defining both their seasons.
"Liverpool finished fourth last season but, unbeaten in six league games at the start of the season, they are already seen as City's main rival for the Premier League title.
"It would be an understatement to say that City won the title last season. They triumphed, setting a number of records while they were at it.
"Most points: 100. Most goals scored: 106. Most consecutive wins: 18. Most away wins: 16. Best positive goal difference: 79. Biggest gap to second place: 19. And there are probably a few more records I've left out."
That's all for today – enjoy the game!