Media Watch
1
Press lavish City with praise after derby win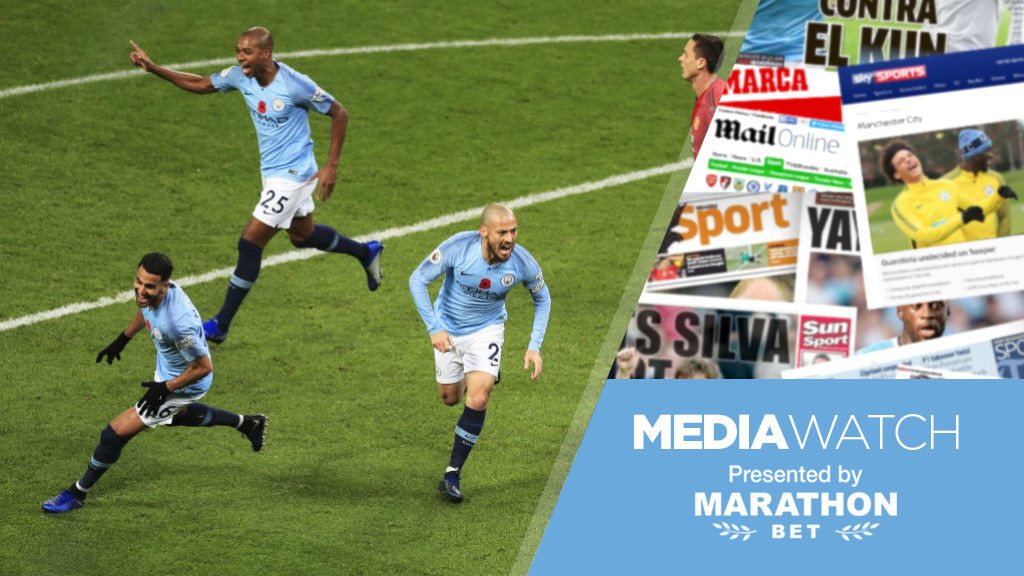 DERBY DELIGHT: The press were united in their praise of City this morning
The press are united in their praise of Manchester City this morning after Sunday's 3-1 win over Manchester United.
Let's start with Gary Neville, who has backed City to become the first side in a decade to win back-to-back Premier League titles.
Having swept to the title in record-breaking fashion last season, City top the table after 12 matches having played Arsenal, Liverpool and Tottenham away from home.
Neville has tipped us to land successive titles, a feat he feels will ensure Pep Guardiola's team are remembered as one of the greats.
"Winning one league is an achievement, winning back-to-back titles makes you a great team and Man City are on the brink of that," the Sky Sports pundit told the Gary Neville Podcast.
"At this moment in time, I only feel like Liverpool can stop them.
"I think Chelsea are a little bit short, I've thought that from day one and I think Chelsea will just fall short.
Have you read...?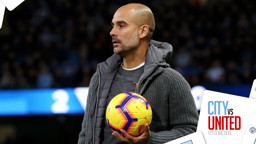 "They're doing well, they've started the season well under Sarri and the football's flowing and they look like they're a happy bunch again.

"But I still think that if anyone can stop City, it can only be Liverpool.
"The problem for Liverpool is that it doesn't look like anyone else can lay a glove on City, that's the problem they've got."
WATCH: Guardiola | Title race is still so tight
READ: Gundogan savours extra-special derby victory
The Manchester Evening News' Simon Bajkowski reserved special praise for the performance of Bernardo Silva,
"The man nicknamed Bubblegum by his teammates is rightly recognised for a touch that makes the ball look glued to his feet, but he is also exceptional at the defensive side of the game," he writes.
"Guardiola has noted before how Bernardo should lose the majority of his battles but seems to find the one time in 100 where his balance is better suited to nicking the ball and he continues to win far more balls back than he should.
"In one minute against United, he dispossessed Marcus Rashford near Ederson's goal to break up a United attack and then got the better of Anthony Martial to spark another City wave 40 yards from David de Gea's.
"By being clever and faster than more physical opponents, City's team of diminutive dribblers are showing the way forward for the beautiful game."
And it was Fernandinho who caught ESPN's Mark Ogden's eye.

"Fernandinho, who also made the move from Shakhtar, is the man who makes City tick," he writes. "He is an accomplished destroyer, a player not shy when it comes to making the kind of tactical fouls that enable City to break up play and regroup. But Fernandinho is also more than adept at launching City attacks and breaking forward to test the opposition in the final third.
"N'Golo Kante gets many plaudits as being the best defensive midfielder in the Premier League, but Fernandinho is equally impressive, and he has been doing it consistently for City since arriving more than five years ago."
James Ducker's player ratings in the Telegraph included no less than three 8/10 scores. He writes: "John Stones: Forming quite the partnership with Laporte now. His distribution and positional sense look better than ever but it is also notable how much more physically aggressive he has become. 8/10
The City striker who had the lot...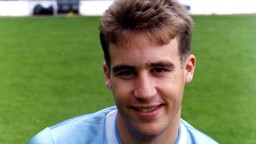 "Aymeric Laporte: Didier Deschamps, the France coach, may not see it but all City observers do. Still to lose a Premier League in which he has played, he never put so much as a foot wrong. 8/10

"Fernandinho: It is hard to believe the Brazilian will be 34 in May. Outstanding from start to finish, his energy, aggressive and quick-thinking never let United get out. Key interception in build up to second goal. 8/10."
That's all for this morning's media roundup. Stay with us throughout the day as we continue to bring you reaction from a famous derby victory.