Media Watch
1
Media: Gulf between City and United increasing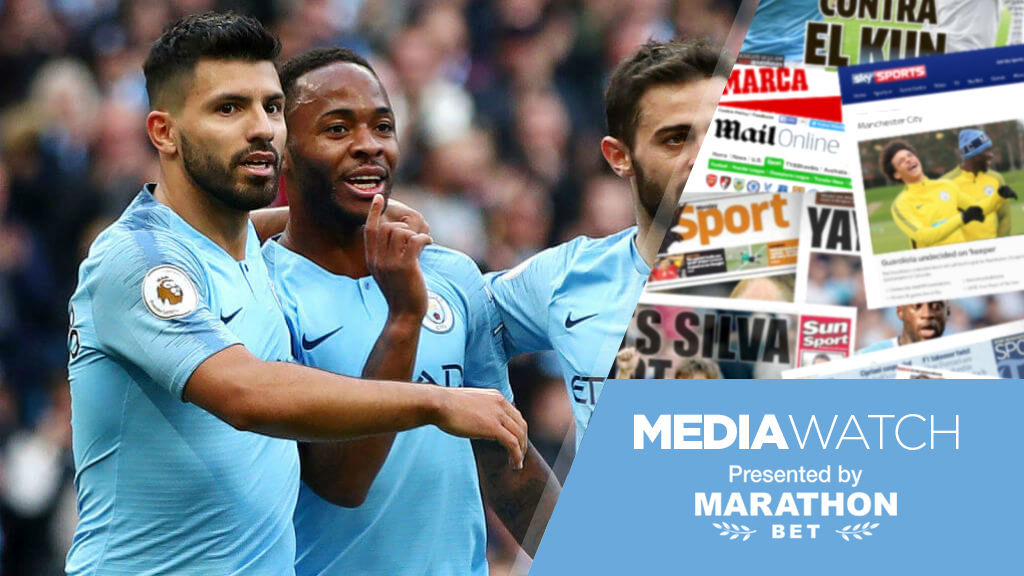 MEDIA WATCH: All the latest transfer news and rumours, as well as news and opinion
Transfer gossip, the growing gulf between City and United and tonight's Champions League game against Shakhtar Donetsk all feature in this morning's bumper edition of Media Watch.
Let's start, then, with Sky Sports' statistical analysis comparing the two Manchester sides.
Adam Bate, using advanced Opta metrics, believes City are now significantly ahead of United in all departments, particularly the quality of our build-up play.
"There are many ways in which the growing gulf between these sides is manifesting itself," he writes. "And yet, it is perhaps the regular sight of City stroking the ball around with such confidence before cutting through their opponents that so grates with United supporters who long to see such obvious attacking purpose from their own team.
"The bald statistics reveal much of the problem. The fact that City have scored 33 goals this season to United's 19 is a good place to start. In terms of shots from inside the penalty box, it is 156 plays 93. When it comes to what Opta defines as big chances, it is 41 versus 29. In each case, City rank top while United find themselves outside of the top three.
"But there is something more fundamental here. It is about style as well as substance. It is not just that City score more goals or even that they have more shots from dangerous positions. What makes Guardiola's team so attractive to watch - and something that is an ongoing issue for Mourinho - is the way in which his team fashion these openings.
"The explanation come by delving into Opta's advanced metrics for the added detail. It is now possible not just to count the number of passes that a team makes but to group those passes into sequences. For instance, City have had 261 sequences this season that included ten or more passes compared to the 129 that United have had - less than half as many."
It's well worth a read.
Buy tickets for the game against Shakhtar
WATCH: City players reflect on first derby experience
READ: City v Shakhtar | Team News
Meanwhile, ahead of this evening's Champions League game at home to Shakhtar Donetsk, the Manchester Evening News writers have had their say on how City should line up.
And their lead City scribe Stuart Brennan has suggested making some subtle changes in order to keep things fresh ahead of the Manchester derby at the weekend.
"With the Manchester derby looming Pep Guardiola can afford to tweak his team and give one or two players a night off, without affecting the quality of the team," he writes.
"The performance of Gabriel Jesus against Fulham gave notice that he is getting his swagger back, and this would be an ideal chance to give him a proper showcase.
"Back him up with Riyad Mahrez – who swings in the kind of crosses on which the Brazilian thrives – and with Leroy Sane, and City have a formidable front-line.
"Ilkay Gundogan has excelled in Champions League games and if he is fully fit, David Silva could be rested up for the derby, as could centre back pair John Stones and Aymeric Laporte.
"Stuart's XI: Ederson; Walker, Kompany, Otamendi, Mendy; Fernandinho, Bernardo, D. Silva; Mahrez, Jesus, Sane"
Elsewhere, Shakhtar coach Paulo Fonseca has lauded City's style.

In an interview with ESPN's Gabriele Marcotti, he says City have so much quality it's difficult to stop them.
"When they have the ball, they keep it exceptionally well," he said. "And they have so much quality. If you press them high, they have the quality at the back -- including the goalkeeper -- to simply pass the ball through your press. Or they can also go long, and in players like [Leroy] Sane and [Raheem] Sterling, they have very fast players. So you have to find another way to defend.
Death threats and wind-ups: The City skipper who loved to tease the Reds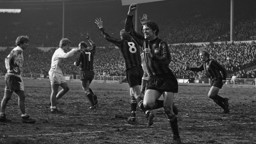 And, finally, Chelsea have emerged as contenders for the signature of Lille's Nicolas Pepe, according to reports.

Yesterday, the Times suggested City were keen on the forward who has burst onto the scene in France's top flight in a blaze of attacking brilliance.
And now French media outlet Telefoot – as reported in the Sun - believe Premier League rivals Chelsea are also in the hunt.
"Chelsea and Manchester City are both preparing to join the race to sign Lille forward Nicolas Pepe, according to reports," the Sun say.
"Pepe, 23, is in sensational form this season with eight goals and seven assists in just 12 league appearances.
"Chelsea are also thought to be interested in a move for Pepe, say French outlet Telefoot.
"The player, valued at around £44million, has sparked the interest of Maurizio Sarri, who could lose winger Willian to Barcelona.
Death threats and wind-ups: The City skipper who loved to tease the Reds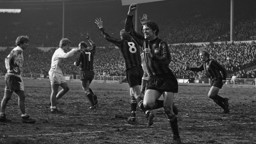 "But Chelsea are odds-on favourites to land Crystal Palace star Wilfried Zaha in the upcoming transfer window.

"Pepe's current deal at the French side expires in 2022 but is highly-expected to leave next year after Lille held on to him in the summer despite bids from Schalke and Lyon."
That's all for this morning's roundup io the back pages. Stay with us throughout the day as we build up to tonight's game.
And don't forget, you can follow the action live with our text or radio commentary in our Matchday Centre.